Fashion with feeling
The concluding 'Worn With Love' column takes a final look at the emotional resonance of our clothes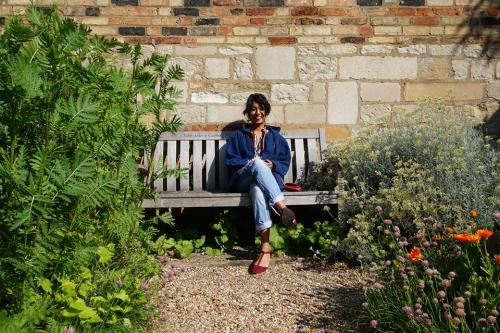 It's been fascinating and touching talking to people about what they wear and why they wear it. We influence each other, and ourselves, by the various humorous, earnest and original ways we present ourselves to the world. I've laughed a lot, and learnt a lot, about why it can hurt someone so much to lose a ring, about why a jacket makes someone feel confident or how putting on a dress can begin to amend a bad day.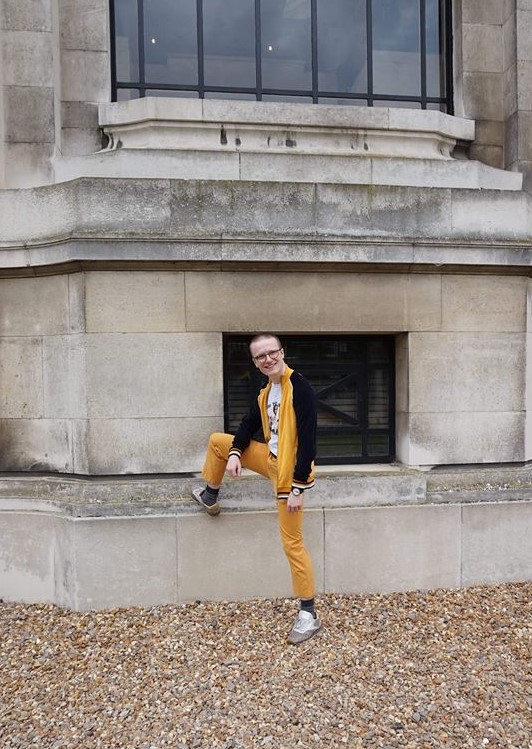 Reuben
'My t-shirt is for my band Swim to Beijing's world tour in 2017-18. The design features Robert Carlyle holding the three members of our band as babies. We see him as a sort of spiritual mother goose.
'I'm wearing a yellow and navy velour tracksuit. I'm in basically an all yellow get-up. I think yellow is a really underrated colour, especially because it's not a colour you can easily get men's clothes in. I once read a study about colours and people's emotions, and apparently yellow was the one people associated most strongly with fear. I'd already started buying lots of yellow clothes at that point, but I wonder if, because I'm genuinely very weird anyway, being in bright yellow is the tipping point for a lot of people.
'I wanted a velour tracksuit because they were really popular in the 90s. Nowadays everyone think they're really naff – but one of my style icons, Vanilla Ice, wore amazing outfits and velour all the time. I'm always trying to find reproductions of the clothes he wore on eBay. I think it's so cool that someone that young had such an accomplished taste in style. You might think it's hideous, but it's so consistently and refreshingly him.'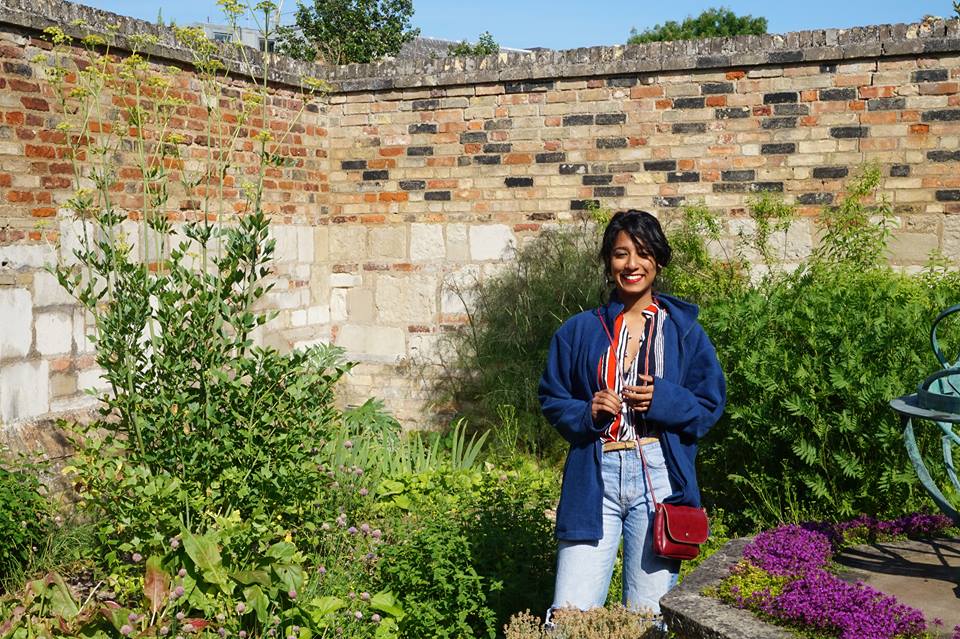 Shimali
'Everything I'm wearing is me dealing with becoming my mum. I grew up with her smearing kohl around her eyes and wearing hoop earrings and doing these rituals every morning. I'd always be kind of sceptical. But then I had this moment about a month ago, when I was doing my makeup and putting my earrings on, everything I'd seen my mum do, with the same mannerisms, the same kind of attitude. You take on so much of your home life without realising.
'The shirt is my mum's as well: they're all clothes that she picked up across her travels in the 60s and 70s. Wearing my mum's clothes has been a really interesting thing for me: obviously her body has changed so much since she was my age. She keeps everything she owns, and a lot of the clothes she keeps fit me but don't fit her anymore.
She has a really interesting attitude to that, she's very open and says things like "just you wait 'til you're my age, you'll look just like me!" I think that openness about it is more common in Asia; you're more allowed to make comments like that and say things that here would seem more jarring. When I was a teenager it was a real source of awkwardness and made me feel weird when stuff like that was said, and I'd wear my mum's clothes out of defiance, in a toxic, waste-of-energy kind of mindset. Now I'm where my mum was at my age, with the earrings and the kohl makeup, and the clothes – I'll probably always be exactly like her, and that's kind of cool.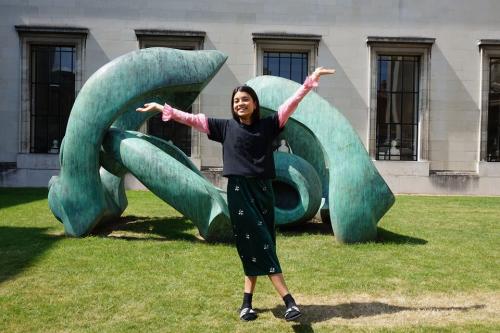 Talia
'There's not much of a story behind this skirt – it's actually a dress, but I style it as a skirt. It was in the Zara sale online, it was green and shiny – I think it was at the beginning of a term here. I just wanted something to wear that would make me smile, because I didn't really want to be back from home. I got this, and it worked, so it was a really nice little pick-me-up.
'The pink top is disgusting. It's genuinely the most hideous top I've ever found: I was in H&M, I think just because I was really bored, and was going through the sales racks, and found this lone pink shirt. It has frills down the front and puffy sleeves and it actually buttons all the way up to make a high neck – I don't know who designed it, I don't know why H&M were selling it. It was about £2, and I thought "this has got to be the best find anyone has ever had". You can show bits of it off, like the collar, which goes all the way up in winter, and the sleeves, but nobody will ever know the true hideousness of what I'm wearing. It's nice to get compliments on something that's despicably ugly, because people can only see the edge. I tend to wear clothes more because they just look stupid, I like seeing what I can get away with, until I start losing friends.'
What this process has taught me, even more than when I started, is that it's less what you're wearing or how you're wearing it, by why you are in the first place. It's difficult to say whether it is a step towards deconstructing the themes of elitism which continue in the fashion industry, but wearing things with conviction, with humour, with excitement, with love, seems like a pretty good start.