Smooth Sale-ing
The beauty of the sale comes with its undeniable complications. This week, learn how to sale away with some amazing new purchases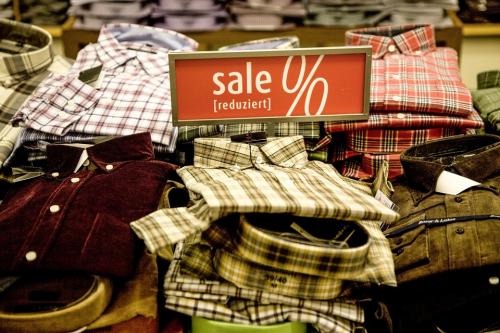 Ah, the sale. All hail the sale. A time when plentiful bargains can be found… if you're a size 32. There is nothing quite like the thrill of finding a deeply discounted garment that you had your eye on which you couldn't justify or afford full price, available in your size, with a student discount on top. The sale can be a wonderful opportunity to overhaul or complement your pre-existing wardrobe, but can also be fraught with difficulty. As a seasoned sale veteran, and a seasoned Cambridge sale veteran to boot, I can guide you through the stormy sale season. Here are my top tips. Elbows at the ready.
1. Wear something that you can try clothes on over
The queues for the changing rooms can be horrific. Especially in Zara, where the changing room queue can reach the queue for the till, and there is mayhem because people confuse the two and start stripping at the till and throwing money at the cubicles, like the last days of Gomorrah. Avoid this by wearing something you can try things on over. We all do it. I started a veritable conga of shimmying in Zara on Saturday. There was a brief horrified silence when I removed the culottes I was trying on, which turned into an exhalation of relief when people saw my jeans underneath. I also sometimes FaceTime or Snapchat my mum for her opinion – but the signal in Zara is awful. Secrete yourself behind something, or get a friend to use a scarf as a windbreak if needs be. It's the sale. If you want the bargains, you sometimes have to scrimp on dignity. Also, make sure that your shoes are appropriate – comfort matters, but if you try on a ball dress with crocs (why are you wearing crocs anyway?) you are unlikely to get an accurate representation.
2. Make it drizzle
You would be surprised to discover just how reduced things can be in boutique sales, due to the way boutiques source their stock. So, while things may still be a little pricier than elsewhere, you can find some surprisingly affordable pieces that have been heavily reduced, from all manner of designer names. Cambridge's own Bowns, Giulio, Boudoir Femme and Bis are all excellent places to look during the sale.
3. Think outside the box
The vast majority of things in the sale seem to be available in wacky range of sizes, which, if you're a fairly standard size, can be a bit demoralising. But this can actually afford a wealth of opportunities. I found a pair of Topshop Dree jeans for £9 and they are far too big to fit the way Dree is designed to, but the waist being too big and the leg too short means I now have a bespoke pair of wide leg, relaxed fit jeans. For £9.
4. Ask yourself: 'would I actually buy that if it were full price?'
But do not be bamboozled by discounts. You have not saved money if it is ultimately a waste of money. Sometimes there are fabulous bargains, but sometimes things are fractions of the price for a reason. Hence my decision (ok, my mum's wisdom beamed over FaceTime) to not buy a Zara kids t-shirt that says 'No Bisou 4 U!'
5. May Week is coming
If you can find some amazing costume jewellery in the sale, this can be a godsend for May Week. Things like zazzy shoes, embellished clutch bags and spangly earrings are often greatly reduced and can be the perfect thing to finish your May Week outfits, or transform and rejuvenate them for reuse.
6.  Use your accommodation as a base
I sometimes go out to the shops in the morning, come back to my accommodation for lunch, to change if necessary and deposit my shopping, and then head back out again. Avoid sale fatigue and painful feet by resting and sale-ing wisely.
7. Check the returns policy
This sounds like common sense, I know, but there is a lot to be said for checking. And that way you can always buy something, try it on at home with your own things, and then decide.
8. The early bird catches the worm, but the late bird catches the final markdown
This is a decision you have to weigh up. Some shops will honour price adjustments if you pay more for something than it gets marked down to, but not always. However, we all live fairly near the shops, and have nothing better to do now exams are done, so you can always go multiple times.