Milan Fashion Week Autumn/Winter 2018: the highlights
After the third week of fashion month, Robyn Schaffer reviews the collections from the runways in Milan, which offered new takes on current trends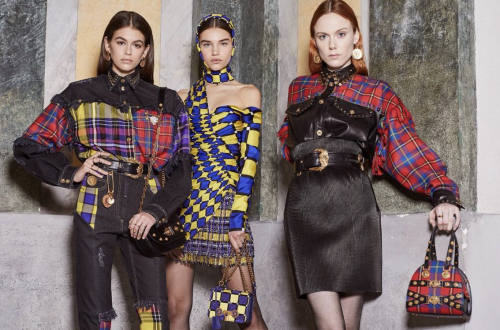 If New York is about modernity, and London about creativity and diversity, then Milan is about glamour; the Italian city is renowned for showcasing the cool, nonchalant attitude of Italian fashion, with its unapologetic love for luxury and decadence.
The Autumn/Winter 2018 shows so far, in New York and London, have been nothing short of impressive, with both cities presenting us with their take on the new powerful woman in the wake of the social upheaval stemming from #MeToo and the Time's Up campaign. While it has been wholly exciting and liberating to see the fashion industry respond to these important movements and incorporate their opinions into their collections, there is something eternally gratifying about the Milan shows, and knowing what you are going to get and knowing that you are (almost undoubtedly) going to like it.
British Vogue's fashion critic, Anders Christian Madsen, asked, "how, for instance, is a brand like Roberto Cavalli supposed to interpret its sexy, glamorous, glitzy legacy in this new climate?", but, as always, Milan rose to the challenge. There's a feeling in the air right now that women cannot embrace their femininity and sexuality, through fashion or otherwise, without compromising stereotypical preconceptions of power and strength. However, Milan proved, as it has continued to throughout the years, that the two can indeed go hand in hand for women. But what always draws me to the Milan shows is that they never seem to forget their love of fashion, and that a political statement need not always be made. And sometimes, that is enough.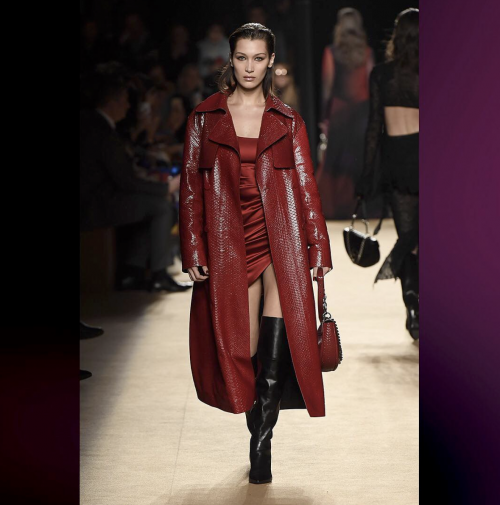 One noticeable trend on the runways – also a hit in London – was the presence of bold, bright colours and clashing patterns, showing that matching is no longer a necessity. At Versace, Donatella did this in the garish, almost-tacky-but-we-still-love-it way that only Donatella can manage, manifested in the form of ball-skirts and skin-tight cat suits that most of us could only dream of pulling off.
Miuccia Prada also chose to indulge in this new trend but took a different approach, with injections of bold brights juxtaposed with futuristic, galactic prints. There were white wellies, neon gloves and toeless socks, which, despite what you may be thinking, came together in true Prada style. It was also an unforgettable moment to see 19-year-old model, Anok Yai, be the first black women to open a Prada show in 20 years (second ever after Naomi Campbell was the first in 1997).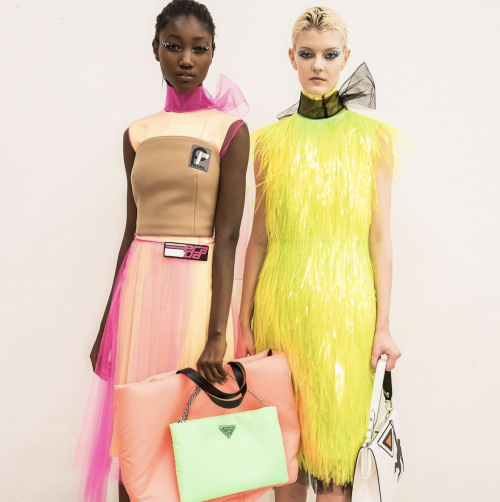 The Milan shows also demonstrated an affinity for their grungier side, something that hitherto has been reserved for the likes of the London designers. Max Mara designer, Ian Griffiths, who previously worked under British designer Ossie Clark in the punk era, claimed that the chance to show this side of the label was "30 years in the making". His collection showed an abundance of animal prints and black leather, in addition to graphic tees under boxy, masculine tailoring and coats. The models were given tousled hair and smatterings of black eyeliner to complete the look, presenting us with an entirely revamped Max Mara woman.
Paul Surridge, in his second collection for Roberto Cavalli, also made use of animal prints. However, as the collection progressed we moved into slinky cut-out dresses in earthy tones and striking leather jackets and trousers in monochrome, which allowed Surridge to retain the sexual element of Cavalli's heritage but also present a bold new side to the brand. It was a more refined collection than we have perhaps seen before, a little more grown up.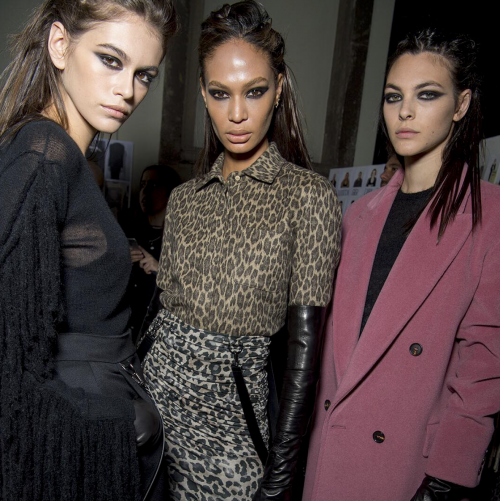 However, it was statement coats that dominated the runways this season, in every city so far. Marni showed these in bright, patent cobalt blues and greens, while Alberta Ferretti presented knee-grazing trench coats in amongst its gothic but glamorous collection. Jil Sander, as the industry's ultimate token minimalist label, also complied, presenting coats with long, simple silhouettes in a neutral palette to compete with other designers who used colour and pattern to grab attention. At Tod's, we had another example of a warm-toned, earthy palette, this time in the form of shearling jackets, leather jackets and a number of stand-out jumpsuits. It seems that a lot of attention is being paid to these typically masculine shapes in combination with the usual sexier side we see in Milan, perhaps in a bid to prove that this dichotomy between the sensual and powerful can, and does, exist harmoniously.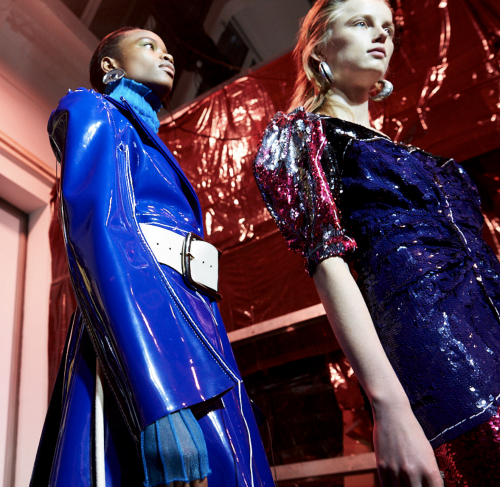 I couldn't write this review, though, without some mention of the Gucci show. Since joining the label in 2015, creative director Alessandro Michele has skyrocketed the Italian brand into stratospheric stardom, morphing it into something of a global super brand and pop culture phenomenon. This season, things took a turn for the weird and, at points, unexplainable. The set was an operating theatre, and models were adorned with a third eye and carried wax replicas of their own heads, apparently based on the idea of "superhuman transformation". While I personally didn't love the collection – something about it just didn't cohesively click – I certainly respect Michele's creative vision. From the New York Yankees logo emblazoned on lace jackets, to knitted balaclavas, snakes and nipple tassels (yes, you read that correctly), Michele moves to the beat of his own drum.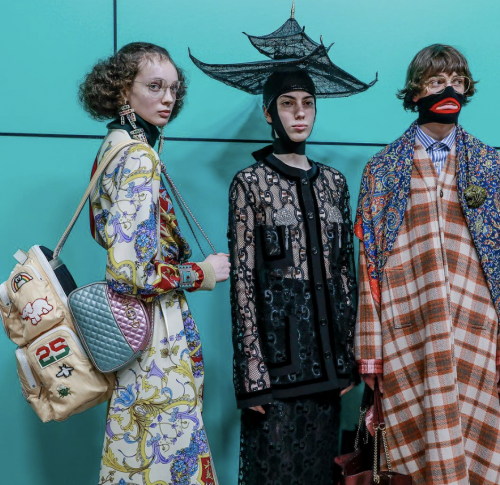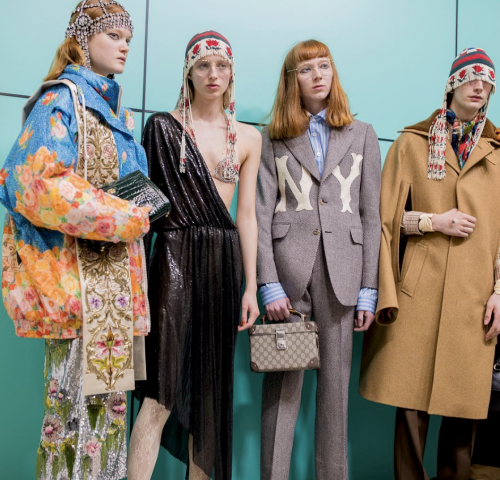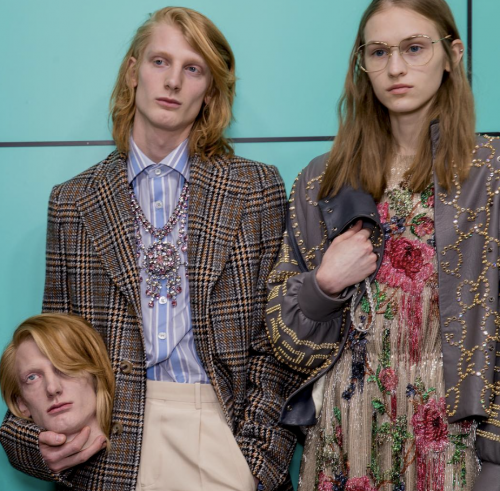 In an industry which is so often dictated by the whims of others and a tendency to follow suit, it's undeniably exciting to see someone unabashedly shun this. Michele aptly summed up his thoughts for this season, saying, "fashion is not simply what you wear or an instrument to generate business. It's something more", and hasn't he proved it