Were the Spice Girls really 90s fashion icons?
As rumours of a girl group reunion echo around the internet, Emily Blatchford takes a retrospective look at the lasting impact of the band's signature fashion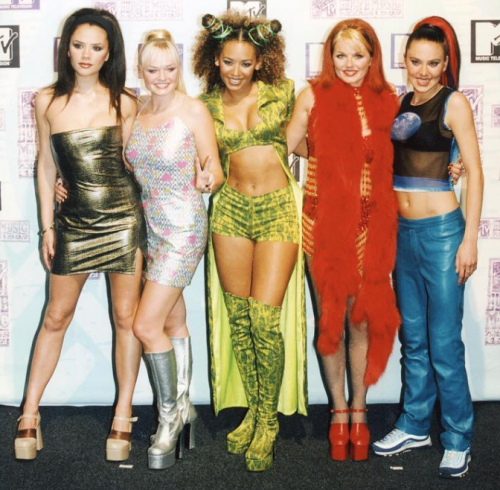 The Spice Girls were a phenomenon dressed in slip dresses and PVC. Having released their debut single 'Wannabe' in 1996, which topped the charts in 37 countries, the five girls took the world by storm. With their debut album Spice selling more than 31 million copies, a Hollywood movie which shattered box office records and numerous high profile endorsement deals, Scary, Baby, Sporty, Ginger, and Posh were some of the most recognisable faces of the 90s.
"They brought Girl Power and empowerment to the mainstream media with colourful and often outrageous fashion"
And now they're back (albeit, not going on tour). A joint statement earlier this month reads: "We have enjoyed a wonderful afternoon catching up and reminiscing about the amazing times we have spent together. We are always overwhelmed at how much interest there is across the whole world for The Spice Girls. The time now feels right to explore some incredible new opportunities together" – heralding a return that fans across the world have been anticipating for some time now, after their brief return for the London Olympics 2012 Opening Ceremony.
These 'new opportunities' are said to include a greatest hits album and a TV talent show and each member is said to be earning £10 million. The reunion was teased on Instagram by each of the former members and it is safe to say that their looks are a far cry from their 1997 Brit Award appearance, their white suits for the Spice World premiere or, a personal favourite, the Pepsi-endorsed outfits.
90s fashion nostalgia is rife on catwalks and in high streets stores and none did it better than the Spice Girls. Yet their platform trainers, crop tops and scrunchies did more than make a brilliant, but dodgy, fashion statement. They dressed with their Girl Power mantra in mind. They unapologetically celebrated what it means to be a woman. Their individual styles suggest that whoever you are and whatever you are interested in, you can be proud of your womanhood and, dare I say it, be a feminist.
Their individual styles could not be more eclectic, with Geri Halliwell as Ginger Spice with her Union Jack mini dress, Mel B as Scary Spice dressed in leopard print, Melanie Chisholm as Sporty Spice wearing athleisure way before it appeared on the runway, Emma Bunton as Baby Spice sporting pink mini dresses and Victoria Adams (now Beckham) as Posh Spice in a signature LBD.
Their message was positivity and empowerment. They brought with their bubblegum pop lyrics the cry that girls can be anything they want, celebrating strong and supportive female friendships along the way. They are often heralded as making feminism cool again, bringing it into popular culture with fun and fashion.
Yet it would be naïve to see no issues with a manufactured, over-sexualised pop band supposedly standing up for female equality and Girl Power. For starters, their message came in the wake of lesser known punk bands who are not given the same credit. Likewise, efforts to produce stock characters, like Mel C as Sporty Spice, can be seen as limiting, especially when it plays into problematic stereotypes: Scary Spice reflects the popular stereotype of the outspoken black woman. Moreover, their infighting and eventual breakup, including accusations of bullying many years after their split, surely undermines at least some of their portrayal of female friendships.
But they were the icons of a generation. They brought Girl Power and empowerment to the mainstream media with colourful and often outrageous fashion. It seems there has never been a better time for the Spice Girls to reunite with the current issues of gender inequality and sexual harassment seemingly affecting every part of our society.
Speaking to Vogue, Victoria Beckham explained: "You know, there's so much bad stuff going on, and the Spice Girls were about fun and celebrating individuality. I think there's so much that the brand can do, and it's such a positive message for young kids." As Geri Horner said in her Instagram post of the five of them, it seems that the girls are returning to ensure that '#girlpower is alive and well'