The Hadid sisters join forces with Edward Enninful to cover British Vogue
Looking at the Hadid sisters' twin covers for British Vogue's March issue, Olivia Sewell questions whether this choice is truly reflective of Enninful's self-professed new direction for the publication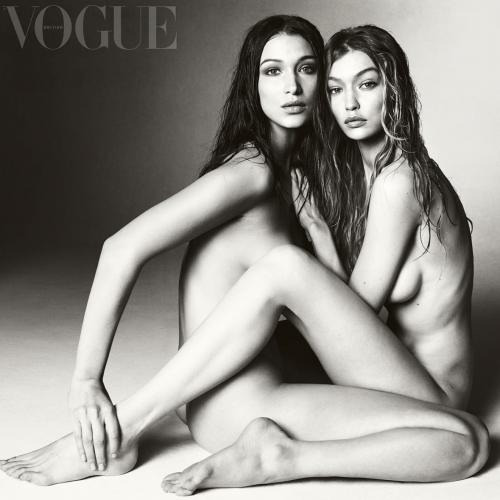 Supermodel sisters, Bella and Gigi Hadid, appear on the covers of British Vogue's two separate March issues. The sisters, two of the biggest names in fashion, on the covers of the world's most iconic fashion magazine – what's the fuss? But what happened to the "new direction" of Edward Enninful's edgy, zeitgeist-y debut December issue?
Enninful's first cover for British Vogue featured British mixed-race model, Adwoa Aboah – a potent symbol not just of British beauty and talent, but of Britain's diversity and of what it means to be young and female in 21st-century Britain. Far from just a pretty face, Aboah, with a history of mental health issues and drug and alcohol abuse, is a feminist activist and standard bearer for female empowerment. As a highly successful model, Aboah's other passion is her Gurls Talk platform, a safe space for young women to share their experiences of mental health, sex, love and all that comes with it. Aboah on the cover of Enninful's first issue for British Vogue alone was a statement that he was taking things in a new and different direction; the articles behind the cover covered and brought together fashion, society, politics and art in a way that is quintessentially British. True to his goal, Enninful delivered in his debut issue a rightly admired celebration of Britain's diverse society.
"I can't help wondering if there are not more relevant people to profile – relevant that is to young British women"
So back to the March issues, whose most talked-about feature is a naked photo of the sisters on the inside pages. A beautiful photo no doubt, but hardly something to "redefine what Vogue can mean today", as Enninful described his mission in December. Like the January and February cover models, Taylor Swift, Nicole Kidman and Margot Robbie, the Hadid sisters are white, heterosexual and famous. Their interview is talk of "Boys, Sisterhood and Posing Naked for Vogue".
So, nothing exactly mind-blowing there, which is a shame since, as the most famous Muslim supermodels, the voice of the Hadid sisters is a unique one, yet one readers were not given the opportunity to hear it. The sisters were raised as Muslims by their father, Mohamed Hadid, who moved to the United States when he was 14, after a childhood spent in Syria and Lebanon. "He was always religious, and he always prayed with us. I am proud to be a Muslim," Bella told Porter magazine in an interview in 2017.
The sisters are also outspoken critics of President Donald Trump's controversial immigration policy, particularly his ban on Muslims from seven countries entering the United States. In December 2017, Bella spoke out against Trump's widely-condemned official recognition of Jerusalem as the capital of Israel. Now that would have been an interesting read – how the ultra-successful supermodels feel about living in a country whose President vilifies Muslims every at chance he gets. Surely there is no shortage of supermodels happy to talk about boyfriends and sisters, maybe even some who'd be willing to get their kit off and talk about it for Vogue, but probably none who could give us an insight on what it means to be Muslim in the US at this point in history. Now that feels like a missed opportunity.
The March issue features interviews with octogenarian actress Helen Mirren, and with Miuccia Prada on the past and future of her luxury fashion house. Profiles of successful women at the pinnacle of their achievement are undeniably fascinating. Both are fantastic role models for young women and embody the success that can be achieved by those with the talent and determination to attain it. Yet, I can't help wondering if there are not more relevant people to profile – relevant, that is, to young British women. The December issue had supermodel Naomi Campbell's interview of London Mayor, Sadiq Khan, an article by author Zadie Smith on Queen Elizabeth II, and Salman Rushdie's article on celebrating Christmas in his multi-faith home.
In addition to this are insights from Twiggy, Kate Moss, Victoria Beckham and Gigi Hadid's boyfriend, Bradford-born pop megastar, Zayn Malik. December's issue really fused all aspects of modern life in Britain: not just fashion, but also the arts and politics. In his December editor's letter, Enninful seemed to hit the nail on the head in recognising that today's women want more than just a glossy magazine full of beautiful clothes on beautiful women. They want a magazine that reflects what Britain is today: multicultural and multi-talented, and the issues, religious, cultural and political, that face them. Unfortunately, in the March issues, that seems to have been forgotten