Looking back at 'Balenciaga: Shaping Fashion'
Phoebe Day reflects on the V&A's latest fashion exhibition biopic, which explores the life of one of the greatest fashion designers of our time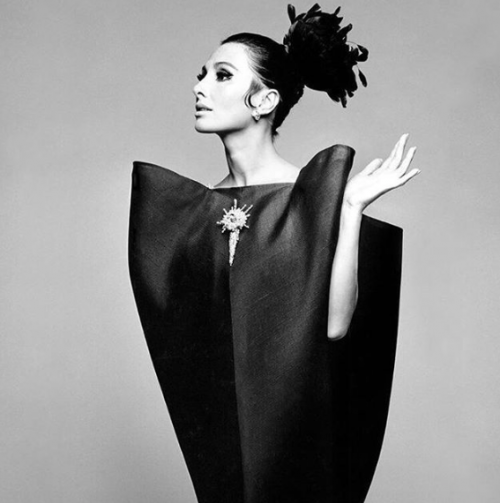 Cristóbal Balenciaga was one of the most influential fashion designers of the 20th century; even Christian Dior, his greatest rival, admitted that he was "the master of us all". He was not a celebrity in the same sense as other designers were: conducting only one interview and refusing to take a bow at the end of his salon shows, he preferred to let his designs speak for themselves.
Although the V&A's current retrospective 'Balenciaga: Shaping Fashion' inevitably places a spotlight upon the designer, it manages to stay true to his wishes. By focusing upon Balenciaga's exquisite and innovative craftsmanship, the exhibition casts him as the 'fashion designer's designer' whose avant-garde designs are still 'shaping fashion' fifty years later.
"His tailoring apprenticeship separated him from his contemporaries and instilled in him an unparalleled sensitivity for his garments' materiality"
Primarily, the exhibition focuses upon Balenciaga's designs of the 1950s and 60s, when he was at the height of his powers. A display at the beginning of the exhibition titled 'Meet the Master' contextualises these designs within his earlier career. Balenciaga was born in Getaria, a fishing village in the Basque region of Spain, to a fisherman and a dressmaker in 1895. After completing his apprenticeship with a tailor in San Sebastian, he established his first fashion house there, Eisa, in 1917 and opened fashion houses in Madrid and Barcelona the following year. In 1937, at the height of the Spanish Civil War, Balenciaga left Spain for Paris, the capital of haute couture.
However, as the display makes clear, Balenciaga never forgot his Spanish heritage. A sky-blue bolero embellished with black piping and glass-paste beading is presented alongside a ruffled red flamenco dress and two Valencian-inspired lace dresses. This display illuminates the subtler references to Spain which permeate Balenciaga's work: an over-sized black silk hat becomes a homage to the matador's montera.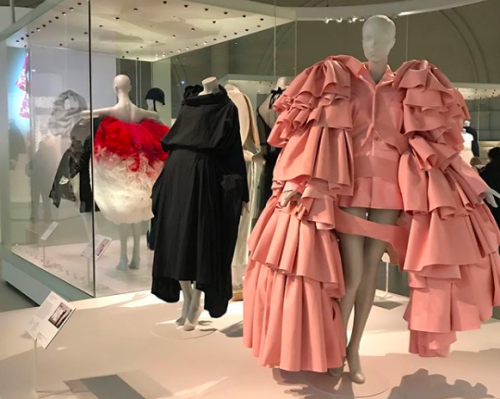 The exhibition then moves behind the scenes of Balenciaga's atelier. Chanel once argued that, whereas all his contemporaries were "simply fashion designers", Balenciaga "was a true couturier". His tailoring apprenticeship separated him from his contemporaries and instilled in him an unparalleled sensitivity for his garments' materiality. Balenciaga is renowned for his dramatic use of black, but the numerous fabric samples on display testify to the diversity of the colours, patterns, and textures he used.
The 1950s and '60s saw Balenciaga experiment with many unusual materials. A 1967 hot-pink evening coat embellished with pearls, teardrop and pink feather-shaped sequins, and Swarovski crystals is displayed alongside an unopened packet of these decorations. Shape was even more important to Balenciaga than surface; whereas Dior's design process began with artistic sketches, Balenciaga's began by draping fabric over mannequins. This approach enabled Balenciaga to pioneer a range of new silhouettes, including the balloon-hem, baby-doll, sack, and envelope during the last two decades of his career. A video of a tailor recreating one of Balenciaga's suits and x-ray photographs of his dresses expose the complexity of such seemingly simplistic designs.
It was whilst looking at the black dresses that I began to understand how Balenciaga, a staunch defender of the traditions of haute couture, could be considered a modernist. As his rivals corseted women into Dior's 'New Look' silhouette, Balenciaga's architectural silhouettes liberated the female body by totally abstracting it. Many of his designs were greeted with hostility, yet they caught on as women realised their liberating power. His eradication of the waist and emphasis of the stomach's roundness defied accepted notions of female beauty. His unorthodoxy extended to his presentation of his designs, with models of various ages, races, and shapes.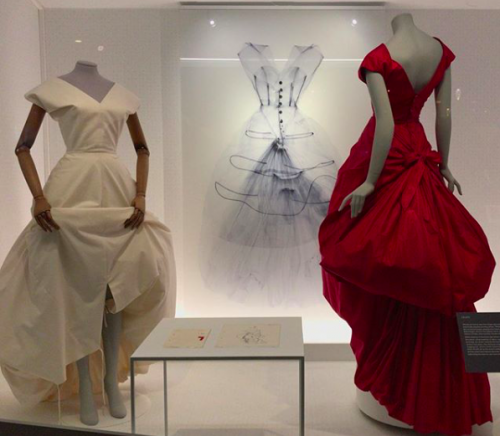 'Front of House' was the section of the exhibition devoted to the milieu of his designs. His élite and loyal clientèle of the 1950s and '60s included glamorous figures such as Ava Gardner, Gloria Guinness, and Mona von Bismarck. Garments from their wardrobes simultaneously animate Balenciaga's designs and highlight their ephemerality. Gardner's lace evening coat with ostrich feather trimmed sleeves, purchased from Balenciaga's Spanish house Eisa, is a prime example of this.
Such was the personality of his clients, and the size of his business, that Balenciaga could not maintain autonomy over his designs once they left his studio. Cheaper items by Eisa and Harrods explain how Balenciaga's designs were disseminated amongst a wider audience. Film footage of Balenciaga's salon shows, and photographs by Cecil Beaton and Richard Avedon, also animate his designs and highlight differences between how he and the fashion media styled his clothes.
---
Looking back at Balenciaga
Devoid of Balenciaga's own designs, the second room of the exhibition invites the viewer to consider Balenciaga's enduring influence. Through the garments of designers as diverse as Yves Saint Laurent and J W Anderson, the display traces the many ways in which Balenciaga's work has been interpreted over the last fifty years. Many of the parallels made are illuminating, especially those with Balenciaga's protégé Hubert de Givenchy and his apprentices André Courrèges and Emanuel Ungaro.
Filmed interviews with contemporary designers such as Molly Goddard make a convincing case for Balenciaga's 21st-century relevance. However, some of the parallels drawn feel slightly tenuous; there simply isn't enough space to dissect each of these designers' oeuvres with the same detail as Balenciaga's is in the first room. Perhaps rightly so; it is the bold silhouettes of 'the master' which remain with me after leaving the exhibition