Can Ratajkowski's sexy spaghetti be a feminist statement?
Emily Blatchford takes a look at LOVE Magazine's controversial sixth annual advent calendar, which claims to be all about female empowerment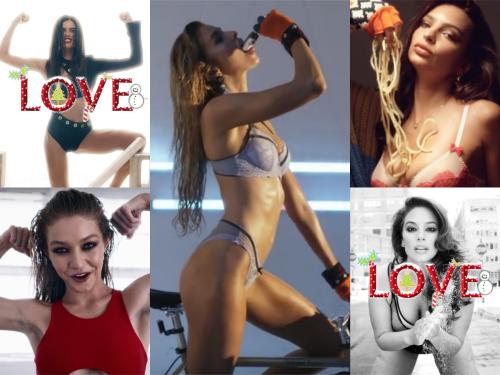 LOVE Magazine's advent calendar is back for its sixth year, shot by Phil Poynter, Rankin and Gia Coppola and with editor-in-chief Katie Grand at the helm. The notorious countdown to Christmas replaces chocolate with video clips of female models, like Ashley Graham and Haley Baldwin, in their underwear. Last year the daily clips took their inspiration from iconic movie scenes. 2017's calendar takes a different approach. It's all about 'strong and empowered women'.
"It is not hard to take issue with elements of a campaign which treads the difficult line between this empowerment and objectification"
With a sports and exercise theme, the magazine encourages women to #staystrong. From Kendall Jenner boxing to Taylor Hill doing gymnastics, the videos are intended as a 'celebration of womanhood'. The editor, Katie Grand, told The New York Times that the series was inspired by her visit to the gym Dogpound, a model favourite. Its intention is to encourage women to feel confident and resilient and is about celebrating 'women being women' on their own terms. But whether it hits the mark is up for debate. Ultimately, the calendar is supposed to be fun, even ironic in places, and it is difficult to pinpoint whether this is an empty message or real attempt at female empowerment.
Much of the praise the calendar receives is deserved. For many, the calendar encapsulates what it is to be a young woman in 2017: to be strong, powerful and sexually confident (as Emily Ratajkowski's video of her coyly toying with pasta suggests). These women own and control their own bodies. Day 11's Gigi Hadid was particularly praised for showing armpit hair – or jumper fluff as others argued.
Yet it has caused quite a stir with people struggling to reconcile the videos of underwear models with their idea of feminism. Certainly their plan to "undress for success" shows good business acumen with 84 million people watching the LOVE series last year. On a cynical note, sex sells and caveating that with a female empowerment message seems to have covered all bases. It is not hard to take issue with elements of a campaign which treads the difficult line between this empowerment and objectification. Even the idea of gifting a woman a day sits uncomfortably.
Moreover, it can be demeaning to female athletes who work tirelessly to be taken seriously in a male sports world. Many of these clips seem to glamourise the blood, sweat and tears they put in to be successful. The intense training their bodies are put through is in order to smash their time or beat their competitors, not to gain the perfect bikini body.
Lol never said my love video was a feminist statement. But now it's worth saying that telling women what to do with their bodies & sexuality is actually just classic sexism. I️ can have opinions about feminism & also do sexy photo shoots k thanks

- Emily Ratajkowski (@emrata) December 7, 2017
#staystrong also seems to be a reassurance to women that in the face of everything which has happened this year, they should remain confident and powerful. The calendar therefore almost seems a comeback. It's hard not to think back to the Harvey Weinstein scandal and the others which have followed, especially in light of the models' showbiz connections, and consider that this may not be the most appropriate retaliation. The roots of their crimes comes from the objectification of women which is only heightened by the fantasy elements of such a spectacle.
It might, however, be the perfect response, portraying women that are in control of their own bodies. As Emily Ratajkowski said of her video, "I have been so disappointed to hear women talk about 'modesty' and 'our responsibility,' as if we need to, yet again, adjust to make it 'easier' for the rest of the world. I'm tired of having to consider how I might be perceived by men if I wear the short skirt, or post a sexy Instagram. I want to do what I want to do."
This debate encapsulates the issues at the heart of the fashion industry right now. There seems to be a crisis of how strong women should be represented in the future, and striking a balance between objectification and the portrayal of confident empowered women still has a long way to go. LOVE Magazine's advent calendar has left me especially confused about whether this really is all in the name of feminism