Meet Molly Goddard, the British designer taking the fashion world by storm
Vivienne Hopley-Jones takes a look at the work of Molly Goddard, a young British designer whose output is loved by Rihanna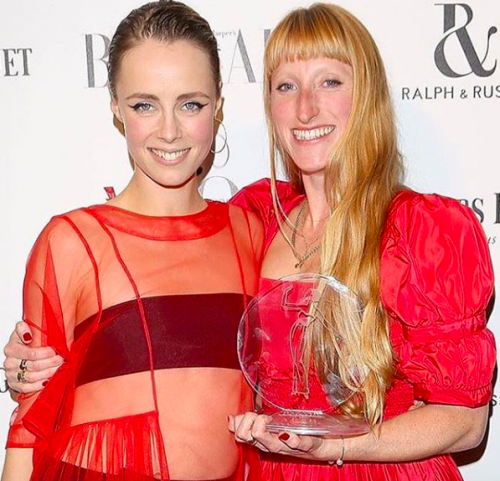 Molly Goddard, the rising alternative designer in British fashion, consistently manages to maintain her reputation as raw and innovative, while flourishing under recognition and commercial success, now with several seasons of successful collections under her belt. Goddard's name has been further catapulted from inner circles within the industry to a much wider audience, recently making fashion headlines following Rihanna wearing several of her pieces on the red carpet.
"Goddard was definite from the start about what she would and wouldn't do, saying 'no' to offers and brands"
Part of Goddard's appeal is that she has carried her foundational artistic roots with her; her shows still have a creatively curated art-school vibe, perhaps reflective of her education at Central St. Martins, London.
Goddard presented her first collection at London Fashion Week back in 2015, while in her final year at Central St. Martins. Having dealt with artistic set backs and failures through her degree, Goddard took the initiative to present her own collection in a small church, having hand-made the clothes and modelling them on her friends.
Goddard was definite from the start about what she would and wouldn't do, saying 'no' to offers and brands. This creative control has certainly allowed her to define her own style and make her own mark on the runway, suggesting she'll continue to outlast the other momentary darlings of the London fashion scene. She consistently brings a refreshing perspective to the runway; as both a woman and a young, innovative designer, her work is distinct from all that around her.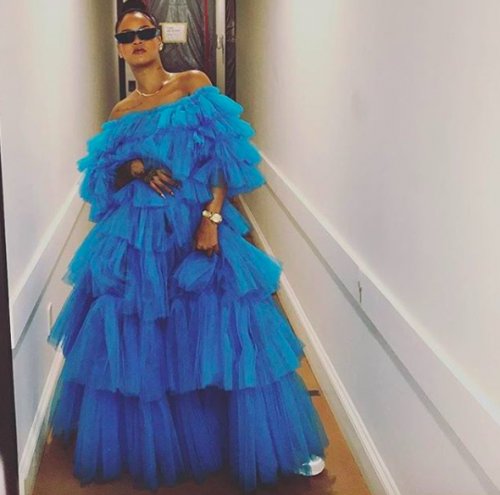 Goddard has curated her artistic and haphazard art-school feel with a sophisticated and authentically recognisable aesthetic. Her use of setting is innovative and notably different to other designers, and Goddard has become renowned for her creative utilisation of space. This eye for another aspect of design perhaps derives from the influence of her mother, Sarah Edwards, a set designer with whom Goddard worked when creating the show she presented in collaboration with the V&A this summer. The show undoubtedly worked to Goddard's strengths; her designs complimented the museum as her pieces have an elegant feel to them, and a modern take on a somewhat Austen-inspired vibe.
The pieces pulled historical trends and inspirations, with a very modern artistic spin, something distinct in the designer's wider work. There was a sense of history coming to life as models paraded frills and ephemerality among classical Greek statues, some revealed others still bound in dust-covers, contrasting with and thus enhancing the vibrancy of the collection. Goddard's runway epitome of the Victoriana trend can be seen nowhere more starkly than in the V&A collection.
This contrasts with the mood and setting which formed the backdrop for her Spring/Summer 2018 collection. Set in a white space, the runway itself was dynamic, with steps and platforms creating energy on the runway. A framing structure at the end of the runway played with perceptions and there was almost a sense of a 'fourth wall' being broken, a further allusion to her theatrical influences.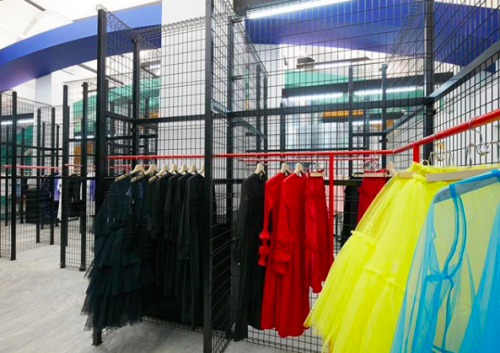 Her most recent collection marries a utilitarianism with her classic frills and boxy shapes. She combines frills, loose structured dresses, with my favourite element: the masculine bulky shoes. There is something paradoxically substantial and mature in the child-like quality to her work.
The show itself was performative and unique. The models themselves did not conform to the normative dead-pan expression that is the uniform of the runway look. Instead, Goddard has the models express attitude and personality; their walks are less disengaged, more dominant and assertive. The models are lively, expressive, creating a sense of ownership over the clothes. Instead of conforming to Lagerfield's widely held image of the model as a 'clothes hanger', Goddard has her models present the garments, bringing them to life and showcasing them with confidence and a daring aggression.
---
Women are empowered on social media. Fashion needs more of them
The white space is enhanced by sculptural pieces which are recollective of the work of sculptor Barbara Hepworth: un-earthly and ethereal, yet substantial and grounded. This description is certainly apt to describe Goddard's distinctive design style too. Her work is inherently female, without being feminine