Corduroy skirts and rustic denim: the aesthetic appeal of Stranger Things
After its debut on Netflix in 2016, Juliet Martin tells us why Stranger Things was such a hit not only on the screen, but also on the runway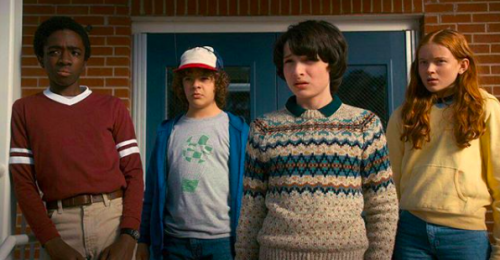 When Stranger Things first dropped on Netflix in 2016, we collectively swooned over Nancy's fur-lined rust-coloured jacket. From Mike's baseball caps and faded denim to the iconic sugary babydoll smock that transforms Eleven in Episode Four, the Stranger Things costume department made the fashion world sit up and take notice.
"But why is it that the Stranger Things aesthetic has had such conspicuous resonance with contemporary style?"
Now in its second season, the hit show has lost nothing of its beloved retro nostalgia. Whilst wholeheartedly embracing a new decade, it correspondingly manages to tap into current trends: a 1980s revival has taken flight on the catwalks of Balenciaga, Gucci and Coach. Even corduroy has been reclaimed; unjustly badmouthed in the past as the textile choice of geography teachers, it became a prominent feature in multiple AW17 collections. Notable was Kendall Jenner's lavish scarlet two-piece at Marc Jacobs, trimmed with taupe shearling, and an exquisitely tailored Prada coat in baby blue just begging to be thrown on over a knee-length slip and a pair of Nike Cortez for all your 80s-chic dreams to come true.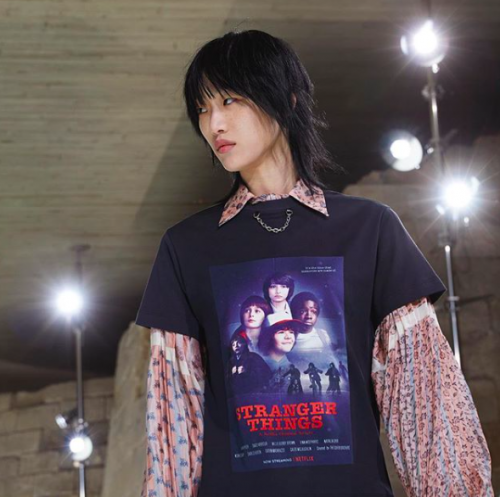 This nostalgia is woven into the very fabric of Stranger Things. Whilst the show is candid in its pastiche of 80s sci-fi, costume designer Kimberley Adams has stressed that the main source of inspiration was drawn from characters' real-life counterparts. The zeitgeist is realised to its fullest potential: the scenes at Hawkins High School feel like a walking, talking yearbook circa 1984. But why is it that the Stranger Things aesthetic has had such conspicuous resonance with contemporary style?
For one thing, the costume designers' emphasis on rustic American workwear both manifests the setting of rural Indiana with devoted authenticity and effortlessly translates itself to the demands of modern life. Practical denim jackets and overalls, which can be layered over flannel shirts or ribbed T-shirts, are not only functional but totally comfortable. This look is especially big on outerwear, appropriate for the season as we transition into the chilly autumn months. Besides utility, there's an appealing smartness in the preppy ensembles of Nancy and her school friends. Cropped sweaters are paired with pleated skirts, tights and oversized knitwear in autumnal hues of ochre, copper and burgundy: sophisticated, yet casual enough for everyday wear.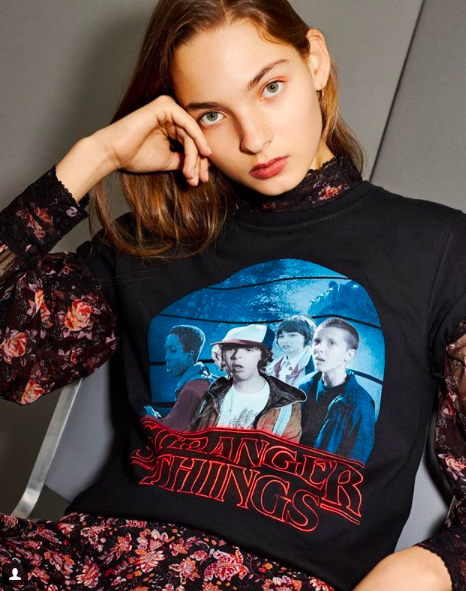 We can trace these trends on the high street as well as the runway, in Topshop's ubiquitous mom jeans and puffer jackets which could easily have been borrowed from Barb's wardrobe. High street brands are increasingly catering to a demand for the fashions of popular culture. After all, style direction today comes by and large from the mass media we consume on a daily basis, rather than the lofty echelons of high fashion houses. In 2017, the 80s are available and accessible to all.
The hype reached fever pitch in October as scores of fans queued up in the rain to get their hands on Topshop's exclusive Stranger Things merchandise collection. Merch is traditionally a means of self-expression and communication: a fellow fan is far easier to identify when they're sporting a 'Never Forget' Barb tee. However, it's now become a style statement in its own right, further evinced by the Stranger Things T-shirts in Louis Vuitton's Spring 2018 collection. Creative director Nicolas Ghesquière, himself a vocal admirer of the show, referred to them as "one of the most wanted clothes backstage."
Whether we're donning a corduroy skirt and shirt combo à la Nancy, or publicly declaring our loyalty in jumpers emblazoned with the familiar neon red title, Stranger Things continues to inform our style choices. I binged Season 1 in a veritable triumph of procrastination and stamina, but this time around, I'm just as excited to see the characters' developing styles as I am to see Eleven kick some more Demogorgon butt. Practical, comfortable and lastingly chic, it seems the fashion of Stranger Things is here to stay