Seeing red: the world's latest hue
Marie-Louise James explores the rising popularity of the colour red and its social and political connotations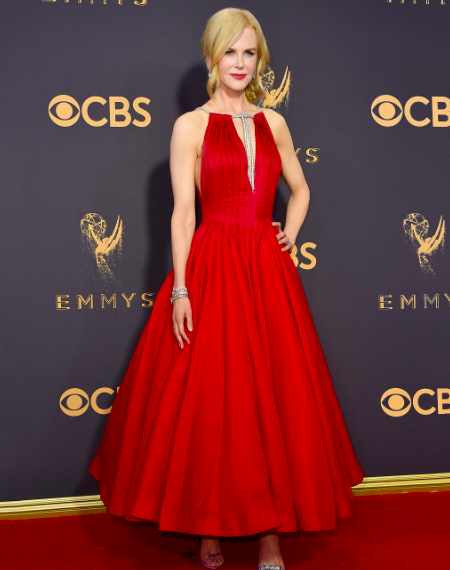 Red is the newest centrepiece of the fashion world, making appearances at every recent fashion week – New York, London, Milan and, most recently, Paris.
Some designers have made an explicit point of using this striking colour thematically. Designer duo Justin Thornton and Thea Bregazzi's label Preen featured embroidered red A's on billowing white silhouettes throughout their collection. Their theme, a politically charged exploration of women in society, spoke for itself with costume-like Victorian bonnets and bright injections of red. "We're bringing up two girls in this world and it's turned into such a mess that we feel a strong responsibility to show them it must not be like this for them," said Bregazzi.
"Vermilion became the 'it' colour of vivacity, confidence and risk"
Likewise, Raf Simons' debut collection for Calvin Klein for Fall 2017 used red in a heavily symbolic way, wielding the colours of the US flag for an Americana theme which was particularly striking in light of the country's current political climate. This New York Fashion Week, Simons used red again – this time incorporating the shade's connotations with horror movies into his growing idea of 'Calvin Klein's America'. Semi-cartoonish sculptures of swinging axes and blood red-orange ribbons hung above the runway.
The introductory show notes read "an abstraction of horrors and dreams" that takes "its inspiration from cinema, from the dream factory of Hollywood and its depictions of both an American nightmare and the all-powerful American dream". Juxtaposing darker, sombre colours with the Americana textures and silhouettes of his previous collection, the show succeeded in deconstructing the duality of its theme.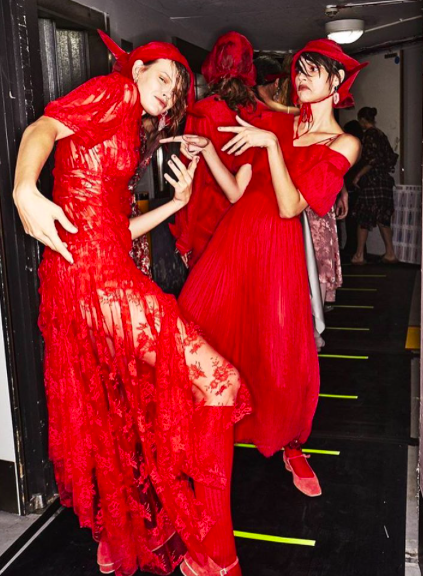 Calvin Klein's subdued, black-tinged reds contrasted with the playfully bright vermilion hues showcased in the SS18 collections of Delpozo, Mansur Gavriel and Monse. Here, red-orange shades came to life in a much a more geometric and structured way. Monse set its runway on a basketball court, opting for bright stripes and athletic shapes. Delpozo's black tie creations, on the other hand, used warm reds, creams and oranges, creating a pleasing yet boldly confident palette. Here, red seemed to take on much more positive and optimistic connotations.
Vermilion became the 'it' colour of vivacity, confidence and risk. Its eye-catching power made me think of a psychological study from 2008 that explored not only the colour's associations with positive feelings but also its power of attraction, showing how women wearing red were rated as significantly more attractive by men than when they wore any other colour – a sharp departure from the shade's connotations with blood and persecution.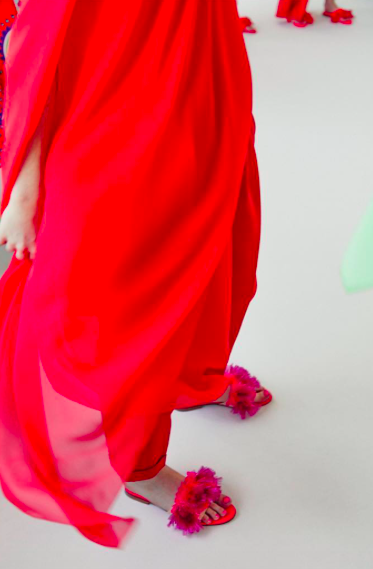 Yet you don't have to leave the house in a PVC raincoat or scarlet Anarchy A to get the wonderfully vibrant and powerful effect of the colour. Try a boxy red pencil skirt with a black and white graphic tee for a look of casual sophistication or a red wool coat over a simple white top and jeans base. If you're feeling even bolder, go monochrome: embrace your inner fire hydrant and dress in head-to-toe vermillion, whether in the form of a coordinating pantsuit or more casually coordinated sweater and skirt.
There are many ways to brave the monochrome look, but the trick is varying textures. A heavy knit cable, for example, paired with a fine-thread skirt adds visual interest to an otherwise one-note colour palette and allows you to explore different realms of pattern and texture within your colour of choice. The other trick is to play with pops of colour: think a red turtleneck layered under a white shirt or something as simple as a bright silk neck scarf. Extra points for coordination if you add a red lip or ruby slipper to tie in the peeks of colour you've sprinkled throughout your outfit.
---
Millennial Pink: an ode to colour
Whether you wear it as a seasonal shade or make it a permanent wardrobe staple, red is here to stay. Out of any colour, it holds perhaps the most diverse range of connotations – political, violent, romantic and ceremonial to name a few. And the work of designers, especially in recent collections, shows a strongly emblematic focus on colour, one that picks up, wields and manipulates our cultural and historical associations. This attention to detail and symbolism is more important than ever. Ultimately, it manifests the artistic capability for social commentary so key in today's turbulent world