The Creative Genius of Vogue Italia
As the second part of a series on Vogue, Kate Hammond takes us through Vogue Italia's September issue and the magazine's creative history for which it is renowned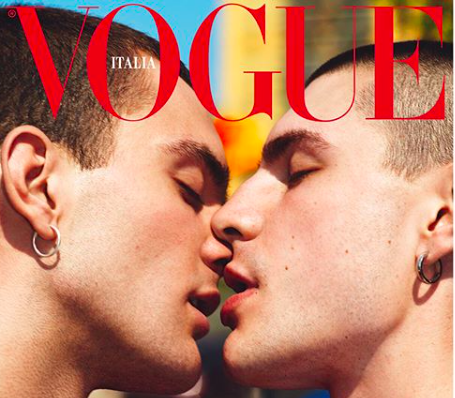 "Fashion isn't really about clothes - it's about life." Franca Sozzani's words seem to sum up perfectly the creative aesthetic of Italian Vogue. It picks up on pressing issues facing contemporary culture with a fiery, controversial and unapologetic attitude. 

Vogue Italia is often regarded as the editorial vanguard of the fashion world; its past covers have been known to push, break and obliterate boundaries. Such is the legacy that Franca Sozzani has left for the magazine, with outrageous, bold and diverse issues having become the trademark symbol associated with the publication. She has never shied away from controversial topics.
"Fashion isn't really about clothes - it's about life."
This September issue, new editor-in-chief Emanuele Farneti has chosen to celebrate fashion's biggest month with models locking lips. Fashion takes a fresh and stylish stand against politics as we see Vogue celebrating and relishing in diverse sexuality. Shot by renowned photographer duo, Mert Alas and Marcus Piggott, models Lily Aldridge and Vittoria Ceretti grace one cover, Maria Carla Boscono and Federico Spinas another, whilst real life couple Edoardo Velickskov and Pablo Rousson dominate the third.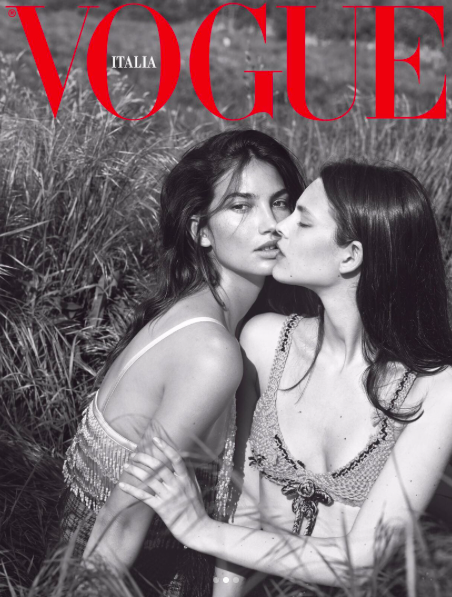 Casting director Piergiorgio Del Moro claimed in this issue that it was "such an important message" for Italy, and rightly so. In 2016, after much controversy, Italy gave legal recognition to same-sex civil unions, being the last EU country to do so. The cover symbolically marks the progression of sexual acceptance worldwide and paves the way for sexual fluidity to be further explored and celebrated. Love triumphs all, the covers seem to sing; this is certainly a message we can all take hope from in a constant political climate of discrimination and encouraged speculation.
Fresh, innovative and daring, Vogue Italia has a history of creating eye-catching and startling covers that no other Vogue is able to replicate. Photographer Steven Meisel has certainly contributed towards this unique vision and for over a quarter of a century he was the principal cover photographer. The 2008 'All Black Issue', which showcased and celebrated black models in the world of art, politics and entertainment, sold out in the United States and the United Kingdom within 72 hours. The cover served to challenge the fashion community's lack of cultural and racial diversity.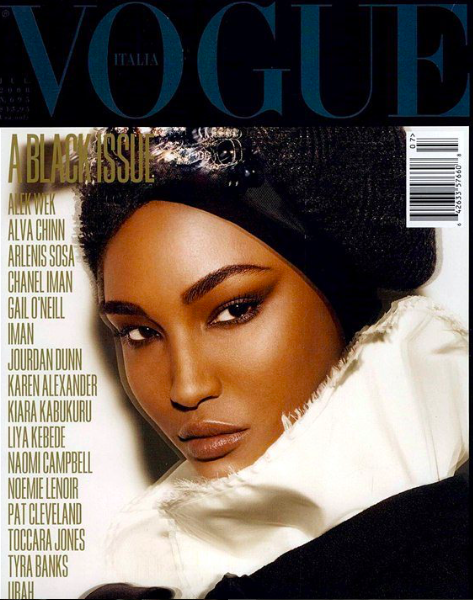 Creativity has always been evident with Vogue Italia; the fashion editors are perennially tasteful and inventive, often commenting on popular culture and how this weaves its way into fashion. In the story, 'Don't Shoot' by Tim Walker for Vogue Italia in 1999, models take cover with handbags and newspapers whilst fleeing in heels from the fear of a lethal bullet. For 'Makeover Madness' by Steven Meisel in 2005, a model is covered in bandages and face tape as a commentary on the rabid obsession and lust for youth. For 'Water & Oil' by Steven Meisel in 2010, we are presented with an unsettling and morbid commentary on the BP Oil spill in the Gulf of Mexico. This 24-page editorial features Kristen McMenamy greased all over in black tar, which sticks aggressively to delicate feather dresses on a rocky, post-apocalyptic looking beach as she takes on the persona of an oil-coated bird.
This September's cover is no exception. Vogue Italia teaches us the power of combining creative vision with contemporary culture to create a mirrored reflection of diverse modern-day reality. Life is no longer black and white, and Vogue Italia recognise this: instead of mere monochrome we are gifted with a whole spectrum of fearless and imaginative colour