Time after time: British Vogue's September issue
As the most important month of the fashion calendar, Kate Hammond dissects British Vogue's September issue cover, which features the faces of five women representing the past, present, and future of British fashion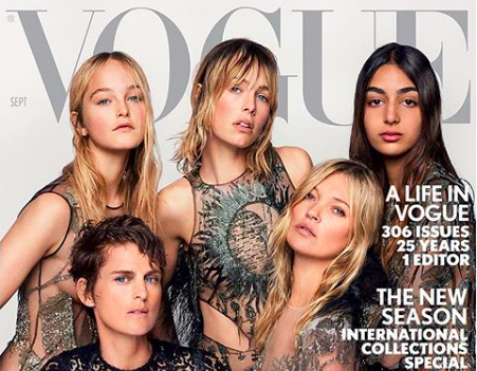 The September Issue of every high-fashion magazine is traditionally the most prominent, the most prestigious and the most profitable. Going back to our school days, September has always been the signal for new beginnings and fresh starts, yet it also marks the calendar for fresh fashion each year as we see new creative direction and a legendary line up of shows in New York, London, Paris and Milan. Ever since the release of The September Issue, (the film starring Anna Wintour as the despotic, blood-chilling editor of American Vogue) the stakes for this gleaming almanac of opulence and self-indulgence have raised even further.
This year's British Vogue September Issue ties in with the 100 year anniversary of the iconic fashion publication. Therefore, it seems fitting that the theme of the cover centers around time. British Vogue's past, present, and future are gathered together magnificently on the cover through five legendary models united in blazing glory to represent and celebrate the absolute best of British fashion from the past 100 years.
Although not a particularly daring cover, it is nonetheless stylish, symbolic and, er, timeless. Decked out in sprawling shades of sparkling gunmetal grey, we see individual elegance and beauty grace the cover, from the old school mastery of Kate Moss, Stella Tennant and Edie Campbell to new and unique faces such as Nora Attal and Jean Campbell – five faces that capture the rare, raw and raging talent that British fashion seems to symbolise so perfectly.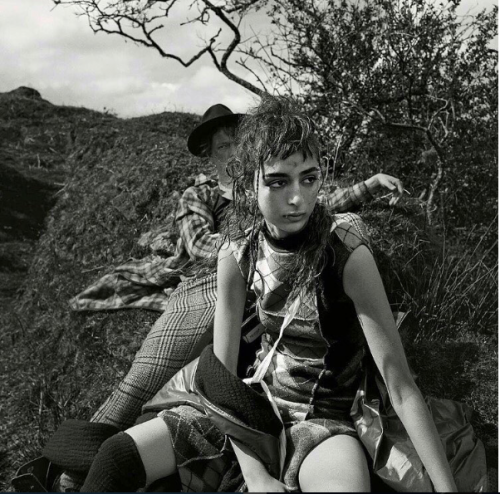 Whilst the cover features rays of metallic light, the main story that follows inside favours black and white, up close and personal images. Simplicity at its absolute finest, British Vogue delivers a masterclass in timeless style and individual beauty. The clothes chosen encapsulate the rebellious spin that British fashion has long been associated with; softer textures such as velvet, sequin and fur are paired with edgier rough-and-tumble iconic British fashion moments such as Edie Campbell's signature beaten-up biker boots and Kate Moss' iconic slept-in scruffy hair that seems more fitting for Glastonbury festival than a Vogue fashion shoot. The cover shoot demonstrates what British fashion has always been: daring, bold and unapologetically imperfect.
"The cover shoot demonstrates what British fashion has always been: daring, bold and unapologetically imperfect."
This edition's tribute to fresh-faced talent is admirable; over the past few years we have seen increasing nepotism continue to take precedent over artistic direction for September Issues (fashion's favourite sister-duo the Hadids have collectively nabbed 30 Vogue covers over the past three years alone). It's refreshing to see British Vogue returning back to its high-fashion orientated roots, while the other featured fashion stories boast similar levels of unique creativity.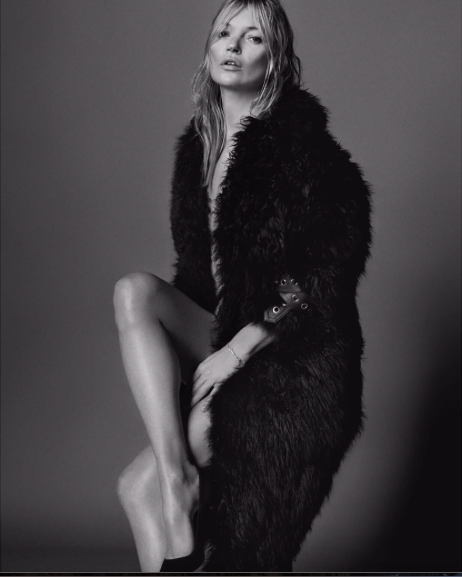 'She Who Dares', the shoot styled by Moss herself, is flavoured with a Renaissance-like regality and centres around intoxicating silk limes and fuchsias, a galaxy of sequins and flashes of transparent vinyl, adding edge and originality to classical evening looks. We also receive a lesson in Western dressing that would make Sergio Leone proud; the 'Slow West' shoot brings us rancher shirts, homespun knits and shaggy shearling jackets fit for the modern urban cowgirl. Finally, the fashion feature 'Run Wild' where models roam free in the untamed Cornish countryside has a punkish feel to it. Here, rebellious materials of plaid, fishnets and leather perfectly align with the unkept and rural rocky Cornish landscape.
All in all, this was a powerful issue with a nostalgic feel evoked in the wake of Alexandra Shulman's departure. However, the Vogue September issue urges us to look towards the future; with the new appointment of Edward Enninful to steer British Vogue into a new, youthful and inventive direction, this future is looking very bright indeed.