A tie-breaker in Parliament
As the Speaker of the House of Commons John Bercow declares that wearing ties is no compulsory in Parliament, Eleanor Swire considers the potential impact of this announcement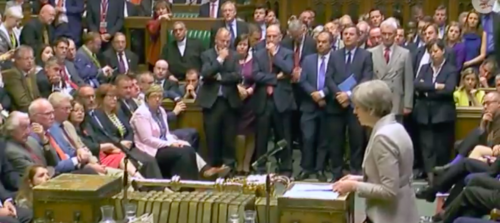 John Bercow, speaker in the House of Commons, has recently ruffled a few feathers with his ruling that ties should not be compulsory in Parliament. Although 'business-like attire' would remain mandatory, this is a break from the past in the House, viewed by many as a beacon of tradition in England. A decision that could, perhaps, more fruitfully be viewed as moving with the times.
The role of the House of Commons dress code is meant to ensure adequate respect for the House and for its central position in the life of the nation. In the House there is no formally recognised dress code, rather convention dictates that men wear a jacket and tie with women wearing attire of an (vaguely stipulated) equivalent formality. 
Traditionalist MPs seem quite put out by the implicit relaxing of dress code and have brought it up several times since Bercow's 'loosening' of expectation. Peter Bone and Liam Fox prodded the Speaker with talk of the strength of the British tie industry and its importance in exports, calling for the House to support British industry by wearing British ties. If ties are so popular, as Bercow pointed out, then it might be worth asking whether it really be necessary to compel people to wear them.
"The House of Commons could be perceived as increasing accessibility"
The root of the Speaker's new stance could, it should be noted, be practical rather than sartorial. Labour MP Jared O'Mara struggles to do up shirt buttons and knot ties due to his cerebral palsy and was previously made an exception to convention. Thus, by allowing the more general 'business-like attire' dress code, the House of Commons could be perceived as increasing accessibility.
Criticised by some as a 'dumbing down' of the standards of the House, this convention shift could be viewed as an institutionalisation of relaxing norms of 'business-like attire'. What began as 'Casual Friday' – when office workers have a relaxed dress-code on Fridays – has begun to dictate a more permanent relaxed dress code in the workplace, trail-blazed by start-ups and Silicone Valley corporations. This change in convention could be viewed as a relative modernisation; as the House aligning itself to loosening standards of business attire worldwide, following Bercow's previous removal of the Commons clerks' wigs in February that he hoped would 'convey to the public a marginally less stuffy and forbidding image'.
But does what you wear really affect what you do? Some studies show attentiveness is affected by what we wear. Clothes as uniform can differentiate between behavioural expectations – for example, work or relaxation. What we wear affects how we and others perceive us. Thus, by removing strict tie convention, this relaxing of attitudes could result in a relaxing of behaviour and attitudes towards House of Commons.
Suits and ties, and the conformity they bring, serve the purpose of uniform, allowing an egalitarian focus on an individual and what they are saying, rather than what they have chosen to wear that morning. It could conversely be viewed as making the House a more representative body of the public who, in their everyday, often do not wear ties and, in this way, aid the House in performing its purpose to serve the people. Furthermore, women who are now thankfully allowed to be MPs, do not frequently wear ties, so relaxing the dress code for men could be a move towards greater equality in dress code vagueness. 
So, does this decision show a shift towards a more accessible, personable politics; or is it a sign of changing fashion? Sometimes tradition is best left in the past. Just as the top hat, female oppression and the cravat went out of mainstream fashion, perhaps the end of the tie is nigh. For now, however, the change does not seem to have had much effect on what MPs wear