Backstage at CUCFS
When Flora Walsh was called in last minute to act as makeup artist for CUCFS 2017, she saw the hidden side of putting on a fashion show, where glamour and beauty is not so abundant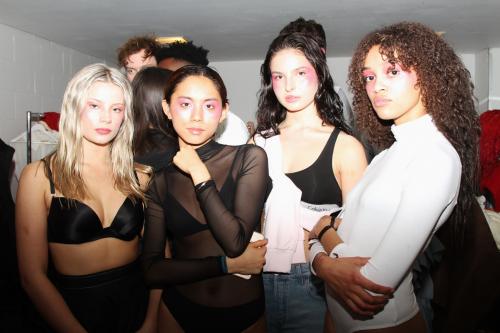 I often think that fashion shows are like swans on a lake. Above the surface all is calm and beautiful, and yet, below the water, there is a furious commotion needed to support the majestic scene. When the models stride out onto the catwalk, statuesque and striking, they are simply the visible edifice of the often unglamorous juggling act of logistics, budget, creativity and hard grind that goes into producing a fashion show. Cambridge University Charity Fashion Show 2017 was no exception. While the audience watched in awe as models glided past in creations that were shocking, provocative, sublime, ridiculous and devastatingly exquisite, the backstage was shockingly prosaic in comparison.
To begin with, the makeup team dropped out at 4.30pm, two and a half hours before the audience would start to arrive. Thus, a flurry of panicked phone calls and messages ensued, with the end result that I would be creating and applying the look for the show, with less than one hour to prepare.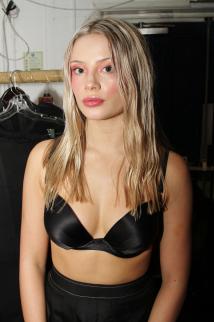 On arriving at the cramped and shabby green room of the Corn Exchange, what hit me first was a great wave of heat emanating from the bright makeup lights, the sheer number of people crammed into such a small place and the palpable panic that had begun to settle on the models and the organisers, since a full run-through was looking increasingly improbable. Immediately I thought of the makeup, which would be melting and sliding in this furnace, not to mention the heightened risk of getting a smudge or smear on some priceless creation. For the models, who were in various states of nudity, I am sure the heat was something of a comfort, but for the rest of us, it added to the heady confusion that swamped the green room. 
When you are creating a makeup look for a show like CUCFS, where the segments are entirely disparate, both aesthetically and culturally, it is often wise to err on the side of abstract, where the incongruence of the look is exactly the desired effect. Within only 15 minutes, and a few false starts involving copious amounts of blush, Elizabeth Arden 8-hour Cream, Vaseline, makeup wipes and rose water, the final look was settled upon. Hyper-real glossy skin fitted well with the post-apocalyptic metropolis of the Stüssy collection, while a blown-out pink blush swept up to the temples and around the eyes, which were otherwise bare of makeup, evoked an air of intriguing innocence that created an interesting tension with the sophistication of the clothes, finishing with a healthy spray of rose water to ensure the gleam would stand the test of ultra-bright show lights.
So, despite the near hysteria of the realms the audience does not see, CUCFS had all the poise, wonder and spectacle of a swan on water, and congratulations are in order for the organisers, creatives, models and sponsors who made it happen