Vulture Introducing: Tom Connolly
Charlie Thorpe learns about the magic and mystery of the violin with fiddler Tom Connolly
What inspired you to start playing the fiddle?
Charlie Thorpe/Varsity
I was watching this open-air production in an absolutely wonderful woodland copse – I think it was Vaughan Williams – and that immersive quality was the one that took me by the horns and got me into the whole world of violin-playing.
Tell us about your favourite experience playing the fiddle
Over the summer I went on a road trip with five friends, and we got to the Alps, near Annecy [in France], and got up onto this wonderful mountain pass and camped there for the night. We somehow bought seabass by mistake, which was wonderful, started barbecuing that and playing around the bonfire there – I don't know what time. [It was] just that feeling of glowing embers illuminating everything, and then being dwarfed by this absolutely whale-like mountain pass above us. There were endless rows of conifers – that was angelic beyond belief. That was really magical, that sort of mystical, luring gypsy jazz. It seemed to harmoniously fit the environment for some reason.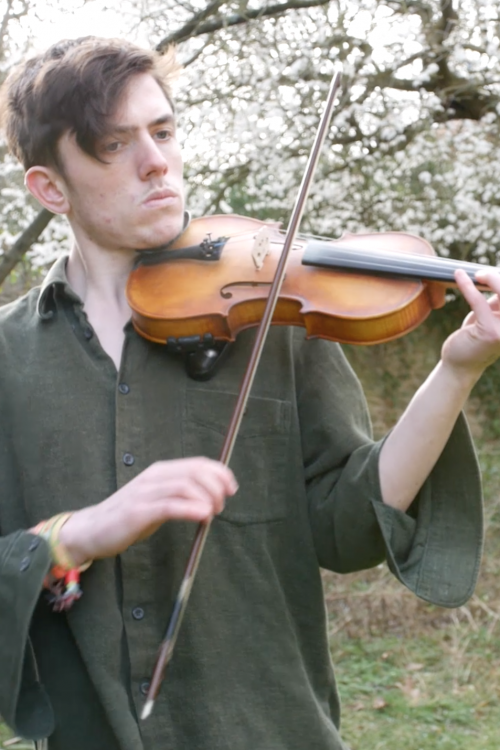 How would you describe your music?
I think the continuum is probably narrative-building, which sounds like a form of counselling or something, but I do think it seems to be that way. I think from a third-person perspective it seems to be the unfolding of a narrative – I think that's the thing that draws a lot of it together. The content, in terms of musical styles, seems to be kind of secondary, because that can be pretty disparate, I think. So if I had to describe it that way, I'd probably say ambient folk, maybe – that might be the closest thing I'd describe it to. But, as I say, I think that's secondary to the telling of a narrative, so I think it is very much led by a form of storytelling, and that manifests itself in whatever way is most appropriate, which is why it sometimes can sound pretty close to jazz, or sometimes far closer to really bare and reduced folk