Review: COLOUR – The Art and Science of Illuminated Manuscripts
The Fitzwilliam Museum's celebratory exhibition is an illuminating experience, writes Anna McGee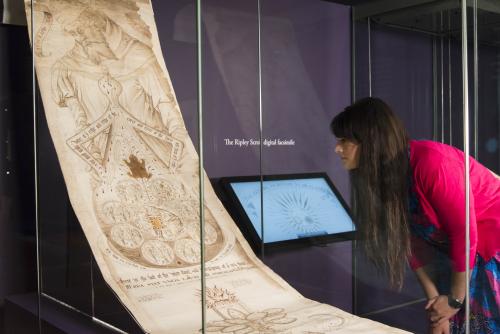 Leaving the hustle and bustle of Cambridge behind, I find myself in a dimly lit, purple-walled treasure trove, illuminated manuscripts glinting on all sides. This is COLOUR, the Fitzwilliam Museum's major exhibition to celebrate its bicentenary.
Already recognised nationally as one of 2016's 'must-see' shows, COLOUR represents the culmination of six years' cutting-edge research and planning, both technological and historical. COLOUR isn't just an esoteric display for those passionate about art: tracing the religious, historical, aesthetic and scientific development of these gem-like medieval books and scripts, it really is an exhibition for everyone.
The Dark Ages is clearly a misnomer. It only takes moments in the exhibition to realise that the medieval period was one of cultural flourishing and artistic innovation. Illuminated manuscripts (a term referring simply to texts enhanced by decorations) are some of the best-preserved art forms, as they were often bound in volumes and so protected from light and fading. Usually, therefore, the colours are as lavish and the pigments as strong as when they were first applied.
The curators of COLOUR have juxtaposed the herbs and pigments from which these colours were made with some of the finest examples of illuminated manuscripts from across the medieval world. They have deconstructed the production of the colours: it's fascinating to see the sumptuous ultramarine used in a sixteenth-century Persian manuscript right next to the precious lapis lazuli crystals from which it was ground, or a sliver of gold leaf alongside the glimmering decorative capital of an early manuscript produced in the Latin Kingdom of Jerusalem.
These books and manuscripts were valued as works of art in their own right, not just for their practical use. Indeed, well after the printing press was first invented, these objects were still being painstakingly crafted: an exquisite fifteenth-century French book of hours (a kind of Christian devotional book) includes an opulent image of the risen Christ seen against a delicate violet and pink dawn sky.
A common misconception which COLOUR clears up is that manuscripts were only produced by monks and that their subject matter was exclusively religious. In a glass cabinet in the first room of the exhibition, George Ripley's alchemical scroll unfurls, a vast parchment that details the creation of the enigmatic philosopher's stone. Alchemy (a precursor to modern chemistry), art and the celestial were all intimately linked at the time, and in some artists' recipes, gold was referred to as 'Sun', silver as 'Moon' and copper as 'Venus'.
Science and technology did not only play a role in the creation of manuscripts; they also helped bring this exhibition to bear. COLOUR presents brand new analyses of the pigments and methods used in the highest quality illuminations. A whole wall is devoted to a highly accessible step-by-step guide explaining how X-rays and infrared light reveal the many layers of manuscripts.
Looking around at the framed illuminations on the walls, it takes a moment to realise that there's something not quite right. And then it strikes you: these are individual folios, cut out of volumes. Particularly after the French Revolution and Napoleon's campaigns, when religious houses were secularised, illuminations – removed from their original contexts and framed as paintings or pasted into albums – flooded the art market.
Of course, when looking at an illuminated volume in the exhibition, you can only see two pages at a time – a fraction of the total artwork. However, the COLOUR curators once again bring technology to their aid and, in many cases, have digitised entire volumes for easy browsing on nearby screens.
COLOUR brings together a broad range of Cambridge's expertise – from the Department of Applied Mathematics and Theoretical Physics to the Hamilton Kerr Institute – for a dynamic and multifaceted exhibition, both visually appealing and intellectually challenging. The beauty of the manuscripts on display might be timeless, but you've only got until the end of 2016 to see them – make COLOUR the reason you visit The Fitzwilliam Museum this year.
COLOUR: The Art and Science of Illuminated Manuscripts runs until 30th December 2016. Entrance free of charge