Between day and night
Fabian Stephany talks to director Lea Volke about her new short film thriller, Blue Hour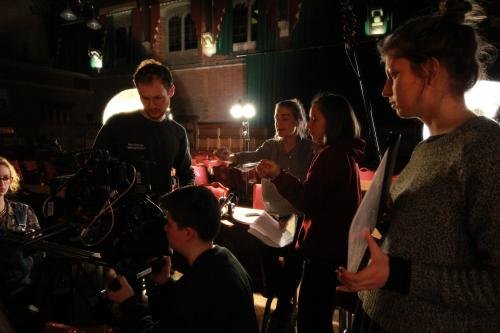 Blue hour, or golden hour, is the time when day changes into night and vice versa. Contrast and transcendence are the recurring themes of the psycho-thriller short film of the same name, based and made in Cambridge. "The storyline was born in the late autumn days of November", director Lea Volke reminisces, "a time, when black gowns scamper through the nightly colleges and newcomers, at the beginning of the term, still feel like strangers."
The movie picks up the viewpoint of the outsider. It is a story about college life and how it might feel to not be part of it. The main character of Blue Hour, Clare, is a young natural science student, increasingly pressured by nightly shifts in the lab and tight deadlines. Clare's life turns upside down when she encounters Eva, a true femme fatale. Soon Clare falls for her mysterious and surreal antagonist, and a destructive triangular love affair begins.
Cinematographic tales of schizophrenia, such as Fight Club, served as an inspiration for Lea's Jekyll and Hyde -like storyline. However, as much as David Fincher's 1999 cult-film is a violent homage to the liberation of white-collar men, Lea wants to tell a story about female characters and their search for identity. "While Clare's external struggle of examinations and deadlines is probably something that every Cambridge student can relate to, her internal issues of sexual denial are a typical feminine topic. She faces an 'over-sexed', always admired, antagonist, as a projection of her neglected self."
Perhaps female directors are better in telling stories of women, or is it the responsibility of a female director to pick a same-sex protégée? "It is not so much a responsibility to write strong female roles, it is also a great chance to develop interesting female characters. Historically, most of the dynamic and interesting figures in film are still men. In Shakespeare's time that reflected very much the social reality, while today we have twice as many stories to tell, and filmmakers should take advantage of that, regardless of their sexual identity."
Likewise, the production of Blue Hour itself was a female project. "Women had control of this film", Lea states quite proudly. Two female antagonists in front of the camera, a female producer, and several female co-workers, built the team around Lea's idea. "Still, taking the lead in a film project is not the norm for women", LV reflects, "On the last CINECAM short film festival, for example, not a single production had been written or directed by women." Why does the creative business of film making lack a female lead? "There might be a fear of women taking responsibility, which could be due to a lack of role models", Lea explains, "It is a question about courage. But, on the other side, there is still a problem with some men accepting strong women."
Certainly, filming on eight different locations, in four shooting days, and mostly during the brief hours at the break of night and day made Blue Hour a logistic challenge. Dedication and curiosity fuelled the project: "Many talented friends and colleagues had joined the team and everybody contributed with his or her own experience." Lea remembers how excited she and her team were at the start: "It was really a shot in the dark. My producer and I could not offer them anything, no money, and no guarantee of success." The promise of the project was a chance to learn and improve in all the different parts of making a movie. This was the motivation for all people to stick along, they believed in the movie, and that made it a great experience for all of us."
Blue Hour will be shown at international venues in the summer. More information about screenings can be found on its website.