The full picture
Anna McGee on 19th-century 'supermodel' Lizzie Siddal and her overlooked art and poetry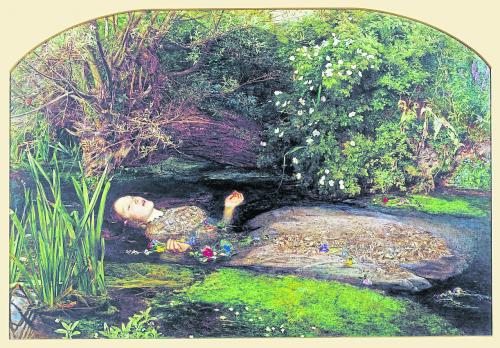 The haunting, floating woman in John Everett Millais's Ophelia, the melancholic, almost dreamlike figure in Dante Gabriel Rossetti's Beata Beatrix… We praise the skill of the Pre-Raphaelites in rendering such troubling beauties. Rarely do we consider the model behind these paintings, one Lizzie Siddal. But to ignore Lizzie Siddal as a person in her own right is to overlook a complex and creative character.
Those who have heard of Siddal know her in relation to her lover and later spouse, Dante Gabriel Rossetti. Indeed, the first biography of her was entitled: The Wife of Rossetti. And others might know her due to the fascinating details of her life: spotted by artist Walter Deverell while working as a milliner in London, Siddal, "a beautiful creature", soon became a favourite muse to many of the Pre-Raphaelites. When she posed for Millais's painting of the drowned Ophelia in 1852 by floating in a bathtub, Siddal became so cold that it is thought she caught pneumonia. She then went on to work almost exclusively for Rossetti, who painted her to the exclusion of almost all other models, captivated as he was by her "exquisite beauty and coppery golden hair".
Siddal, though, was plagued by illness all her life, probably addicted to a so-called 'complexion improver' made from dilute arsenic, and almost certainly suffering from depression and anorexia. She died in 1862 of a laudanum overdose, possibly an act of suicide after giving birth to a stillborn daughter. What happened next has become almost folkloric: several years later, the now alcoholic and drug-addicted Rossetti ordered that her coffin be exhumed so that he could retrieve a poem he had written and placed inside. It was reported that the image of the coffin filled with her flowing coppery locks is said to have haunted Rossetti until his death.
So, if known at all, Lizzie Siddal is famous today for her beauty and somewhat salacious life story. The title of the most recent book written about her, Lizzie Siddal: The Tragedy of a Pre-Raphaelite Supermodel, says it all. Isn't it time the balance was redressed, that we recognise Siddal as the creative spirit she really was? Lizzie Siddal was a painter and a poet. Her literacy was uncommon for someone of her gender and class in the Victorian period, but her parents had taught her to read and she then studied with Rossetti. Her poems were not published in her lifetime, but now anyone can read her sorrowful, lyrical verses. They are intimate and sensitive, but should not be considered solely as biographical clues; they are admirable in their own right.
Siddal's skill as an artist was recognised by the foremost art critic of the day, John Ruskin. From 1855, he subsidised her career, and paid £150 yearly in exchange for all the drawings and paintings she produced. The fact that Siddal had Ruskin as her patron when women artists were all but ignored is testament to her talent. However, she was never publicly acknowledged as an artist. Although she never exhibited with the Pre-Raphaelites, Siddal painted in a similar manner to members of the Brotherhood, especially in terms of subject matter and composition.
While their works are often more detailed and finished than her own, she still managed to capture the characteristic medieval spirit in her sketches and watercolours. Siddal's only oil painting, a self-portrait of 1854, is the most revelatory of her works: she depicts herself not as an idealised beauty, but as a solemn and tight-lipped figure who fixes the viewer with a penetrating stare. This time it is not the male gaze that defines her, but her own.
Christina Rossetti, poet and sister of the Pre-Raphaelite Rossetti, wrote about Siddal in her poem, 'In an Artist's Studio': "One face looks out from all his canvases […] We found her hidden just behind those screens". You can find Siddal in so many paintings, sometimes as an Arthurian princess, sometimes a Shakespearean character, at other times an idealised lover. But you have to dig a little deeper, go beyond the surface of the paint, to get to know the real Lizzie Siddal, troubled and talented.