Cops off campus : the need for student protest
Mohammad Razai worries that our right to dissent is being eroded, and sees the Cops Off Campus protests as a welcome sign of student determination to defend it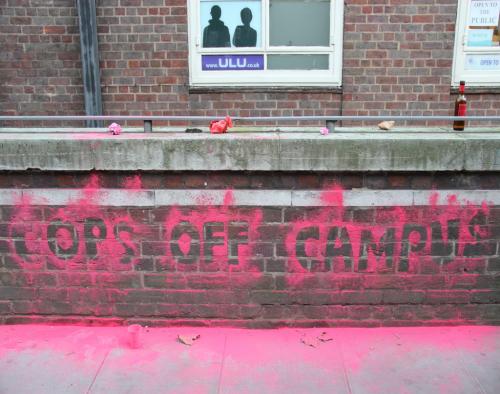 In 1967, at the height of the Vietnam War, a student protestor in Cambridge leapt on former Prime Minister Harold Wilson's car and started shouting anti-war slogans. No sooner had she done so, a burly policeman grabbed her by the knees and "carefully deposited her on the pavement".
The fiery, radical agitator was none other than Professor Dame Alison Richard, former Vice-Chancellor of Cambridge.
Looking at the police and university authorities' responses to student protests in those days, it required much courage to attempt to stage any protest, let alone sprawl across the prime minister's car.
In recent months, we have seen waves of direct action on and off campuses on a wide range of issues, including the student support of cleaners and other staff of the University of London. What we have also witnessed is a remarkable surge in both police presence and surveillance across university campuses and incidents of alleged violence towards student protestors.
Last month, the revelation that police attempted to recruit students to spy on their fellow activists here in Cambridge was particularly alarming. Because of these reports, and the increasingly harsh responses from the university management, the chilling effect on student activism has been quite noticeable. Many are now fearful of getting involved in legitimate and peaceful campaigning, worried about unjustifiable surveillance on their activities and of being hauled before the university authorities for disciplinary action.
For too many the promise of intelligence-led policing is appealing, as it claims to prevent crime and disorder by targeting police resources on 'trouble makers'. The current process of gathering data on potential suspects, though, is not subject to any scrutiny. It poses a grave threat to everyone's fundamental freedoms and right to dissent, not just a minority of 'anarchist trouble makers'.
It is the fear that our right to protest is being eroded that drives the Cops Off Campus demonstrations. Whatever reservations we have about the methods of direct action employed by some elements within the student movement, we must all recognise the need to demand that universities should remain places for dissent, disagreement and debate. Stifling dissenting voices and diverse viewpoints by relying on the truncheons of the police is a loss to democracy and hard-won civil liberties.
My experience of working with the Global Zero, a group that campaigns for nuclear disarmament, has taught me that when the system we work in does not respond with anywhere near the urgency that the problems of our world demand, direct action is sometimes the only effective way to push for change. We use a wide range of peaceful tactics to highlight the urgency and significance of our cause: lobbying and petitioning decision makers, organising talks and discussions. But we also regard campaigning, protest and direct action as crucial and effective ways to raising awareness of the issues. 
The freedom to protest and campaign is indispensable for an equal society. Let's not forget that the suffragettes and the civil rights activists were normal people who made a difference by stepping outside their comfort zones. They won our rights by protest and sometimes by direct action.
Mohamamd Razai is the co-chair of Cambridge University Global Zero. Read Cops Off Campus: the problem with student protest here