CUCA or CULC? The presidents make the case
The presidents of the Cambridge Universities Labour Club and the Cambridge University Conservative Association explain why they think you should join
CULC: we are the agents for change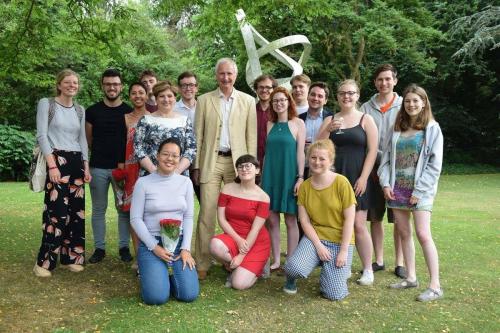 Quite frankly, there's never been a more exciting time to get involved with the Labour Party. The dramatic general election result in June has injected a fresh sense of optimism, and nowhere more so than in Cambridge, where our local Labour MP Daniel Zeichner was re-elected with a majority of 13,000. On a broader scale, the importance of student involvement in politics is more important than ever. In the aftermath of the EU referendum last year, many pointed the finger at the younger generation for their failure to turn out in larger numbers. Yet less than 12 months later, the Tories saw their majority wiped out, with a surge in voter turnout among young voters helping Labour gain seats right across the UK.
"In the age of 'clicktivism', CULC gives students a chance to escape the bubble of university life and make a real difference"
Seven years of being shafted by the Conservatives and the Liberal Democrats have left young people in need of a government that will safeguard their future. Taking action on the housing crisis, tackling issues of low-pay and job insecurity, scrapping tuition fees – the Labour manifesto struck a chord with young voters, students in particular. Despite being branded as a 'long-term economic plan', austerity is inherently driven by a short-sighted agenda and an unwillingness to invest in our country's future. Continuing down the current path, in combination with a hard Tory Brexit, will leave our generation with fewer opportunities and less economic security. The Labour Party offers a different future for young people.
So where does the Cambridge Universities Labour Club fit into all of this? With former members including Labour MPs, journalists and even a former Chancellor of the Exchequer, CULC has long been the home of left-wing politics in Cambridge. Our range of social and speaker events offer a welcome break from the daily grind of essays and supervisions, as well as the chance to hear from big names such as John McDonnell or Owen Jones.
Yet first and foremost, we're a campaigning organisation. In the age of 'clicktivism', CULC gives students a chance to escape the bubble of university life and make a real difference when it comes to election time. With just 600 votes between Labour and the Lib Dems in 2015, Cambridge was marked out as a top Lib Dem target when the snap election was called. Yet once again, CULC activists turned out in huge numbers to campaign for Labour and return Daniel Zeichner to Parliament. Just as they had nationally, commentators had written off our hopes in Cambridge – we proved them wrong. Not just here, but in Sheffield, Canterbury and throughout the country. That's the power of student politics, that's the difference we can make.
CUCA: forthright discussions and good fun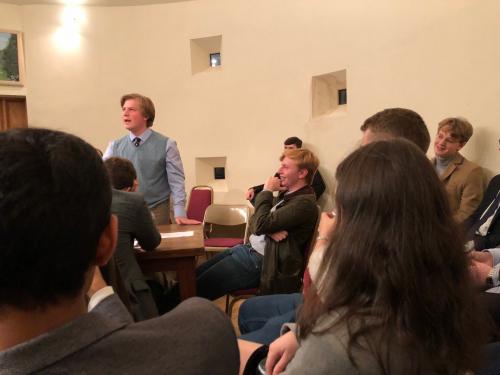 So you're interested in politics? Welcome to one of the most exciting and politically engaged universities in the country. The Cambridge University Conservative Association is a big part of political life here. We get excited about all sorts of events of which we are merely observers. At Union all-nighters and CUCA events most students will happily rant at each about their ideals and proposed solutions to the world's woes. We never get anywhere really, but it's a good laugh.
When Varsity asked me to put pen to paper on why students should engage with conservatism at Cambridge, I had one answer: it's good fun. While I know that our many policy discussions fall on dumb ears and that we will likely never be in a position to put those policies into place, it's a great way to meet likeminded people. Especially at CUCA, we like to chat about politics, have a laugh (usually at our own expense) and spread the message of conservatism in the University.
"Despite the Commons-like public disputes we're all friends, really"
Freshers will, I'm sure, be surprised to hear that while the cold stone of Cambridge appears immovably conservative there is huge pressure undermining her foundations. I am proud to say that it was a group of CUCA members who formed the vanguard in defence of the class lists. Naturally, a stunning victory followed.
When I think of the student conservatives I know and whom I have come to be friends with during my time here, I think of jovial characters who are happy to have a robust discussion but buy you a pint afterwards. We're the sort who can be serious but see no point in taking ourselves too seriously. We have fun and don't worry too much about the direction of student politics generally (we'd lose our minds if we did).
It is sometimes said that students are politically vicious with each other because the stakes are so low. Perhaps that's true of other parts of Cambridge political life, but I have rarely seen the uglier side of student politics personally. In CUCA, we're a friendly bunch, hosting socials like our successful Freshers' Cava Evening and less than serious discussion nights like Port and Policy. Indeed, I have found Cambridge political life to be generally good natured and despite the Commons-like public disputes we're all friends, really.
All in all, politics and conservatism here is a way to combine immense fun with making the case to conserve some of the great traditions of the University. If you're the sort who chose Cambridge for her charms, then CUCA is the place for you. Socialists are welcome too, of course!