Cambridge needs to live up to its own diversity and inclusivity standards
In the second instalment of her column on issues that affect students of colour, Galaxy Henry looks at how BME students are treated by college staff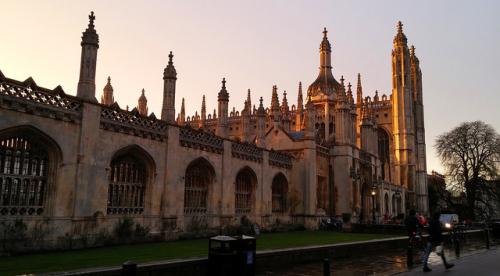 My first year at Cambridge taught me many things, one of the most striking being that in my experience, racial profiling and discrimination continues to be an issue in many of our colleges. Surprisingly, it was not the heavy work-load, or the back-to-back deadlines which concerned me most about returning to university, but rather the possibility of having to endure another year of unpleasant encounters with college porters who are well versed in the practice of singling people out on the basis of their skin colour.
"It is unacceptable that any student should be made to feel ill at ease in a place that they will eventually come to call home"
As well as academic benefits, the collegiate system is supposed to offer pastoral support and care. However, living on the central site of a college, which only has one main entrance, meant that, last year, negative interactions with hostile porters seemed impossible to avoid.
It is unacceptable that any student should be made to feel ill at ease in a place that they will eventually come to call home. Yet the insensitive behaviour of the very first people they meet on arrival in Cambridge can often mean that this is the case. I will never forget the red-hot humiliation I felt when, after introducing myself to a porter on my first day, he scoffed in contempt at the irregularity of my name. Nevertheless, I was eager to put that incident behind me, and it was not until my black friends were repeatedly stopped at the porters' lodge whenever they came to visit, whilst white friends walked through unquestioned, that I began to gain a true sense of the shameless disrespect that was shown towards those who did not fit the Cambridge stereotype.
Despite the happiness I felt in other areas of college life, I was unable to shake off the feeling of otherness projected onto me, and people like me, by those with whom I regularly came into contact. After witnessing a porter's aggressive verbal assault on a non-European tourist, it became apparent that students are not the only targets of racial profiling.
It seems absurd that the University wants so desperately to be regarded as a beacon of diversity when harmful acts such as these are being carried out within its borders. It is imperative that we cease to equate claims of increased diversity with greater equality between all members of the university, because to do this would be to deceive ourselves. A great deal of work needs to be done to ensure that all students feel at least welcome and accepted. From the horror stories that many of us have amassed over the years, this much is clear.
Although reports of disagreeable porters are nothing new, that is not to say that we should continue to dismiss their inadequate treatment of students and members of the public as one of Cambridge's many novelties. There is nothing novel about discrimination, and a new and improved approach is necessary to tackle the issue at hand. As a university which prides itself on its pioneering research and high-ranking global reputation, Cambridge ought to do more to prevent itself from falling into the same sad category as other institutions, which have also been known to poorly handle matters pertaining to race.
The prejudice which is often demonstrated towards people of colour in Cambridge is symptomatic of the University's general inability to effectively facilitate the diversity with which it is keen to be associated. This inability somewhat stems from a lack of understanding of issues which affect BME students specifically. Therefore, in order to dissolve the barrier of empathy and understanding which prevents meaningful action from taking place, it would be favourable if colleges took it upon themselves to provide specialised pastoral care to address the race-related problems which will inevitably arise in an increasingly diverse community, and to include the affected students in their dialogue.
Conflict and disagreement are only natural in a diversified environment, but with greater diversity within the student population comes a greater responsibility for the university to act in the students' best interests, creating an environment which is accessible to all