Looking forwards, looking back
Editor Millie Brierley reflects on Varsity's 70 years of history and what its future has in store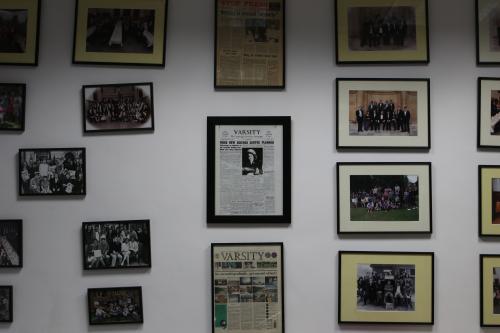 When I showed my mum around the Varsity offices last term, as she pored over the front covers and team photos which adorn the walls, spanning the paper's 70 years, she turned to me and said: "You must have such a sense of history here."
It's true – I do; it's difficult not to, with a young, typically surly-looking Jeremy Paxman, former Editor, looking down from on high as I work – but never has this sense of history been more keenly felt than in this, Varsity's 70th year.
Since becoming a regular publication in 1947, Varsity has achieved a great deal. It was the first news outlet in the UK to announce the discovery of DNA. We gave Lord Snowdon his first photography job (before firing him…). We have featured the student writing of Sylvia Plath, David Mitchell, Michael Winner and countless more.
It hasn't all been so rosy, however. The first attempt at getting Varsity off the ground saw the Editor challenged to a duel. In the 1970s, the paper briefly went bankrupt. And as recently as 2012, we temporarily cut back our print edition to once a fortnight, as we adjusted to print journalism in the digital age.
And not only a turbulent history, but a varied one. Varsity has had more logos than would seem reasonable (some of which are showcased on the pages of this anniversary supplement). We've variously been a serious newspaper of record, a true Cambridge tabloid (Page Three Girls and all) and a radical student soapbox. Our look has changed with every Editor, not all of whom seem to have had an eye for design.
Now Varsity is thriving, having defied the print journalism doomsayers and returned to weekly print editions. But we are also embracing new technology: we launched a second radio show on Cam FM last term; we have a thriving video team; and this year has seen the launch of our Violet blog.
Last term, our coverage of the CUSU elections was so extensive it would have looked at home in a national paper. The term before that, we shone a much-needed spotlight on the University's intermissions process and its failings, which has led to the beginnings of real change. And, with 41 days to go until the general election, the new term's team will apply all of Varsity's well-known scrutiny and rigour to helping you get informed.
All this is to say that I am extremely proud of what Varsity – a team of student journalists, all juggling degrees alongside their roles here – achieves. But I do not pretend that we are without fault.
As we have looked back through our archives while putting together this special anniversary edition, that aforementioned sense of history has not always been pleasant to confront. There is plenty, going back, that does more than smack of misogyny – sadly unsurprising, although it is something we've made vast progress on in recent years.
We have further to go, however, when it comes to matters of race. Again, there is plenty in the archives to make you squirm in this regard, but even now, we don't always get our coverage of race right. The 70 years of the paper's existence have seen a welcome transformation in the representation of women, both in its pages and on its staff, but this has helped white women far more than it has women of colour. I would like to see this change. I know that it will.
I know this because Varsity has a long, rich history of getting better – from an editorial duel in the 1930s has come true multimedia journalism today. Editing this wonderful paper has been the utmost honour, allowing me to work with a host of fantastic, passionate young people, who can only give me confidence, even when the world seems eternally on the brink of disaster.
I hope you enjoy this anniversary supplement – a whirlwind tour of the last 70 years, as seen in the pages of this newspaper. And I hope you continue to read, follow, watch and listen to Varsity as we embark upon the next 70 years. Our story so far has been one of change, and, with such a young, vibrant base, it can only continue to be so. I hand over to the next Editor, Patrick Wernham, confident that Varsity will for ever be changing, adapting, improving, and delighting – a truly exciting prospect. I hope you continue to experience this with us