Toulouse-Lautrec – résolument moderne: 'an enhanced form for realism'
Olivia Bonsall extols Toulouse-Lautrec's Post-Impressionist vision of late 19th century Paris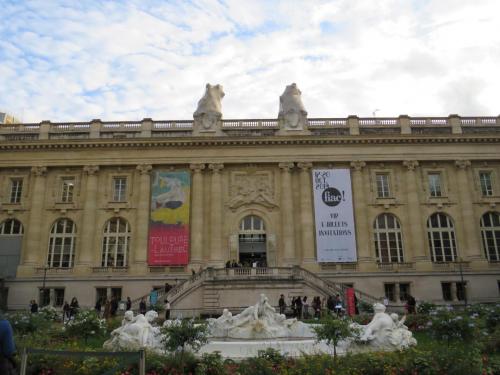 Anyone who has recently walked through the Parisian underground will no doubt have noticed the sketchy, colourful illustrations of cabaret dancers lining the walls of every station. Stripped of airbrushed glamour, these illustrations serve not to advertise tonight's show at the Moulin Rouge, but rather to draw you back in time, into Henri de Toulouse-Lautrec's world; a behind-the-scenes perception of Parisian nightlife in the 1890s.
"If you are passing through Paris this autumn or winter, make sure to immerse yourself in the vibrant spirit of the late 1800s"
The Toulouse-Lautrec – résolument moderne exhibition at the Grand Palais is organised by theme (think cabarets, circuses, prostitution) and framed by a chronological explanation, from his early oil paintings under the influence of his tutors to his famous representations of cabaret culture later in his life. The exhibition aims to deconstruct the way in which his works have often been viewed in our 21st century context. As his famous 'Moulin Rouge' pieces are framed by his life experiences, we are given a new perspective with which to view them. The exhibition goes to the root of Toulouse-Lautrec's sociological mission as a painter, one which he carried with him throughout his career: the desire to 'être vrai et non pas idéal' (to be real, not idealistic).
Much more than simple, rapid and caricatural, each one of Toulouse-Lautrec's paintings stood out to me in the way they captured a unique sense of movement. A bustling crowd, a dancer mid-performance, or even women sitting down to dinner; the artist's signature long, thin brushstrokes, moving in every direction, evoke a different personality and atmosphere in each piece.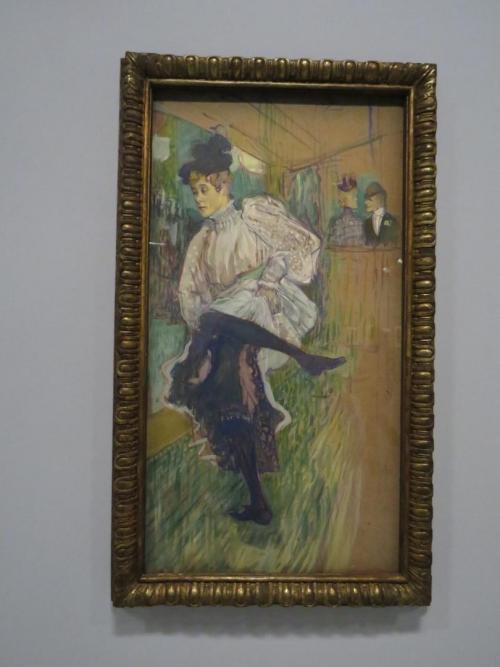 Toulouse-Lautrec's desire to represent time, continuity and movement, even through 'static' mediums, is clear in his representations of his favourite dancers and singers. His paintings of Moulin Rouge can-can dancer, Jane Avril, in particular, evoke her well-known jerky and contorted movements. This is not only through the positioning of her slim legs, but also through thin, criss-crossed brushstrokes, lightly painted in shades of green on the board surrounding the dancer's body. Their intersected, directionless form gives the piece a sense of chaotic and jolted movement, representative of Avril's unique dancing style. Coupled with her positioning on one side of the board, her eyes averted from both our gaze and that of the bourgeois spectators in the background, her subtle performance style is reflected.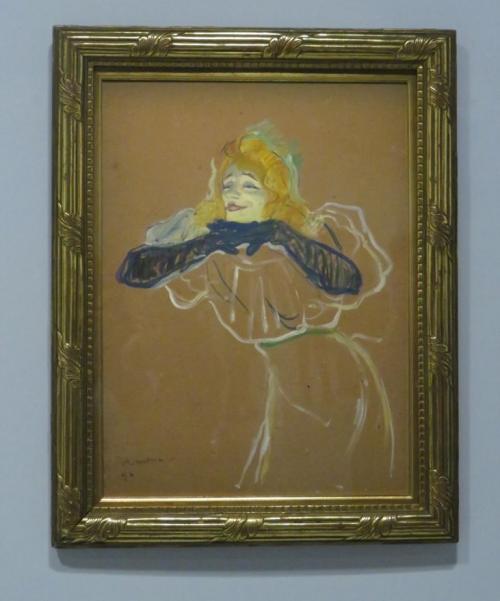 Singer Yvette Guilbert, portrayed by Lautrec in Yvette Guilbert chantant Linger, Longer, Loo (1894), is shown to be quite the opposite of Avril in terms of her demeanour. Through fewer, yet thicker brushstrokes, Guilbert's strong and poised stature is reflected in this piece. Her iconic black gloves, contrasted against the white contour of her dress, rest under her sultry expression, marked by an upwards provocative flick of red on her lips, and a tender downwards stroke for her eyebrows. The strong highlights on her cheeks and brows are enough to suggest her presence in the spotlight; no painted background is needed. The result is an augmented retelling of the unique way she would sing her audacious lyrics.
Some have seen a glorification of cabaret culture in the young aristocrat's work; others have seen a critique of the class's privilege and decadent lifestyle. What is certain is that Toulouse-Lautrec creates an enhanced form for realism, a snapshot of all of his characters' personalities, whether that is their identity in the limelight or their true selves in their private moments.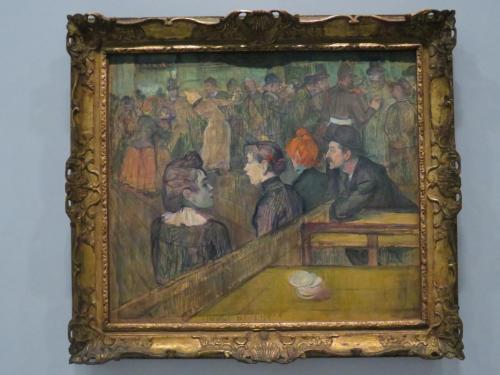 Although Lautrec's style gradually develops, it is the recurring motifs and colours that stand out to me as I walk through each room of the exhibition. Black gloves, bowler hats, and of course, the flashes of orange representing his favourite redheads appear again and again in his oeuvres. Au Bal du Moulin de la Galette (1889) contains multiple key elements constituting his style. Painted on brown board, as are most of his works, the green and brown tones complement the dash of orange in the centre of the piece. Against the criss-cross of brushstrokes of the blurred, chattering crowd in the background, a strong contour renders the profiles in the foreground of the image all the more striking. Indeed, it is this piece that would inspire the young Picasso to paint the similarly named Le Bal du Moulin de la Galette a year later. A freeze-frame of bourgeois boredom during another night of revelry, this piece encapsulates Toulouse-Lautrec's role as a 'peintre chroniqueur' (a 'journalist painter').
So, if you are passing through Paris this autumn or winter, make sure to immerse yourself in the vibrant spirit of the late 1800s. Famed classics and a few surprises, but also videos of the acts that inspired Toulouse-Lautrec, and even the sounds of the iconic 'French Can-Can', will accompany you through the flamboyance and frivolity of the Belle Époque.
Toulouse Lautrec – résolument moderne will be displayed at the Grand Palais, Paris, from 9th October 2019 until 27th January 2020. https://www.grandpalais.fr/en/event/toulouse-lautrec