No Matter How Close: exhibition review
Exploring a world of materialism and claustrophobia, Eli Hayes guides us through Rachel Wooller's thought-provoking exhibition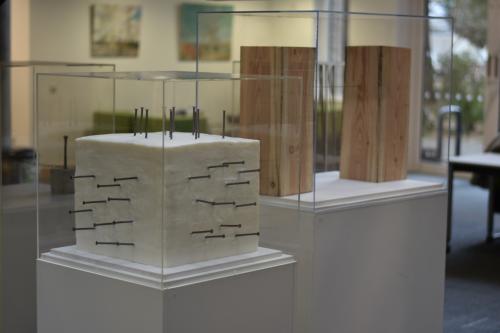 You would be forgiven for walking straight past the five plinths that house Rachel Wooller's latest work. Rushing for an ARC Cafe coffee, coming to and from lectures and supervisions. After all, the plinths themselves aren't specific to No Matter How Close; they have played the same supporting role in several of ARB Art's installations before. 
Even when I went specifically to see the exhibition, the atrium of the Alison Richard Building was alive with conversation, coffees, sad looking sandwiches, and the odd mid-afternoon glass of wine. I would make for a conspicuously out-of-place attendee if I made a concerted effort to pay attention to the seemingly coincidental back-drop of art works.
It is somewhat ironic, then, that once you do look, and you allow Wooller's works to affect you in the way she has so cleverly designed them to, you feel as though you can't escape them. They generate an overwhelming and embodied sensation of space being taken away, of vulnerability, and of being too close for comfort. Perhaps this is the tension the exhibition title is trying to capture.
"Claustrophobia occupies an interesting space within the history of art, and women's art in particular."
Wooller has topped each plinth with concrete, metal, wood and plastic structures. Some are small: warped wire fed through concrete creating unstable arches that appear on the brink of collapse. Others are uncomfortably large: a square of mortar that avoids exploding out of its glass casing by a hair's breadth. Each is made with ugly and banal materials and shaped in basic squares or lumps. Despite the rudimentary architecture, the pieces come together in an impressive and evocative way.
The tight-fit of the mortar in its fragile glass case looks like the feeling of a tight, anxious chest. The long, dark nails threatening to pierce through their container force you off balance, on edge.
Wooller has manifested an incredible sense of fear, of "what if?", in her material choices. It sounds conceited to talk of concrete slabs as successful artistic interventions, like an affectation of contemporary artists. But Wooller is right to want to explore the power of the boring and the ugly, especially when so neatly juxtaposed with the conformity and elegance of their glass-topped plinths.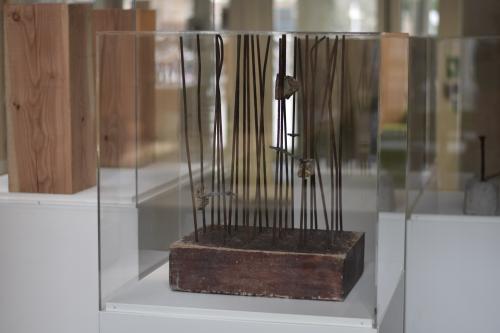 And there is more going on than just artist at play. Claustrophobia occupies an interesting space within the history of art, and women's art in particular. Not only are women more likely to be claustrophobic than men, but it has been a particularly pertinent theme in female expression. Louise Bourgeois famously played with space and restriction in much of her work. Cells, a series in 1989, looked into the confinement of fears and domesticity, locking up objects inside metal frames with only small gaps to peek through. The cage motif appeared through much of her work, constantly evoking the feeling of being trapped and isolated.
Jenny Saville's intense close-up and intimate portraits and Linder's disjointed domestic collages succeed in generating the same tensions and teasing out the same frustrations. Deliberate or not, the back catalogue of women's art is littered with works that illustrate a sense of being trapped in the patriarchy. Wooller's plinths strike the same chord; she is exploiting this "sense of enclosure," as she describes it, to create an energy that is at once threatening and fragile.
As I sat and watched people walk past and glance over at Wooller's work, their reflections were caught in the glass cases. Briefly passing through the structures as though they were tall buildings, the transparent figures seemed unaffected by this energy. But when I left the atrium and headed back out into Sidgwick site, walking beneath the towering Seeley and the intimidating Law faculty, I felt acutely aware of the reflection being cast.
The libraries felt more intense and ominous than before I had gone in, the buildings mirroring Wooller's enigmatic constructions. Moving between them, unlike the figures glistening on the glass inside, I could feel the radiating discomfort. But just as Wooller's creation is paradoxically sinister and delicate, this discomfort left me satisfied.
Wooller's exhibition may be in an unexciting arena and made from drab ingredients, but it's somewhat of a gem hidden in plain sight. A clever, fascinating, and inescapable presence.