Do I have to draw you a picture? review: 'dense and thoughtful'
Tom Dixon reviews the Heong Gallery's latest exhibition, curated by Dr Elisa Schaar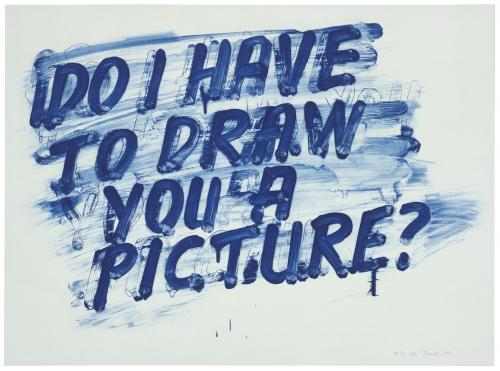 Encompassing book pages, postcards, prints, neon and LED, Do I have to draw you a picture? explores art not just as a vessel for communication but a communicative act in and of itself. Borrowed from a 2013 print by Mel Bechner, the question establishes the exhibition's premise: an inquiry into how artists' messages are constructed as well as how these messages are conveyed.
This sense of inquiry creates more of a survey, amalgamating various points of view, rather than a single point of view in and of itself. The diverse range of pieces exhibited allows for many different perspectives into the themes of the show.
Many of the prints used here were displayed in a 2017 British Museum exhibition titled The American Dream. At the preview, Dr Elisa Schaar mentioned that a key aim was to address the "core multiplicity" inherent in prints as a medium. Their reproducibility makes them an excellent mode of disseminating messages, which allows the possibility of questioning them in turn.
For such a small space, Dr Schaar has been ambitious in attempting to include such a wide range of objects
Dr Schaar explains that developments in communication technology have been "a challenge for art". Art, she suggests, has responded by bending its communicative capacities back on themselves. As the need for art to "communicate content" became redundant, artists began to "acknowledge that there is a need for communication but not in a straight forward way."
New, more intricate modes of exchange appear here as stories, allegories, parodies and quotations. In Glenn Ligon's I do not always feel coloured… (1992), Ligon borrowed the title from a 1928 essay by Zora Neale Hurston, 'How it Feels to Be Colored Me'. Ligon uses a stencil to apply the words again and again with an oil stick. As the phrase is repeated, it moves from legible to unreadable, thus blurring the previously defined edges between the black text and white page, unsettling the parameters of the colours which become allegories for the flexible and constructed notion of race. The manipulation of text from essay to etching to allegory presents an indirect and complex transmission of references used to illuminate a complex issue. The reasoning of the work occurs between the formal elements on the page which, once understood, then deliver their message.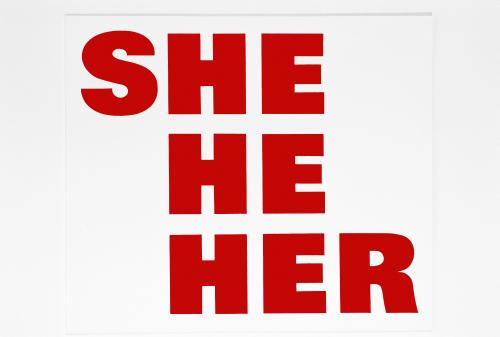 This obscured communication is also present in Jasper Johns' Target with Four Faces (1986). The work draws upon formal motifs developed by abstract expressionists through Johns' use of the black marks which pulsate on the colourful target. Johns' print presents a "complex interfacing between viewer and faces" and, in the context of the exhibition, comes to represent a disturbance in the normal relationship between senders and receivers of artistic messages. Here, both the sending mechanism (the mouth) and the receptacle (the target) are contained on the same plain. In combining these two positions, Johns displaces the viewer.
The artworks occasionally utilise more pointed and directional methods, addressing a perceived audience. Text is employed to present more concise messages in Wolfgang Tilmans' Pro-EU Anti-Brexit Poster Campaign (2016) and Kay Rosen's She-Man (1996-2018). Both artists aim to address the viewer directly with a political message which they do not want to be misinterpreted. These neat graphics, in the opinion of Dr Schaar, may indicate a new age of art which rejects complicated internal reasoning and presents easy to read messages which are no less valid but must operate much faster due to the increasing speed of technological communication.
Do I have to draw you a picture? is a dense and thoughtful exhibition. For such a small space, Dr Schaar has been ambitious in attempting to include such a wide range of objects. The result raises a number of interesting questions. To quote Marshall McLuhan, the medium does appear to be the message.