Exhibition review: Superstructures – the new architecture 1960-1990
Harry Balden reviews the University of East Anglia's retrospective on the pioneering steel and glass of Hi-Tech design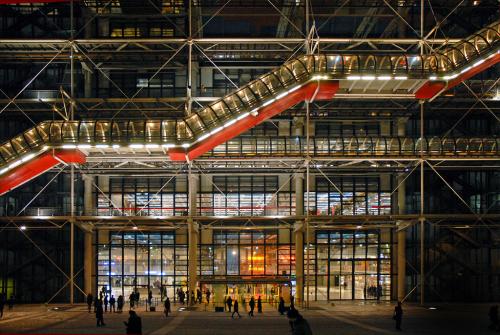 In the late 1970s, the architect Norman Foster took Buckminster Fuller on a helicopter tour of the Sainsbury Centre, his newly-completed art gallery and faculty building at the University of East Anglia (UEA). According to legend, Fuller – a some-time architect, though more of a general conceptualizer and all-round geek – turned to his budding guide and commented: "How much does your building weigh, Mr Foster?" Not the kind of man to let that sort of question slide, Foster set his practice to work on finding out exactly how much the combined concrete, steel and glass did weigh, and sent the answer over. The answer was, not surprisingly, remarkably light for a building of its size. As a kind of 40th anniversary present to itself, the Sainsbury Centre now provides the setting for Superstructures (open until 2nd September) – an exhibition which aims to tell "the story of architecture's fascination" with "new technology, lightweight structures, pioneering building techniques and innovative engineering solutions."
Richard Rogers, who's architecture also features, said they were looking for a "lightness" in new buildings they admired. That list included the History Faculty in Cambridge, though this may come as a surprise to anyone who has been in the Seeley on a hot day.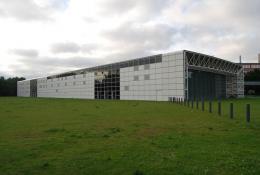 Much of Modernism, while simple in appearance, was surprisingly leaden and expensive in construction. Modernist Mies Van Der Rohe (of the Nueue Nationalgalerie and the Seagram Building) used to agonize over the tiny details in his boxy, glass designs; Walter Gropius, of Bauhaus fame, saw deadlines and budgets are merely aspirational.
Therefore, the advent of the Hi-Tech architectural style to which this exhibition is dedicated was an attempt to achieve the efficiency previous buildings only appeared to promise. For example, the Pompidou Centre in Paris – the original models of which form a highlight of this exhibition – placed its parts most often in need of frequent replacement (such as air ducts and pipes) on its outside for ease of repair. Meanwhile, The Sainsbury Centre is built in a uniform style which can be extended at either end. Foster, who holds a gliding license even now in his eighties and has been obsessed with the mechanics of flight since he was a child, is as much engineer as architect.
This is the problem with Hi-Tech: it can feel more machine than lived space. Everyone points to the Pompidou as the first large scale Hi-Tech construction, but it feels weirdly detached from the style – if only because the "fun palace" of Piano's and Rogers' description stands in contrast to a po-faced, self-serious genre of design. Anyone who stands in front the Law Faculty on the Sidgwick Site can't help but feel at least a little alienated by its cold, impenetrable form. It can seem so clean and efficient that it almost detaches from the real world.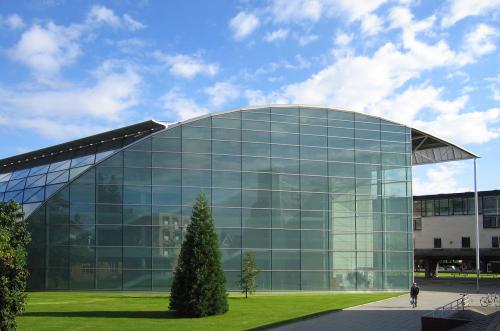 The Sidgwick Site, though it includes important individual designs such as Hugh Besson's Raised Faculty Building, does not set a high standard for the integration of its buildings. Even so, Foster's glass and steel addition takes this to extremes. It is just plonked in the middle with no attempt to communicate with anything around it.
Existing only in relation to itself, impressive in scale but strangely disjointed, it's perhaps no surprise that Hi-Tech became the adopted style of the burgeoning world of 80s finance. Some of its most famous constructions are the Lloyds building in The City and the HSBC tower in Hong Kong.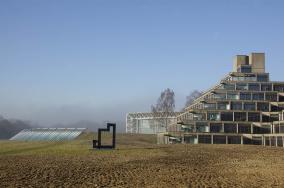 In fact, Foster is best when he doesn't have to think about context at all. In my opinion, Foster's best space is the vast Canary Wharf tube station on the Jubilee Line Extension, which has the benefit of being underground. He is the go-to-guy if you want to build something individual and removed, which is probably why he's built so many airports.
Nevertheless, the view of the Sainsbury Centre and Denys Lasdun's Ziggurat accommodation buildings from UEA's lake is probably the best vista of the 20th century in Britain.
What makes this exhibition are the models. Normally guarded within the practices themselves as a sort of trophy, the sight of Rogers' planned extension to the National Gallery, criminally scuppered by the Prince of Wales, is wonderful. It is difficult to structure an architecture exhibition without being predictable. And so we move inevitably through the bits of modernism Foster, Grimshaw, Rogers et al drew on before we reach the work itself. But step outside, take the path along the lake, and looking back at the view you can feel something of the optimism of modernism of which Hi-Tech was the dying ember.
Architecture can provide these immediate thrills. But it can also transport us to a different time and place. UEA, most famous for its creative writing course as a kind of writer's retreat, has preserved the 60s spirit in which it was founded better than most.