Anthony Horowitz: 'I like murder'
Following his recent book release, Anthony Horowitz talks about the changing nature of childhood and the enduring power of reading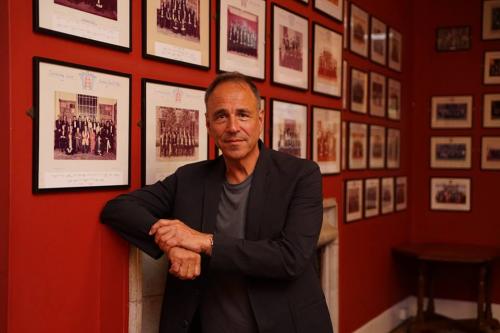 Anthony Horowitz sits cheerfully in front of a crowded audience at the Cambridge Union and announces, "I like murder." Indeed, the author of over 40 books, including the best-selling teen spy series Alex Rider, likes murder so much that after several years as the writer of popular TV detective drama Midsomer Murders, he found there was nobody left in Midsomer to murder. "It did get a bit out of hand," he admits bashfully.
Horowitz is energetic, opinionated and charismatic, enjoying the rapt attention of the audience as he ponders why killing, while so horrifying in real life, is so interesting on our television screens and in books. More than once, after speaking rapidly for several minutes, he turns back to the interviewer and says "so… what was your question?" This is the same fervour and excitement that fuels his writing, as a formidable author with a seriously impressive output of books, film and TV programmes since he was first published in 1979.
I try to be original; I try to be insightful so far as the books will allow it. But… I know my place
His process? Begin writing around 6 or 7am, and keep writing until some point in the mid-afternoon, stopping perhaps to eat. This hasn't altered with fame, he reveals: "For a writer, it's still a desk and it's still ten hours on my own."
During his talk, Horowitz described himself in no uncertain terms: "I am a light commercial entertainment writer". But I was curious about this self-assessment, which almost seems to belittle his enduring popularity, and so, given the chance to speak with him after the talk, I asked what he thought it took to be a truly 'great' writer.
"What makes a good writer is, I think, very very hard to define. There are writers out there who are clearly not very good at language or plot, but they still sell huge quantities of books. And, is a test of a good book that it sells? What is even a good book? It's a difficult question to answer."
Stumped for a minute, Horowitz frowns absently across the room, hands pressed together in front of his face. Then he replies carefully and deliberately, "I try to write commercially, and I know that I am not a great writer in what I understand greatness to be – in the sense that I am not a literary writer. But I still try to write well. And I take great care over language and over the thought of each book, and its world; I try to be original; I try to be insightful so far as the books will allow it. But… I know my place."
For many, Horowitz's 'place' is as the favourite author of their childhood. The Q&A at the end of his talk is peppered with questions about what Alex Rider is up to these days and who the inspiration was for the eponymous character of his 1994 book Granny (the answer? Horowitz's own grandmother, who was apparently so unlikeable that he and his siblings danced upon her grave). The askers of these questions are now adults, and yet the stories remain happily engraved in their minds. But has the nature of reading changed for today's children?
"Obviously a lot has changed. But it's always been my contention that childhood doesn't change; the essence of being a child, the essence of being 14, doesn't change. And I think the reason my books have survived as long as they have is, in part, because I haven't actually tried to address a modern child: the language is very classical, the stories are very classical, and therefore they have a timeless quality which is why… some of the books I've been signing this evening I wrote 30 years ago, and yet here they still are."
The only difference between a successful writer and an unsuccessful writer, is the unsuccessful writer stops
Horowitz's books, action-packed and narrative-based, seem perfectly suited to catch the short attention spans of modern readers, particularly children and young people. And yet, he says, a book's need to capture a reader's imagination is not a particularly new issue. "Yes there are other things they could be doing," he admits, "It's not just social media and games, it's also homework and sport and watching television, and family and friends."
"I'm aware that young people do have busy lives, and therefore, when I write a book, I feel that from the moment the reader opens it, a pair of hands should come out and grab the reader by the throat and refuse to let them go."
Horowitz elaborates on the timeless nature of a great story, one which will stick in the readers' minds, even after many years: "Reading hasn't changed. Reading – the pleasure of a book, the very special pleasure of a book – is the same, that's why books have been around since the 13th century or whatever. It's why narrative and story-telling are so important to us."
But despite being pressed for an answer, and despite the fact that one would assume him an expert on the subject, Horowitz maintains that the 'recipe' for a bestseller "comes from somewhere very very hard to find." There are no finite answers, he says, but one thing he does know is that "if you write for money, it's very unlikely you'll produce something good." The impetus to write, he says, should come from somewhere much deeper inside the writer.
So does Horowitz have any final advice for young, hopeful writers – particularly the readers of Varsity?
"Use Cambridge. By which I mean, seriously: use your time here. You've been given three amazing years in which you can develop your ideas.
"Don't think of being published as a be-all and end-all. Enjoy your writing. And if you're going to be a writer, don't talk about it, do it. You should already be writing. When you get to this section of the article, 'advice for young writers', how to be a writer: skip it, you shouldn't need to read it, you already don't need to know anything I could say to you, it's inside you; develop it, enjoy it, and… never give up – because the only difference between a successful writer and – and I've said this many times – an unsuccessful writer, is the unsuccessful writer stops."