Connecting Cambridge's literary community: CUPPS
Tom Bailey talks to recently-founded Cambridge University Poetry and Prose Society as they discuss their upcoming plans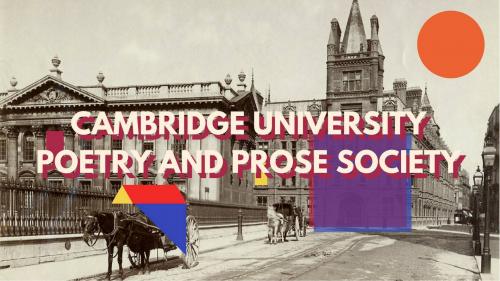 Cambridge has always had a vibrant literary scene, producing some of the most significant writers ever to have put pen to paper: Christopher Marlowe, John Milton, William Wordsworth, and Lord Byron, to name but a few. Ted Hughes's poems were first published in the Cambridge University poetry magazine Chequer, and Zadie Smith started writing her highly-acclaimed debut novel, White Teeth, when she was in her final year at King's College. Happily, this creative tradition is alive and well today. The Mays anthology is now in its 26th year, and Notes magazine will very soon be publishing its 50th edition.
And yet, surprisingly, it wasn't until last year that Cambridge had a university-wide creative writing society for both poetry and prose. On Sunday night, I met up with Renchun Ho and Murat Demir, co-founders of the Cambridge University Poetry and Prose Society (CUPPS), to find out more about their society.
CUPPS is now one of the most thriving literary platforms at Cambridge, originally set up, Ren and Murat tell me, to "connect the existing literary community" at the university. There are plenty of college-based creative writing societies and numerous established publications around Cambridge, but the two CUPPS co-founders wanted to bring those groups together in order to enrich the university's literary scene.
This, they tell me, is their central aim – to "bring together readers and writers from across the university." Every term, CUPPS run speaker events, student sharing groups, workshops, open-mics, and socials, all of which are advertised on their website and Facebook page. CUPPS organises these events, they explain, in order to create an accessible and inclusive space for literary creation, "regardless of subject, college, or ability level".
"CUPPS organises these events, they explain, in order to create an accessible and inclusive space for literary creation"
Ren and Murat are keen to stress this. Rather than seeing CUPPS as competing with other literary societies around the university, their aim is to build bonds and encourage collaboration between existing groups. On their website, they have a list of all the writing opportunities that Cambridge has to offer, from the prestigious Mays anthology to publications founded more recently like Ink and Motley.
Ren and Murat also want to forge greater ties between Cambridge and the literary world beyond the university bubble. That's why they organise a speaker series every term, with past speakers including well-respected poets Sarah Howe, Helen Mort, and Simon Armitage. Many of the speakers they invite already have connections to Cambridge; both Howe and Mort were students at the university in the 2000s. By building up a rapport between the university and its alumni in the creative writing world, CUPPS hopes to encourage more students to do some writing of their own.
Diversity is another major part of the CUPPS ethos. When I asked them about their speakers' term-card, Ren and Murat told me: "We try to include writers from as many different backgrounds as possible. If you see someone speaking on stage who has a similar background to you, you're more likely to feel encouraged to write yourself – that's part of inclusivity." Next week, the poet Nick Makoha, who fled Uganda's civil war and Idi Amin's tyranny as a boy, will be giving a reading for a CUPPS event. Makoha was shortlisted for the Felix Dennis prize in 2017 for his collection Kingdom of Gravity, much of which talks about his experiences of exile and loss.
We soon got to talking about CUPPS's next big venture, their new publication. The plan is to publish a biannual magazine of student-written poetry and prose, and submissions are now open for the first edition. Ren and Murat hope to draw a significant amount of the writing from their sharing groups and workshops, so that the people who have taken part in CUPPS events can have the pleasure of seeing their work in print, many for the first time.
I think it's safe to say that CUPPS is now firmly established in the Cambridge creative scene and that, as long as societies like this are active, the university's rich literary tradition will continue to thrive