Cultural Cross-Pollination: Poets and Polyphony
Lucian Clinch looks at the ways in which music, the visual arts and literature have sustained each other over the years, and considers some of the more interesting masterpieces that arose from the intellectual awareness of painters, authors, and composers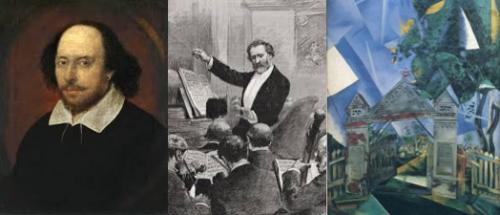 To coin a tired and overused phrase, imitation is the sincerest form of flattery. This is nowhere more obvious than in the cultural sphere where artists, composers and painters have taken ideas from others for their own craft for centuries. When first considering this concept, the obvious yet legitimate example of Shakespeare stands out. But cultural intertextuality, so celebrated in The Wasteland or Prufrock, can be seen in other, less famous examples, and less common modes of communication, such as architecture.
1. Hogarth // Stravinsky
William Hogarth's 8-part series, The Rake's Progress, which depict the happy-go-lucky Tom Rakewell's licentious activities (eventually giving him syphilis and landing him in Bedlam) has been the inspiration for several cultural creations. Described by filmmaker Alan Parker as the precursor to the storyboard, Stravinsky wrote an opera with a libretto by Wystan Hugh Auden and Chester Kallman
2. Giovanni Gabrieli // St Mark's Basilica, Venice
Born and bred in Venice, Gabrieli became the principal organist at St Mark's in 1585. Gabrieli designed music to complement the unusual layout of the Cathedral, with two choir lofts facing each other. This polychoral style was probably used first by Adrian Willaert, but pioneered by Gabrieli with his famous use of brass instruments. A fine example can be seen (and heard) in his Canzon Primi Toni a 8 (try the recording from the Concerto Palatino or The Brass Principles Japan)
3. The Bayreuth Festspielhaus // Richard Wagner
Located in the Bavarian foothills, the opera house at Bayreuth was written solely for the music of Richard Wagner and is the venue for the annual Bayreuth Festival. Opened for the premiere of the Ring Cycle in 1876, Wagner himself personally supervised the designing and construction of the theatre.
4. Botticelli // Respighi
The Italian composer Ottorino Respighi wrote a tripartite tone poem called Trittico Botticelliano in 1927. Each movement (Spring, Adoration of the Magi, The Birth of Venus) was related to a painting by Sandro Botticelli. Resphigi simulates Venus erupting from her shell with a gentle crescendo throughout the movement.
5. Die Toteninsel // Bocklin & Rachmaninov
Swiss Symbolist Arnold Bocklin's best known painting, The Isle of the Dead, is the inspiration for a number of works. Salvador Dali painted his own version, but more famously the Russian romantic composer Sergei Rachmaninoff wrote a tone poem with the same name. With the inclusion of a quotation from the Dies Irae (day of wrath) plainchant, Rachmaninoff wanted to allude to themes of death and judgement.
6. Folk Music // Chagall
Marc Chagall was first influenced by the music of the Hasidic Jewish community in his hometown of Vitebsk, Russia. Known later in life to enjoy Bach and Mozart, he was entranced by the concept of the Jewish fiddler. For Chagall, it became an autobiographical symbol for his own life; 'the image of the wandering Jew'.  Chagall's Green Violinist or The Fiddler are visual representations of this.
7. Shakespeare
It ought to come as no surprise that Shakespeare makes an appearance on this list. Verdi alone wrote operas based on Othello, Macbeth and Falstaff, and Romeo and Juliet inspired 24 operas, most notably by Gounod. Berlioz wrote a Symphonie Fantastique based on the play, and Tchaikovsky's Romeo and Juliet Overture is perhaps the best-known work which uses motifs from the play.
8. Poetry set to music
Since the greatest composers were rarely great writers, they deferred to poetry for inspiration for their song cycles. Finzi wrote some much-underrated song cycles based on Shakespeare and Hardy poems, Schumann wrote his Dichterliebe based on a set of Heine poems, and Schubert set words by Wilhelm Müller to music for Winterreise and Die Schone Mullerin. William Blake's words were, of course, used for Jerusalem, and Christina Rossetti wrote the words to one of our best loved carols, In the Bleak Midwinter.
9.  Cervantes' Don Quixote
Miguel de Cervantes' magnum opus has inspired many other cultural works, not least Massanet's opera of the same name. Madame Bovary, Monsignore Quixote (Greene) and even Foucault's Let mots et les choses takes inspiration from Cervantes.
10. Music inspired by other music
A more unusual form of cultural intertextuality comes with music inspiring other music, normally in the form of variations. Take, for instance, Thomas Tallis' Why Fum'th in Sight from the psalter he wrote for Archbishop Parker. Vaughan Williams took the theme, so readily recognisable, and reworked it for sumptuously scored double string orchestra in his Fantasia. Or look to the rondo from Purcell's Abdelazer, which is the basis for Benjamin Britten's The Young Person's Guide to the Orchestra