Review: Kettle's Yard's Actions
Ruby Reding visits the new Kettle's Yard and tells us her thoughts on the modern extension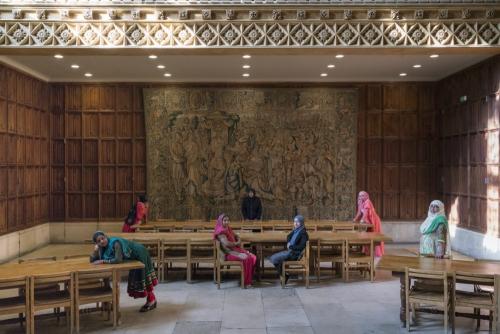 Most residents in Cambridge know Kettle's Yard for its three cottages combined to form Jim Ede's 'House' – a space to view art among household objects that is part domestic, part gallery. Now this home is accompanied by renovations, allowing for new kinds of artistic representation.
Greeting us after a rainy walk past Magdalene Bridge, a rocky road and yellow balloons appear at the entrance of Kettle's Yard, which opened its doors to the public this Saturday. The recent extension is designed by Jamie Fobert Architects – also behind the most recent Tate St Ives. Variations in aesthetic permeate the new building, which marries the clean Cornish sea breeze and quaint Cambridge antiques of the House with a more conventional modern art gallery. The exhibition currently on display in the new gallery space is called Actions. The image of the world can be different.
"In this new renovated space, all artworks have become equal"
It is precisely this idea of difference – of variety – that has characterised both the new exhibition and the artworks in the collection. The House is a space where found objects live, where ornate chairs inviting visitors to sit down are placed through the rooms to challenge the traditional viewing experience. The space informalises and domesticates the art, yet at the same time is light and clean: a serene and calming place to meditate on art and life. Ede intended it as "a living place where works of art could be enjoyed... where young people could be at home unhampered by the greater austerity of the museum or public art gallery."
An embrace of the fluidity between art and life seems to be what the House invites us in to do, and – as one gallery assistant informs us – the space "teaches us how to live with art". A lemon sits at all times on an antique tray, as an educational indicator of the presence of the yellow spot in a Miró painting. It is these subtleties that make the House an excellent and unique interior to experience art and design, through slants of light, wooden frames, antique mirrors, bedroom furniture and creaking floorboards. I noticed that in Helen's bedroom there are painterly white marks on a window; the gallery assistant informed me that this was a piece as part of the exhibition Actions, something contemporary living within the British early modernist house.
These subtleties might be slightly confusing, but nevertheless unite the space. Critics could say that the new modern gallery intrudes on what Jim Ede intended Kettle's Yard to be, and his vehement dislike of the 'austerity of the museum' has perhaps crept in. I think this view is perhaps unnecessarily nostalgic. Rather, it's exciting to finally have an art space in Cambridge that has a platform for representing new, cross-cultural contemporary artists.
The new exhibition is a large group show for quite a small space. Initially I thought some of the early modernist drawings and paintings looked odd next to an art film about Palestinian territories, or Mary Kelly's photography series Love Songs: Flashing Nipple Remix, 2005. It's a risk, but I think it has really shown the gallery's desire to merge the old and the new, a challenge that is perhaps essential to tackle in such a traditional city as Cambridge.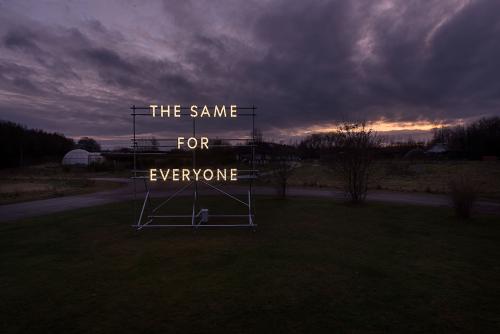 The variety of art across varying periods and media actually works to eradicate a hierarchy between forms: between the 'mass' contemporary film and photography medium with 'higher' forms of painting and drawing. In this new renovated space, all artworks have become equal. Works that stood out to me were Basel Abbas and Ruanne Abou-Rahm's 2016 film And Yet My Mask is Powerful, which shows a group of young Palestinians wandering through abandoned Palestinian villages in Israeli territory, as quotes from The Wreck by Adrienne Rich overlay the frames. The text is translated into Arabic underneath the English, and a strange, ethereal soundtrack accompanies the video as hands wade through forestation and desolate landscape. Another cross-cultural work by Melanie Manchot caught my attention, whose photographs of British Bangladeshi women living in Cambridge are framed almost like a Raphael painting. The women are photographed in King's College dining hall in traditional dress, a concept which shouldn't be juxtaposed but strangely feels so; we question why this might be: elitism, perhaps, and the monolithic culture of Cambridge's image.
While the House is somewhere to return again and again to contemplate and escape, the new accompanying exhibition space is a place to experience international, political artworks that are rarities in the city. Now there is a platform for the kind of modern art that exists outside the bubble, more in keeping with the new direction towards multimedia and politics that art has been taking since the new millennium