YA fiction is booming. Let's start treating it as literature
Ellie Loxton argues that young adult fiction is unfairly maligned in literary discourse, and that shutting out such a rich and established genre is only to people's detriment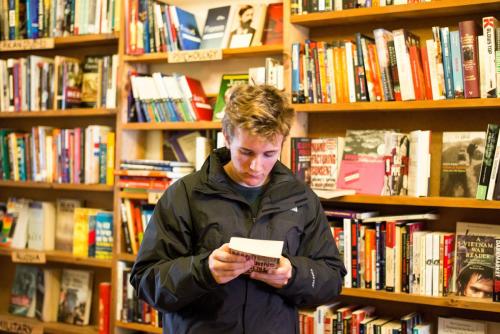 As an English student, you can probably guess most of the titles sitting on my bookcase. Pride and Prejudice? Paradise Lost? Mrs Dalloway? Yes, they are all there – and rightly so, in my opinion. Respected, cherished and much-studied, these texts have firmly established themselves in the canon we like to call 'literature'. However, what would my supervisor say if I asked to write this week's essay on a young adult novel such as The Perks of Being a Wallflower or The Hunger Games trilogy? I haven't tried it, but I doubt the response would be positive.
"YA has come to the fore in terms of writing style, content and popularity, but it is still not esteemed as literature"
YA fiction has boomed in recent years, with blockbuster adaptations boosting sales and transforming authors like John Green and Stephenie Meyer into household names. YA is undoubtedly popular, but few people would go as far as to call it literature. It is not disparaged but seen as the 'soft option', a 'cop-out'; if you sat next to an adult on the Tube reading a YA novel, you would think it strange and – admit it – probably turn your nose up.
Why is this? It can't be because most don't share the length of many of 'The Classics' – numerous short novels are happily recognised as 'literature' – or because they are too superficial, as many tackle complex social problems or traumatic historical events. Maybe it is a genre that is still finding its feet? Although the phrase 'young adult' was first applied to books in the 1960s in the American library classification, it was not until the noughties that 'YA' truly came to the fore, encompassing all fiction aimed at teenagers and young people.
However, I refuse to accept any of these reasons as sufficient. YA has come to the fore in terms of writing style, content and popularity, but it is still not esteemed as literature. I have little doubt that YA deserves this accolade: these are novels which can be funny or deeply sincere, unforgivingly stark or elegant and lyrical; they really can make you laugh or cry. Some of the most beautiful, most profound descriptive passages I have come across have been in YA novels. However, we still only feel able to truly commend a teen or children's book if it has stood the test of time.
The 'classics must be old' mindset is thankfully no longer dominant when it comes to novels aimed at adults – we feel no shame in honouring works by Zadie Smith or Martin Amis as such – yet the phrase 'children's literature' conjures up images of the frilly-socked schoolgirls and adventuring boys in Enid Blyton stories. We comfortably applaud Charlotte's Web or Louis Sachar's – albeit more recent – Holes as 'literature', but few would consider Green's Turtles All The Way Down worthy of the title, even though it topped The New York Times' bestseller list again this week.
Some of the prejudice is, of course, justified, as a reasonable portion of YA does conform to the shallow stereotype of predictable plots and two-dimensional characters. But is this not the same for any literature? Were all novels published in the nineteenth century up to the standard of Austen's? Is every book in WHSmith as profound and challenging as Ian McEwan's? Of course not! We perhaps don't need to be as damning as Anthony McGowan, who suggested in an article for The Guardian that we should adopt the 90 percent rule when it comes to YA, but the disheartening titles filled with lipstick-loving, hair-flicking tweens, which can seem to dominate the sector, should not cause us to condemn all YA as helpless mush.
Just as we should refrain from accepting the majority as representative of YA, we must not see the blockbuster-worthy bestsellers as representative of the genre. Flying off the shelves in their millions, the major headline-grabbers do, admittedly, boost book sales and get young people reading, but they also reduce the wonderful diversity of YA to a selection of about ten books. YA is much more varied and complex than the dystopias and teen cancers that make it to the big screen. Out of all YA novels, it is historical fiction which has struck me the most. Novels such as Between Shades of Grey by Ruta Sepetys, Markus Zusak's The Book Thief and Code Name Verity by Elizabeth Wein are, without a doubt, just as profound and hard-hitting as any book sitting up there with the classics, offering accounts of the past which are both beautiful and chillingly unforgettable.
So I urge you: swallow your pride, walk into the teen section and pick up a YA novel. Do your research first – see what's receiving the best reviews, or follow some of my suggestions above. If you push YA to the back of the shelf, you will be missing out on some experimental, challenging and simply wonderful writing. And if you are a book lover, that's the worst crime possible