Violets are Blue — Annie and David
In a tale of high hopes and awkward silences, Annie and David share the details of their Violet blind date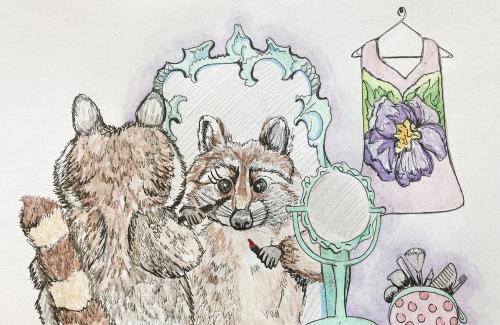 In Violet's very first blind dates column, we matched Annie and David, sending our gold-tipped arrows their way from Mount Olympus (Read: slightly haphazard emails from Caffè Nero under a glorious stock photo of two men high fiving). After the date, we asked them to answer some questions individually, which we've collated below to quench the nosiness of the masses:
What was your pre-date routine?
Annie: I rushed through a psychometric test while putting on makeup to avoid looking like the sleep-deprived raccoon I am. To sum up, chaotic.
David: Nothing too intensive; we arranged to meet at a mutually convenient location, and walked into town together to grab some drinks and some food.
First impressions in three words (or more, if you prefer...):
Annie: Intelligent, reserved, laidback.
David: I did not stalk my date on Facebook, so I cannot comment except on the first impressions by e-mail exchange and in person. My date had a mild case of Freshers' Flu and conscientiously kept me informed of this ahead of our plans; fortunately, she felt much better when it came to the arranged time. In-person, she was very pleasant conversation with a good dose of Cambridge student humour thrown in.
Tell us about the awkwardest moment:
Annie: Getting to 2648 (and hyping it up a little), only to discover it was shut on Wednesdays.
David: Some point mid-way through the date when conversation temporarily dried up. Thankfully, this promptly came to an end.
How would you sum up your date in a song?
Annie: 'High Hopes'.... definitely a surprisingly lovely date.
David: I don't know many, if any, songs really so I cannot be too helpful in this regard.
Would you like to see them again?
Annie: Do love a bit of thoughtful, well-paced conversation so... yes.
David: They would certainly make excellent company as a friend. Certainly seems like she has many more good stories to tell!
If you'd like to go on a blind date and tell us all about it, fill in the form here and we'll get in touch when we've found you a match (or when the Violet editors manage to find some essay respite)!