Cambridge University Botanical Garden: A Review
Is it the hottest place in the UK? How many shades of green does it contain? And is it worth paying 0 pounds for the entry?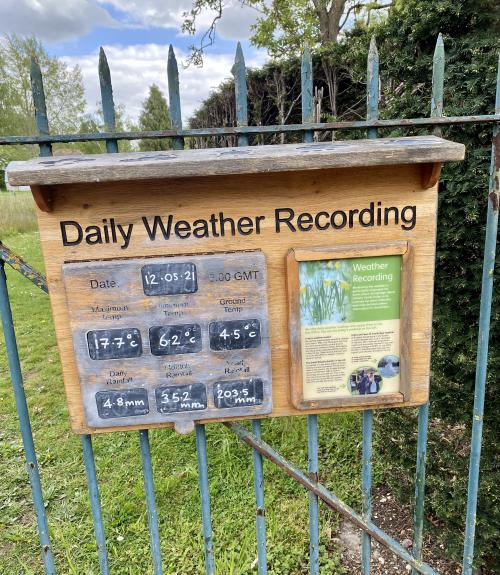 My first attempt at entering the Cambridge University Botanical Garden (CUBG) without a pre-booked ticket failed miserably ("No, we can't make an exception just because you walked all the way from Fitzwilliam College"). So I returned, a week later, prepared for the worst. There was a short moment of distress when I was told that I'd booked a "friend-ticket" even though I was "not a friend". But it appears they took pity on me.
Finally inside, my first discovery was an information plaque, and — taking my role as Varsity-garden-reviewer very seriously — I studied it carefully. Apparently the garden is indeed the hottest place in the UK, with the hottest temperature ever recorded in the country (38.7°C!) made in the garden in July 2019.
My next finding was multiple gangs of tea-drinking elderly outside the CUBG Café, who eyed me suspiciously as I studied a map of the garden. I got the feeling I was infringing on their territory, and thus quickly set off to my first destination.
Apart from the Periwinkles,"The Winter Garden" was (considering the season, perhaps unsurprisingly) underwhelming. But I refrained from insulting the plants (including a pitiful Christmas rose), because a sign informed me that this was a "Silent Space" where visitors were encouraged to "take two Mindful Minutes" and "connect with nature" as part of Mental Health Awareness Week.
I decided to move on to the "The Scented Garden", where I sniffed all kinds of weeds — feeling my mental health improve considerably — until an elderly gang almost caught up with me.
Carrying on, I entered a meadowy area, full of Alliums, Rhododendron and a rather extraordinary number of benches.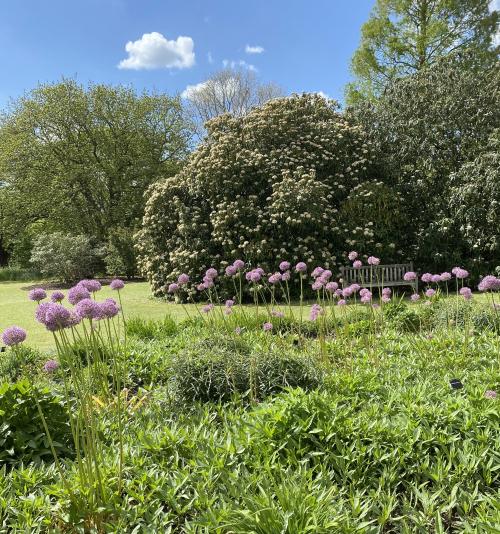 From there, I walked along "The South Walk", which had a nice Piet Oudolf-vibe to it (only fellow garden-experts will get the reference). But the range of plants was disappointingly narrow, with my main findings limited to Buttercups, Cow Parsley, Cowslips, and the occasional cluster of Germander speedwell.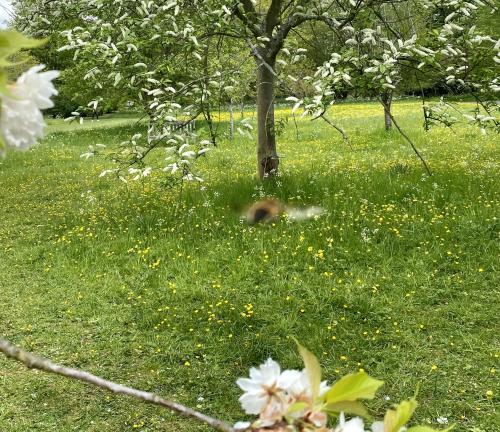 Nonetheless, in "The Old Pinetum", I discovered a rare Chilean Monkey Puzzle. And, as instructed, taking two more Mindful Minutes, I really felt the two of us connecting on a spiritual level. However, I quickly became surrounded by couples photographing each other, forcing me to make an escape to "The Rising Path".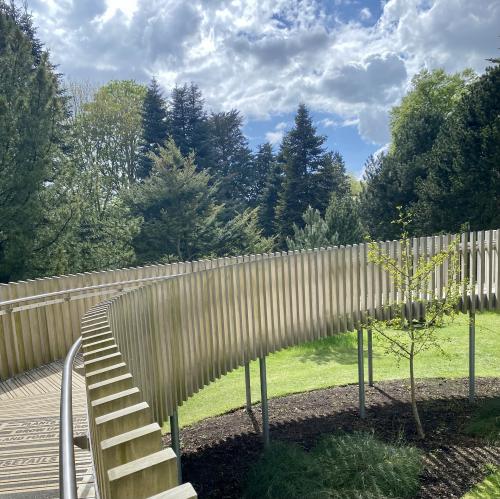 After wasting two minutes of my life on this expensive-looking piece of wood, I went to look at some cool Redwoods, ignoring an opportunity to learn about "monocotyledons" and "dictotyledons" and what-not (I don't take my Varsity-garden-reviewer role that seriously).
By now I had reached a lake and eagerly waited for exotic botanical-birdlife to appear. However, there was but one, smug-looking duck to be found, and it rudely ignored my attempts at conversation.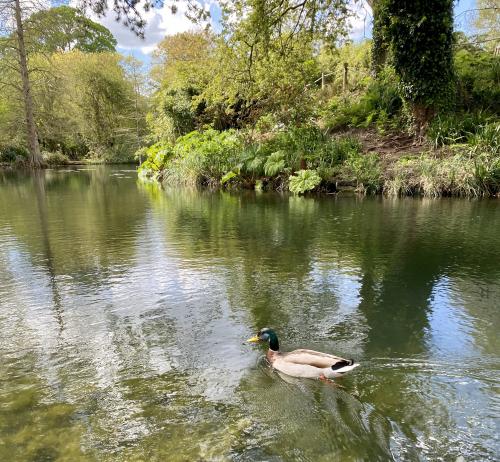 At this point I began thinking that I might just as well have gone to Churchill College, where they at least have some cute ducklings. Nonetheless, I continued to "The Rock Garden″, which supposedly contained "wild plants" from "wild, rocky places". It was hard to tell with all the families though and the wildest thing that happened was a child failing at rock-jumping (the child was mostly okay!).
After doing some wild rock-jumping myself, I kept going, and was soon met with a mysterious sign telling me that the path ahead was "closed for security reasons″. I decided it was safest to check it out, and what I found was shocking.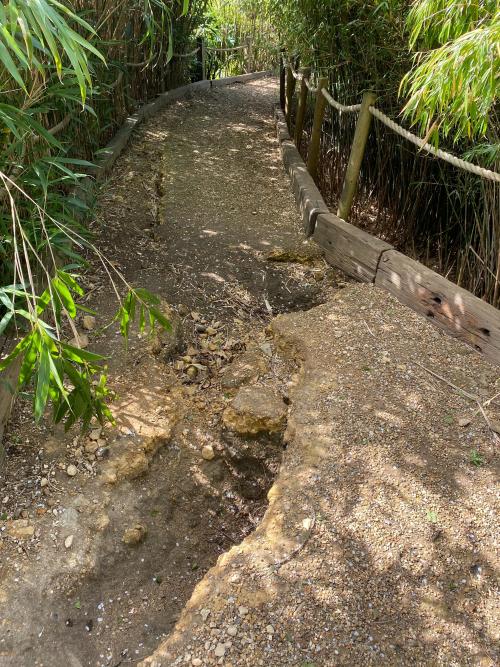 Shaken from this near-death experience, but still in good spirits, I entered "The Stream Garden", which — in my expert opinion — was the nicest part of the CUBG, full of ferns and weeping willows.
I successfully detected 51 shades of my all-time favorite colour, green, before being interrupted by an old man yelling "lovely" at me. And — after some confusion — we both agreed that the garden looked lovely in the lovely weather.
My final destination was the secluded "Dry Garden″, where I almost walked straight into a middle-aged couple making out in a seriously non-dry fashion. They didn't seem to notice me as I skimmed a plaque about Cambridge being dry ("even less rain than Barcelona!"), before getting out as fast as humanly possible and heading to the CUBG café. I bought myself some "Caramel Hot Chocolate with Whipped Cream, Brownies and Maltesers″ and sat down by a fountain.
Unfortunately — just moments after this picture was taken — the hot chocolate overflowed, spreading sticky mess everywhere, and I also realised that it was way too hot for hot chocolate.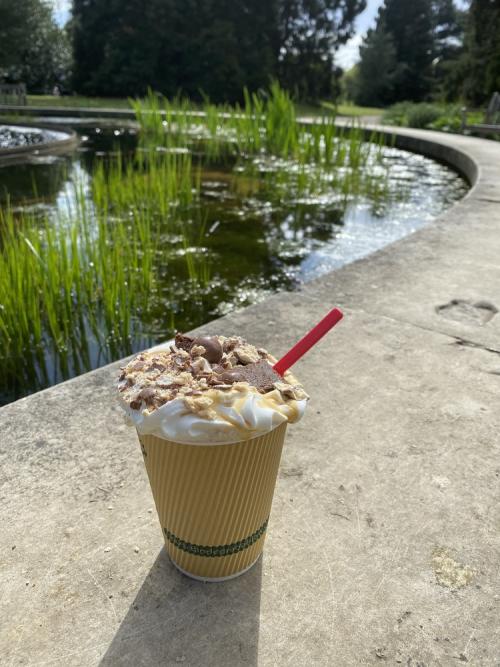 In any case, with new-found hot mess energy, I proceeded to pick a bunch of stones and practised my skimming skills in the fountain pond, until I was spotted by a dangerous-looking gang of elders and decided to leave.
And, looking back, I'd say it was definitely worth the 0-pound fee. Although the CUBG can't compete with the UK's top botanical gardens (and — of course — any comparison between the CUBG and masterpieces like the Trebah Garden would be insulting), it was very much superior to Jesus Green.