Quintessential Questions: Easter Edition!
The Violet team are back for one final round of Quintessential Questions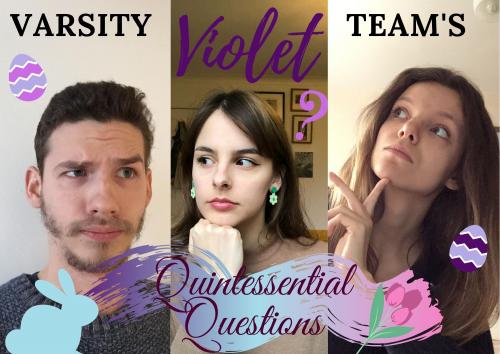 With Easter Term upon us and the easing of lockdown restrictions coming into place, what better time for some more quintessential questions from your Violet editors?
If you want essential advice on online exams, Easter egg hunts and dinner guests, then you've come to the right place - we've got some essential(ish) reading for you.
Favourite brand of Easter egg?
Alex: M&S Eggplant Kitchen. Okay, it may not be an egg, but who doesn't want a slightly risqué giant aubergine-shaped chocolate?
Lotte: Anything that comes with a complimentary mug.
Nadya: Kit Kat - who doesn't want the cute chocolate bunnies it comes with?
How did you celebrate the end of term?
Alex: A bottle of extra strong squash. Shaken not stirred.
Lotte: Wine and a hearty cry to relieve stress from the term just gone.
Nadya: A complementary essay crisis for a newly invented week 9.
One thing you learnt about yourself in Lent term?
Alex: No matter how many times I convince myself I'm definitely going to the next college Zoom social… oops.
Lotte: Try as I might, I will never read for fun in term time.
Nadya: Due date can still equal do date.
"In Michaelmas term, I ventured outside daily, cycling, walking, taking the train. Now I am back to the life that suits me best. Rarely leaving my bedroom. "
In the spirit of Easter, what have you resurrected this term?
Alex: The hermit life. In Michaelmas term, I ventured outside daily, cycling, walking, taking the train. Now I am back to the life that suits me best. Rarely leaving my bedroom.
Lotte: Not getting out of bed until well into the afternoon. The sloth-like way to live.
Nadya: The ability to eat an inordinate amount of chocolate eggs in a worryingly short space of time.
Something you wish you'd given up for Lent?
Alex: My dissertation.
Lotte: University work in its entirety.
Nadya: The snooze button.
If you were the Easter Bunny, what would you hide instead of chocolate eggs?
Alex: Plutonium.
Lotte: My Dad's Nespresso machine- he can't live without it, so it would drive him up the wall.
Nadya: Anything but those terrible toys found in Kinder eggs.
Instead of having a reading week potentially introduced next year, what 'week' would you campaign to see in the new term?
Alex: 'Pyjamas in the park' week.
Lotte: Role reversal week- our supervisors get set an impossible reading list and essay question, and the students mark it and dole out 'constructive criticism'.
Nadya: I vote we keep the reading week, but disguise it as a ploy to recreate a Cambridge-themed Reading festival. No one will know.
Open book online exam term is looming. What's your go-to online resource?
Alex: Netflix… good for learning foreign languages.
Lotte: The Camfess Facebook page is always a good place to go when you're lacking inspiration.
Nadya: Rightmove - must have an escape route sorted.
Outside restaurants are re-opening, who are your dream 5 guests?
Alex: Yoko Ono and the Beatles. It's time to heal the wounds.
Lotte: Claudia Winkleman, Stephen Fry, Rob Beckett, Virginia Woolf and Joey Essex, hours and hours of quality conversation.
Nadya: Chopin, Michael McIntyre, Virgil, Taylor Swift, and the Dalai Lama.
Any recluse-like habits you'll be unwilling to give up once Lockdown is lifted?
Alex: Walking exactly 20 steps a day. Why would I do more?
Lotte: Wearing the same horrible jumper and jogging bottoms every day without fail.
Nadya: Putting myself on mute during class.