How to become your house's resident Ottolenghi during lockdown
You may not be a pro-chef, but after following Ella Gold's six tips you will emerge from lockdown as a master chef.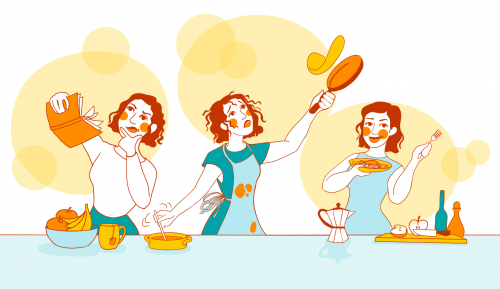 I've always been a pasta and stir fry kind of girl, but since the miserable mundanity of lockdown has kicked in, I've been dipping my toe into the magical saucepan of actual cooking. It's been quite the ride, and definitely not the kind Ottolenghi — or any chef, for that matter — would want his name to. But, after a couple weeks of cooking (mis)adventures, I am here to guide you through such a journey. Consider me the Remy to your Linguini, the Mary Berry to your Paul Hollywood (circa 2015 that is, i.e. the good times). I'll help you sieve out the mistakes I've made and, like a true 1950s housewife, brew a newfound passion for the kitchen. So prepare to delve those soup-remely over-washed fingers into a couple new pies, my friend (in a purely figurative and health advice-abiding manner of course).
Here goes…
1) Make sure your recipe's a reliable sauce
While those cookbooks with countless unpronounceable ingredients may look impressive, in a time when rice and eggs aren't even widely available, it's highly unlikely you're going to find activated almonds or whipped Persian feta at the offie round the corner. Give up on Ottolenghi's orange blossom custard and Nigella Lawson's saffron orzotto for today.
2) Simplicity is imPOTant
This goes with number one. Found a delicious-looking chilli con carne recipe? Great, now find another that's half the length and use that instead. The fewer steps, the fewer opportunities for getting it wrong and the lower the margin of error. Now that's just basic maths.
"Cooking is all about perspective, really."
Set your expectations of yourself as low as humanly possible and prepare to be pleasantly surprised. Trust me on this one.
3) Remember: thyme waits for no chef
If you're anything like me, always ALWAYS double the recipe's recommended preparation time. 30-minute meals? As if, Jamie Oliver. Following this rule will keep the family (or whoever you're cooking for) happy, and it'll also prevent disasters in the kitchen. Cooking for a hungry family is stressful, and stress leads to horrific accidents such as finger (rather than cheese) gratings in the pasta. I unfortunately speak from personal experience…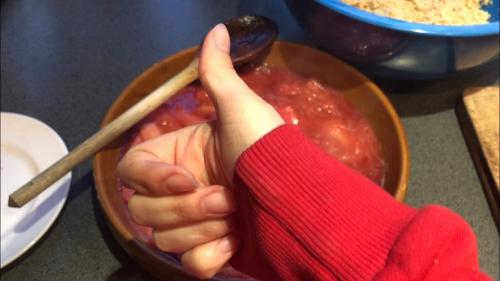 4) Favour flavour – spice it up!!
What does that mean Ella, I hear you ask. Is that heading simply an excuse to remind the world that you're an obnoxious Engling who knows what a rhyme is? Regardless of whether or not that's true (it most certainly is), listen up. While you're doubling the prep time, also think about upping the quantities of spices suggested by the recipe. Don't be afraid to overlook the recipe's 1 teaspoon of cumin: go ahead and throw a whole handful in there instead! Knowing how to season is a proper Ottolenghi-level chef skill.
This is unless of course you're playing with fire, by which I mean chilli powder. Wielding chilli is a dangerous game: one wrong foot can lead to tears and frankly nobody needs any more reasons to cry these days.
5) Give your oven some lovin'
Perhaps more boring than my other tips, but just as important - turn the oven on first!! It will revolutionise your cooking experience, as well as avoiding the equal disappointments of raw chicken or rock hard cookies (rocky road is just a name and not a description guys, I learnt this the hard way…).
Unless, of course, you aren't using an oven. In which case don't turn it on at all — this could cause a second type of unwanted fire.
6) Rice-ing from the ashes
You've made it to the end and are still alive! Congrats!
If all hasn't gone to plan and you're scared of getting roasted for your frankly crumby results, just remember it's all in the presentation. Meant to make meringues but accidentally sat on them? Throw a few berries in the mix and you've got yourself a delightful Eton Mess! Accidentally spilt water in your pasta sauce? Call it a delicious winter soup!
Cooking is all about perspective, really.
So there you have it. You may not be Ottolenghi by the end of this, but who knows, maybe you can bake a new name for yourself. I hope my tips have inspired you to try your hand at a recipe or two, preferably without burning down your house or the mouths of your family. Happy cooking!