Help, I'm missing Cambridge.
From binge-eating to coffee addictions, Guy Webster, Alex Jarvis and Scarlet Rowe reminisce on the things they're missing most about Cambridge life.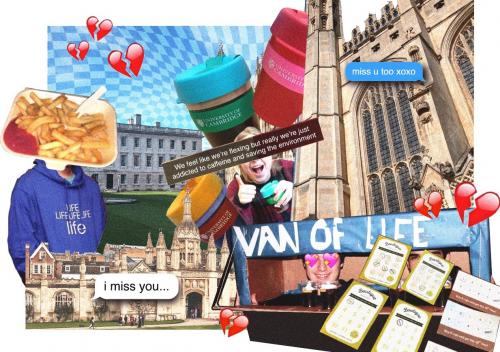 Okay, we've all been outside of Cambridge long enough for the throes of nostalgia to take hold. Forget graduation goggles, this is hardcore COVID sentimentality and we have no option but to lean into it. Here are three of our favourite things to miss about Cambridge.
Alexa, play 'Sad Song Playlist 64'.
Help, I'm Missing Van Of Life!
by Guy Webster
It's 3am, or 4am. Point is, it's late and Glitterbomb is empty. I am one part of an amorphous mass of drunken gays making their way to Van of Life. We are cosplaying as Brighton seagulls that double as an ABBA-tribute band. We are ready to line our stomachs with something other than Jager and that one lemon I found after disappearing for twenty minutes. We're laughing, some are flirting (terribly), all are hungry. There, spot lit by unflattering fluorescent lighting, is the Van of (our) Life. The sight of it forces our resident vegetarians to shiver under the allure of some gravy-clad chippies. 
We sway along with our drunken comrades to the music of snatched conversations. "Did you text him?", "Um when did we lose Felix?", "You don't love him you just like his arms". Of course, once we get to the front of the line we've forgotten everything we were supposed to order, alongwith the name of this rando we've been chatting to. Just dump him, Brenda. We laugh, the dudes behind the counter wait (they might be cute, but we'll never know for sure), and finally we settle on large chips with buckets of houmous. Nothing has ever tasted better.
Until Felix returns with popcorn chicken from Gardies. Shit, we should've gone to Gardies.
Help, I'm missing...the lecture dash?
by Scarlet Rowe
If there's one thing I have learnt from Cambridge this year, it is that morning walks are pretty much an essential part of the degree.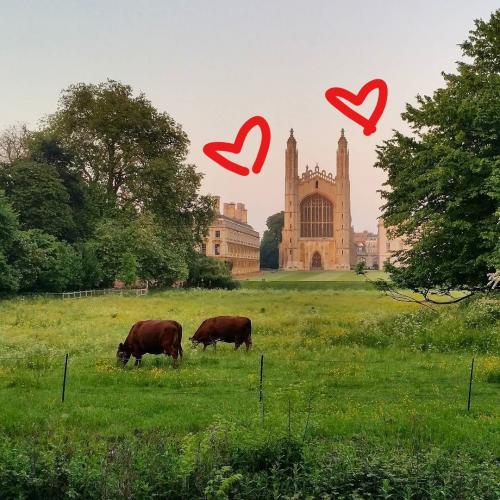 Being a Caian (#YeahCaius), I am well acquainted with the *hurried* walks/runs/sprints through King's each morning having, once again, woken up about twelve minutes before the start time. Whilst the fine intricacies of King's are perhaps not as appreciated as they could and should be due to my innate morning idleness, I still appreciate it. The way the sky seems to envelop the spires, the way the sunlight seeps through those formidable doors as though the courts literally contain it, the rare sightings of Fellows walking across the sacred grass, the glistening water below with the never-ending flow of punts… These are all moments which make Cambridge, well, really Cambridge.
At the other end of King's, one is rewarded with the truly glorious smell from objectively (not subjectively) the finest Fudge Kitchen in the nation. All of this serves as a marvellous distraction from the impending lecture which, alas, like the price of the fudge, cannot be imagined out of existence no matter how hard one tries (trust me).
Now, I admit that a keen reader could perhaps detect a note of romanticisation here. One only has to think of King's treacherous dark green 'DO NOT ENTER' gates - that possess a vendetta against all things living with their swinging speed of at least 100 miles per hour - to find fault with my seemingly rapturous appreciation. Add to that the fact that you can't walk across the coveted grass like those fellows, which seems like a travesty of justice and to all accounts and purposes is one.
"Blink and you miss these hurried and definitive moments of being a Cambridge student."
Most importantly, though, one most certainly does not want to glorify King's too much considering that Caius is obviously prettier anyway, right? Nevertheless, I do miss it, even if just a little bit. King's trodden paths and I have become firm acquaintances over the course of first year, so the parting is, naturally, rendered somewhat bitter.
Blink and you miss these hurried and definitive moments of being a Cambridge student… How lovely it is, then, to think that on our return, those treacherous green gates will be there to welcome us to another year of that infamous lecture dash.
Help, I'm missing loyalty cards!
by Alex Jarvis
Loyalty cards do nothing more than represent your caffeinated drinking habits (or as some would say, addiction) and make you feel like you've got your life under control for that short, sweet moment when you hand one over to be stamped. Team it up with a Cambridge-branded keep cup and you have yourself the perfect opportunity to casually flex your commitment to academic rigour...and the environment. 
I have a terrifyingly large collection of both cards and cups, and yet never thought I would miss using them, now that I'm at home. The loyalty cards remind me of the routine that I'm sorely missing; namely the catch-ups with different people in different places during term; the library breaks in the Fitz café that cry out for an iced caramel latte; the obligatory post-Russian grammar pre-Russian translation kofe brek with the other ab initios. Once, my favourite loyalty card helped me snag a second date. 
In lockdown, I've tried making my own loyalty cards, but the concept of a '10th One Free!' doesn't really give you the same rush when you're boiling your own kettle. I've had to hide my keep cups too, as using them for the walk from the kitchen to your desk feels a tad excessive. Nothing can replace the nostalgic thrills of that first stamp, nor the respect of that barista who sadly knows your order. Or, finally, the caffein-induced energy I can do nothing with now but make more loyalty cards. 
Help.
*Honourable mentions must go to the things we absolutely don't bloody miss. Like, not even a little bit:
-          Slow walkers.
-          That one salmonella-ridden piece of Nandos chicken.
-          The one King's Lawn Cow that would never come over for pats.
-          Big-ass prams in John Lewis.
-          Swans.
-          Falling for that barista at Iris Café every day.
As isolation continues with no forseeable end in sight, I expect more and more of us will encounter these nostalgic reflections of a Cambridge long-past. Whether we miss them or praise their absence, they will likely be all many of us have to remind us of Cambridge life...for now.