Waving goodbye to week 5 blues
It is about time we re-labelled the mid-term slump, writes Sophie Hoath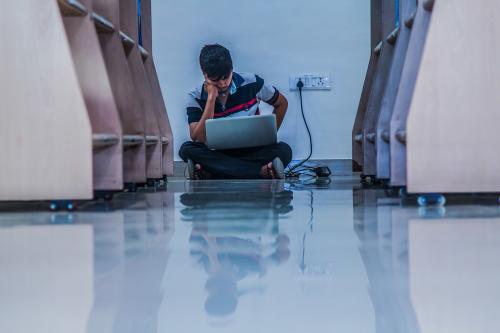 As we approach the dreaded 'Week 5 blues,' we tend to huddle up in our rooms (provided the heating actually works), hoping to wait out the stress and emerge in Week 6 as born-again Freshers, revitalised and raring to go. Inevitably, this rarely happens – or, at least, it certainly hasn't happened to me over the past three years.
Surprisingly enough, setting seven days aside to feel sorry for ourselves doesn't tend to cure the effects of eight weeks' worth of hangovers, lost sleep, endless work stresses, and the vitamin deficiencies our strict, pasta-only diets have granted us. Who'd have thought?
So, by the time Week 6 rolls around the corner, we find ourselves feeling just as rundown as ever, with the added pressure of having to recover from that Week 5 hump and get back in the proverbial game… Wednesday Cindies anyone?
"...there are plenty of ups and a fair few downs in every Cambridge week."
With each new Thursday bearing the gifts of a shocking hangover and a mountain of deadlines, why do we still proceed to kid ourselves that we're continuously living our best lives during the other seven weeks of term? It seems to me that our need to condense our stresses and illnesses down to the space of one fateful week is actually something of a Cambridge fantasy. I don't know about you, but I really don't think that I'm living the Cambridge dream any more in Week 4 or 6 than I am in Week 5 – I just tend to moan about things a little less without Week 5's #justCambridgethings relatable content label.
If Week 5 is indeed a myth, then Week 6's identity must be abolished by association. It can no longer be 'that week in which we all feel quite run-down after pushing ourselves too hard to get over the previous week.' To put it concisely, Week 6 is no longer Week 5's weird and angsty cousin.
If we're all being honest, isn't Cambridge just a perpetual cycle of varying degrees of 'unwell'? It took as long as day two of Freshers' week for me to be struck down with the same old Freshers' flu that, let's face it, I really should be immune to by third year. Ever since then, term has been an exciting mixture of the odd 'self-care' day circa Week 2/3, in which I watch Netflix in bed for an entire 24 hours, talking in a hoarse voice that sounds like I smoke several packs of cigarettes a day, and coughing my way into dirty looks in lectures. I finally roll out of bed, 20 minutes late (because you can actually do that in English – apologies NatScis). Variety is the spice of life, so let's stop being ashamed to admit that the infamous mid-term lull actually rears its ugly head a lot more frequently than we let on.
Either I really enjoy moaning (plausible), or Cambridge term-time is too damn busy and too damn cold for anyone to come out of it with a consistently clean bill of health. Perhaps we should stop pretending that weeks 5 and 6 are these weird social pariahs, and start acknowledging the fact that there are plenty of ups and a fair few downs in every Cambridge week.
I'm not saying that we should consider the uni experience a tragedy from start to finish. However, if we stopped condensing all our blues into a little mid-term window, maybe we'd learn to prioritise self-care whatever the week.