Freddie the friendly King's feline found safe in Catz after disappearance
Freddie met a pawsitive reception at Catz, before being returned to his owners yesterday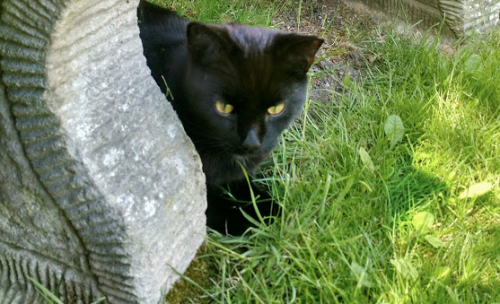 Freddie, one of the King's College Provost's cats, has been found in Catz after having been missing in catction for several days.
His whereabouts were uncovered after a catcall was put out on social media, including by the popular Facebook page 'Overheard at Cambridge'. Freddie, who is only one year old, "wandered a little further than usual", and didn't "know how to get home" without the help of his hooman friends.
According to the St Catharine's instagram, Freddie was "trying to stake his claim as the new Catz Cat." No word yet as to whether Freddie upstaged the Catz master's high-profile black miniature schnauzer, Toby, who made waves this year as a welfare support dog.
Speaking on the saga, one Catz student said, "I certainly appreciate the fruits of the bilateral relationship between King's and cats", adding that it "is a travesty that Catz has no cat".
Freddie enjoying the afternoon sun with his top pal, Barney
He added that St Catharine's efforts continues the college's "long tradition of looking after the welfare of Cambridge animals, such as the ducks".
Commenting on Freddie's triumphant return having been announced on his joint Instagram with fellow King's cat Barney, St Catharine's said that they were glad to have helped find the "lovely boy", who made the strenuous journey from the back of Catz to King's on Wednesday.
Varsity Meets: Toby the Catz dogVarsity
Following one of Freddie's previous escapades into the wilds of the Backs, one Instagram user had suggested the college obtain "GPS tracking collars and find out where they go on their adventures!".
This kittennovative approach, however, is unlikely to prevent future mishaps according to Freddie and Barney, who replied: "we are very skilled at collar removal, unfortunately for our owners".
Freddie might be meddlesome to his owners, but to me, he is purrfect.