UL extension set to house stamp collections and cookery books
All your favourite dog racing magazines are on the move to the new Library Storage Facility in Ely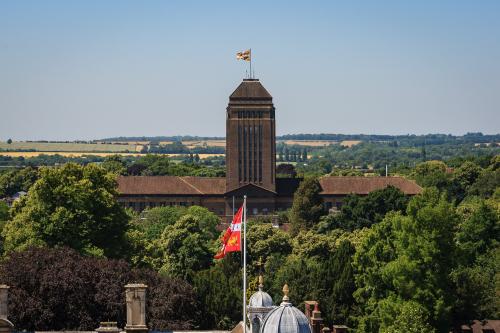 The University Library (UL), once described by Germaine Greer as "the ugliest building in Cambridge" and perhaps best known for being the scene of Exam Term breakdowns, unrequited Crushbridges and an ungodly amount of porn, is getting even bigger following the opening of the new Library Storage Facility (LSF) in Ely.
The £17-million construction, described by the University as a "cathedral of books" is capable of housing four million items and has more than 100km of shelving. The LSF will hold the library's least-requested books, those deemed 'low use', meaning literary classics including Gemma Collins' The GC: How to Be a Diva, Ainsley Harriott's Ultimate Barbecue Bible and Nadine Dorries' The Angels of Lovely Lane could potentially be added to the collection.
We take a behind the scenes tour of the University LibraryVarsity
The UL is one of only six legal deposit libraries in the UK – with the others including Oxford's Bodleian Library and the British Library in London. This status means the libraries are entitled to request a free copy of any book, pamphlet, magazine, newspaper, sheet music or map published in the UK.
The first book to be placed in the new facility is Cambridge and Varsity alumnus Douglas Adams' The Hitchhiker's Guide to the Galaxy: The Nearly Definitive Edition with an introduction by Clare College alumnus and novelist, Nick Harkaway and biologist Richard Dawkins. Other materials set to be added include cookery books, stamp collections and dog racing magazines.
Fans of dog racing need not worry about accessing their favourite titles though, as the UL's van will make the round trip to and from Ely on weekdays to deliver materials back to the library as requested by readers.