Oohs, aahs and a disappointing lack of suits: Cambridge watches the royal wedding
Love is in the air as hundreds turn out for the screening of Harry and Megan's wedding in Market Square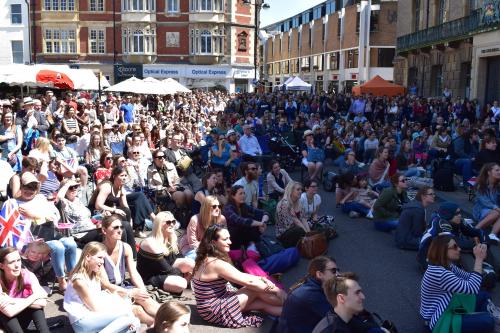 Tourists, students and locals alike turned out in Market Square today to watch a live screening of the royal wedding.
Located right in front of the Guildhall, the live screening played out to an audience clad in varying degrees of Union Jack-themed apparel. The crowd was huge, vastly outnumbering the seats provided by the city and overflowing into Petty Cury. An upbeat and festive mood filled the air, with citizens happily taking pictures with the Mayor of Cambridge and speaking to local television and radio outlets.
Students in attendance ranged ranged from largely indifferent to enthusiastic. Edging around the outskirts of the throng, one student told us that "this is a little bit more extreme than I was expecting", while another said that they "ran over here from graduation just to catch it".
Before the royal family made their grand entrance, cameras zoomed in on Markle's Suits co-stars Patrick J. Adams and Sarah Raffety, although disappointingly only 50% of this pair was actually wearing a suit. Also present at the wedding were Serena Williams, Elton John, Amal and George Clooney and David Beckham.
The arrival of the royals was met with loud appreciation from the crowd in Cambridge, who broke into applause whenever Queen Elizabeth appeared onscreen. If such a strong display of patriotic fervour occurred on any other day of the week, I would be concerned. In the festive spirit, I let it slide.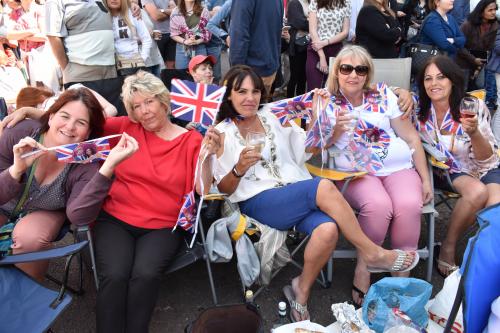 One Union Jack-clad group at the front told us that, "The wedding is so important to us because we love them... And I feel so sorry for Prince Harry and Prince William because they lost their mum at a young age, and we loved Lady Diana... We come from a gypsy community and we support them at every inch of the way. We really, really love them and I wish them well."
The close-ups on Prince Harry's face were a crowd-pleaser, with his expression of nervous anticipation eliciting a number of "awws". But perhaps the best close-up came minutes before the vows, when in an amazing moment he appeared to mouth "I'm shitting it" live on international television.
The buskers in Market Square stopped performing in time for the actual 'I do's, which were met with an almost reverent silence in Cambridge. Then the buskers started up again, creating an odd clash of sounds as their acoustic beats played over the wedding's rendition of 'Ave Maria'.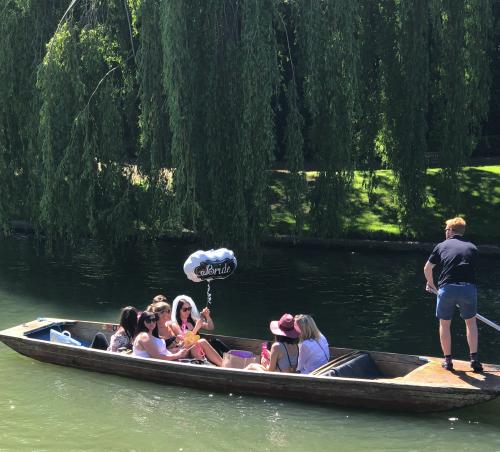 Later on in the ceremony, the choir sang the 1961 blues hit 'Stand By Me', a song choice that many commentators have hailed for its connection to black American heritage.
Although students present at the live screening were vastly outnumbered by tourists and families, student spirit was greatly buoyed by the presence of Wagamama employees providing free green juice and noodles – proving once and for all that there are tangible benefits to slacking off revision and spending a day in the sun. Not that we needed any proof.
We spoke to some Gonville & Caius students present, asking if they were in it more for the touching display of love and matrimony or the procrastination. One of them told us, "a bit of both", while another said "I hope something goes wrong. It's always fun when events go wrong."
Violet also witnessed some punters getting in on the festive spirit and royal interest by donning Harry and Meghan masks and emphasizing the tenuous link between other fan-favourite royal couple William and Kate and the city of Cambridge.