Walmart yodelling kid to headline Sainsbury's May Ball
Farce-ity Vake reports that Mason Ramsey has been invited to headline at the very first Mainsbury's Ball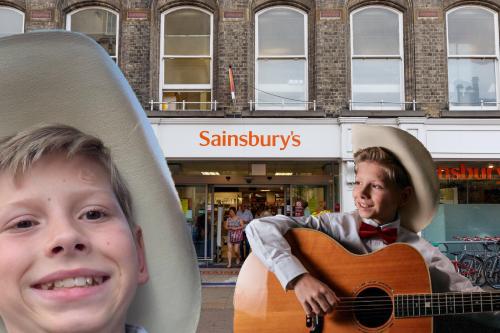 Mason Ramsey, the ten year-old internet sensation from Harrisburg, Illinois, has been confirmed as the headline act at the inaugural Sainsbury's May Ball.
Chris McChristerson, The President of the Sainsbury's May Ball, which will be hosted on June the 14th at the Sidney Street branch of Sainsbury's, spoke to Violet earlier today.
"It's an enormous privilege" McChristerson told reporters. "Ever since I first saw the video of Mason yodelling in Walmart I thought, damn, that would be such a coup if we could have him perform at the inaugural Mainsbury's Ball."
Ramsey rose to fame only weeks ago when a video of him yodelling in his local Walmart went viral. Within days the video had accumulated tens of millions of views, and had spread across the internet.
Ellen invited him onto her show, where he revealed his lifelong ambition to perform at the Grand Ole Opry and at a Cambridge May Ball.
McChristerson was hesitant to reveal too many details about the star's appearance, but did confirm that Mason would appear on the main stage of the Mainsbury's Ball, which will be erected where checkout desk number two currently is.
McChristerson also revealed exclusive details about the food and drink options that the ball would feature. The provisions include Taste the Difference taramasalata and Sainsbury's basic lager.
The cost of tickets is still unknown, though Sainsbury's have told shoppers that they'll be able to exchange 3,000 nectar points in return for a ticket.