Violet exposes the most savage Cambridge TripAdvisor reviews
Resident investigators Felix Peckham and Leila Sackur trawls through TripAdvisor to bring you some quality content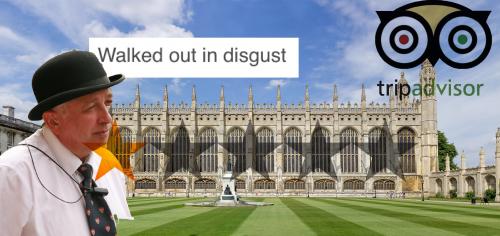 Fed up with Cambridge? Well, you're not alone. These visitors to the great city of Cambridge were deeply unimpressed with what they saw.
King's College Chapel
The King's Chapel staff are notoriously Oz-hating. TripAdvisor user pommmmmyyyyy1 "left in disgust" after experiencing some textbook anti-Australian discrimination. News on whether or not pommmmmyyyyy1 is pursuing a lawsuit is to follow.

Building on momentum against King's established by pommmmmyyyyy1, user Tourboy33 channelled their disgust into a searing critique of the state of British civil planning, alleging that urban planners have "given up", much like everyone else in the city this far into Exam Term. Tourboy33 was "disappointed in Cambridge in general", and as students we can all relate to bitter disappointment at being here, and the general feeling of having been ripped off by this University.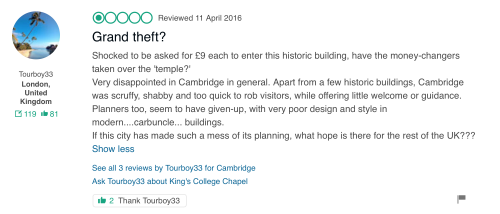 Corpus Clock
The (admittedly hideous) Corpus Clock is next to come under fire, described by a Cambridge local as "tat for clueless tourists". Interestingly, this user's display picture looks a bit like a bald Julian Huppert? Julian, is that you?

Nora B from Boston says the clock ruined her vacation, describing it as "morbid."

University of Cambridge
Brit2009 offers a succinct and accurate comment on the University: "Don't go to U of Cambridge, or disappointments will certainly wait for you and a waste of time and money." I just wish Brit2009 could've told me this back when I was applying.