Cambridge pins University Challenge hopes on St John's, after Fitzwilliam falls in quarter finals
Let's hope the quizzers live by their college's official motto: "I often remember"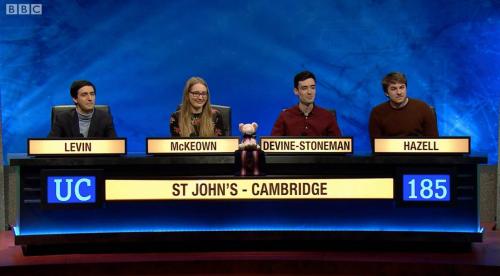 Cambridge's University Challenge hopes rest with St John's College after the quarter-finals saw both Fitz and Emma crash out.
The John's team will square up to the University of Edinburgh in the competition's semi-final next week. Made up of Rosie McKeown, Matt Hazell, John-Clark Levin, and team captain James Devine-Stoneman, one hopes the team will continue to be quick on the buzzer. 
So far in the competition they have dispatched St Andrew's, Corpus Christi, Ulster, and Newcastle en route to the semi-final. They recorded their biggest win against Corpus in the second round, with a surprisingly comprehensive 285-80 victory.
Their opponents, meanwhile, have previous experience against Cambridge teams, defeating Emma in the quarter-finals. But while John's remain undefeated, Edinburgh were subjected to a crushing 210-85 defeat at the hands of Merton College, Oxford in their second quarter-final.
Cantabs on top: University Challenge's last five victors
2013: University of Manchester
2014: Trinity College, Cambridge
2015: Gonville & Caius College, Cambridge
2016 Peterhouse, Cambridge
2017 Balliol College, Oxford
Should John's fail to win their next match, it will be the first time since 2013 that Cambridge has not been represented in the competition's final. Last year's final saw fan favourites Wolfson College, led by human meme machine and quizzing colossus Eric Monkman, fall agonisingly close to the top of the pyramid as they were defeated in the final by Balliol College, Oxford, led by Joey Goldman. 
Merton take on Newcastle University in the other semi-final, with the final to be aired on April 23rd.