Fairy-tale Newnham snow photo goes viral, hitting front page of Reddit
Hannah Jones's photo of her friend Katy Grobicki has received over half a million views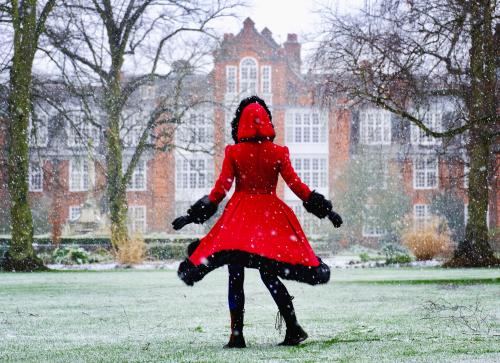 The photo of one Newnhamite and her new coat – photographed in Sunday's snow flurry – has gone viral, receiving worldwide attention and hundreds of thousands of views.
Hannah Jones, a third year Natural Scientist, was taking photos of the snowy scenery in the Newnham gardens on Sunday morning, when Katy Grobicki, her friend and fellow NatSci, shouted down from her window: "Hannah! Wait! I bought a new coat which needs to be worn in the snow! Can you take a photo?"
Grobicki dashed outside wearing her new coat, and Hannah took the photo, which she then posted on the content-aggregation site Reddit, one of the world's most popular websites, late last night. Since then, it has been viewed half a million times, reached second position on Reddit's front page, and received thousands of comments and messages. As of Tuesday afternoon, the post has over 85,000 'upvotes'. It has also been shared on Newnham's Instagram account.
Jones described the response as a "mixture", saying there have been "absolutely lovely compliments, some Reddit creeps ('would smash'), people asking for Cambridge admissions advice, disbelieving cynics ('That story. Who's supposed to believe that?') and of course accusations that the photo is part of a social media campaign orchestrated by a PR company for Hell Bunny [where Grobicki brought her coat]".
The post's success drew a huge amount of attention to Hell Bunny, whose website subsequently crashed.
Jones said: "the majority of the responses have been really positive and complimentary, and it was especially nice to see plenty of people in the Reddit comments recognising their old room in Newnham in the background!"
The photo was just a spur of the moment snap that managed to wonderfully capture the brief snowfall in Cambridge. Even though the snow didn't stick around in Cambridge for long, it's nice to see that someone made the most of the opportunity (and their new coat).