A Toff-talking politician
Privately schooled, a fox hunting advocate and lover of Jacob Rees-Mogg: Zohra Nabi questions whether I'm a Celeb Winner Georgia Toffolo is the new face of the centre-right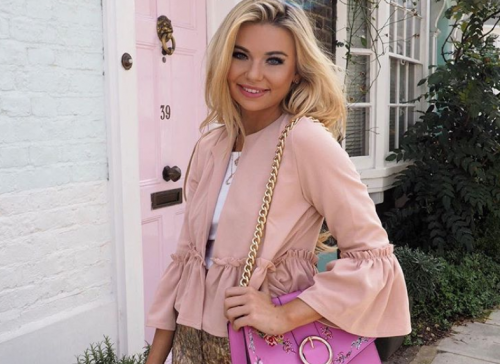 Watching five minute clips of E4 reality TV on Facebook while huddled under the duvet eating Sainsbury's cookies is undoubtedly the best way to procrastinate essay-writing. Joining the illustrious ranks of Don't Tell the Bride's wedding fails is Georgia Toffolo, aka Toff from Made in Chelsea. Appearing on Celebs Go Dating, the train-wreck of her date with self-described 'hideously left-wing' Benjie makes for near-perfect viewing. "He's literally Lord Left-Wing!" Toff enunciates, her face a picture of horror.
Yet there were some who saw more in the five-minute exchange than a deadline-delaying tactic. E4, when reposting the clip, did so with the caption "If Toff doesn't end wind up as Tory Prime Minister, there's no justice in the world!" Toff's debut into the political world has been heralded with monikers such as "The next Margaret Thatcher", "Boris in a bikini" and "Perhaps unaware that 'Boris in a bikini' is not a compliment". Perhaps even more worryingly, Jacob Rees-Mogg (whom the I'm a Celebrity, Get Me Out of Here! winner has described as a 'sex god') has offered to help her kickstart her political career, positioning himself as one of the "more senior Tories" she might consult in order to do so. It's the sort of thing that makes you want to go outside and start jumping up and down screaming "Hey asteroids! We're right here!"
"From Toff's exchanges with Labour voters, it would appear that she bears all the hallmarks of a Rees-Mogg in the making"
The very fact that Toff is being discussed as a potential politician is perhaps more of a reflection on how desperate Tory HQ are to have any – any – youth engagement. After years of unbridled confidence in poor voter turnout among the 18-25 population, the utilisation of social media platforms by both Labour and Momentum to mobilise student voters in key marginals has left CCHQ painfully aware that only 18% of their voters have a working knowledge of Snapchat. Being able to utilise Toff's 1.5 million followers on Instagram must feel like manna from heaven. Granted, this does seem to be the only policy she has managed to come up with, other than believing that everyone should "work to be equal". But hey, no policies, no panicked reversals mid-campaign, bellowing into the aether: "Nothing has changed!"
In fact, from Toff's exchanges with Labour voters, it would appear that she bears all the hallmarks of a Rees-Mogg in the making. Completely unaware of the privilege her private education has afforded her, constantly calling for debate and yet rendered speechless where her views are challenged… her excruciatingly inaccurate explanation of benefit fraud to Jack Monroe, the food blogger whose writing on austerity food poverty brought her fame, perhaps best surmises her understanding of the challenges of modern Britain.
And yet this is a political era where people are increasingly looking behind the curtain of party leadership and at the machinations behind. Where Conservative policy is revealed to be the work of campaign managers, political aides and even the dystopian Cambridge Analytica, there is increasing weight to the argument that all the Tory party needs is someone with a working personality (something Theresa May can only dream of) to present it. If Blair's government was packed with lawyers and Cameron's with journalists, perhaps we are entering into a political age of celebrities. Toff's sunny demeanour and happy-go-lucky attitude have seemingly won the heart of the nation; her victory in I'm a Celebrity was unparalleled, with the young socialite gaining 71% of the final vote. Could she really be the answer to Lynton Crosby's prayers?
"If Blair's government was packed with lawyers and Cameron's with journalists, perhaps we are entering into a political age of celebrities"
The answer is probably not. Despite Toff's inarguable people skills, she herself admits she is a good twenty-five years away from politics even being a possibility. Seeing positive ratings on I'm a Celeb as having the potential to transfer into votes for the Conservatives bears a striking resemblance to the confusion of bloggers in 2015, who the day after the general election wrote sadly about how no one I spoke to on Twitter said they were voting Tory. Indeed, one might go further and say that to view Toff with the potential to lead others misunderstands why she is so popular. It comes from an inherently snobbish worldview, which looks at recent political events, and then at the mass of voters and thinks 'God, they'll vote for anybody.'
The election of Trump has led a number of people to conclude that the mass of voters treated democracy if they were sat at home in their living rooms at 9pm, phones at the ready to vote. But Trump took his reputation as a businessman and used his enormous platform to stoke rage at aspects of American life. Toff's popularity is dependent on her inaccessibility, and to a certain extent her air-headedness. It's fun to watch her flounder in the kitchen on Made in Chelsea's adaptation of Come Dine with Me, even a little endearing when she enquires whether she needs a passport to get into Wales. But there's nothing a populist groundswell could really sink its teeth into. People covet her life of glamorous parties, beautiful dresses and utter lack of responsibilities. They revel in the soap-operatic drama of her private life. But envy and fascination do not translate into political belief. And they certainly don't make her representative of her viewers.
Perhaps what the attention to Toff's potential political career really tells us is the dire state of the centre-right. When you need a Sloane Ranger with a net worth of £800,000 and an inability to make pasta to be the human face of your politics, you really are in trouble