Cambridge News front page goes viral after missing headline
People can't believe they didn't stop to check the most important page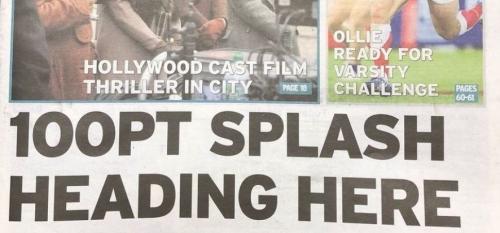 Picture the scene. It's late at night in the Cambridge News office: coffee mugs and empty pizza boxes litter the newsroom, shirt sleeves are rolled up and big stories are being made — the Post Office has been robbed in a local village, new road bumps have been installed on Somersham Road. This is proper journalism, not the undergraduate pulp we churn out here at Varsity. Busy David Bartlett, the Editor, turns to his Chief Sub Editor; "are we ready to send off the front page" he asks. "Yes, boss" he replies, "are you sure?" "Yep, all ready to go." 
"Even Varsity's fallible sub-editors were amazed at this one"
At what point did they realise that instead of "£2m FOR 'SEX LAIR' SCHOOL", they had left in a note for the font size? It's every editor's worst nightmare. "100PT SPLASH HEADING HERE" screams the outraged headline.
I must admit, when I first read the headline, I was confused. Surely they couldn't have just forgot to put in the most important part of the paper?
Surely they meant "FT" instead of "PT", and that a giant tsunami was heading to Cambridge? As I read the lead below the headline, my fears were confirmed. "This is a strap over two decks with a cross reference to a" and "PAGE HERE" — the editorial team had literally forgotten to write the front page.
Twitter went mad. Blogger Chris Rand was one of the first to spot the howler.
Other users suggested it had something to do with alcohol — what is a hundred pint splash and how do we prepare for the incoming devastation?
Some ire was directed the way of the sub-editors, whose job it is to look over the paper, checking for spelling and grammatical errors.
The Bible says "let he who is without sin cast the first stone", but even Varsity's fallible sub-editors were amazed at this one. In some quarters the blunder, which Cambridge News later put down to a "technical fault", was met with sympathy.
It would have been easy for the Cambs Times Editor John Elworthy to lord it over the bitter rivals over at Cambridge News. But partisan views were put aside at this time of crisis.
Editor David Bartlett released a statement on the paper's site. "I want to apologise sincerely to our readers for this mistake, which happened due to a technical problem."
"We are still looking into how this happened and want our readers to know we take this seriously."
Not everyone blamed the subbing team. Some took the opportunity to give hot takes on the state of Britain's local newspaper industry. "This is end of days stuff. Are we saying that nobody in the newsroom looked at the front page before it was sent to print?" said one commenter on holdthefrontpage.co.uk
This Cambridge News front page is going down in the annals of print blunders, and onto the wall of the Varsity offices as a warning to all new sub-editors