No-bake Christmas treats
Violet's Emma Rutter has some quick and easy festive recipes for the Christmas break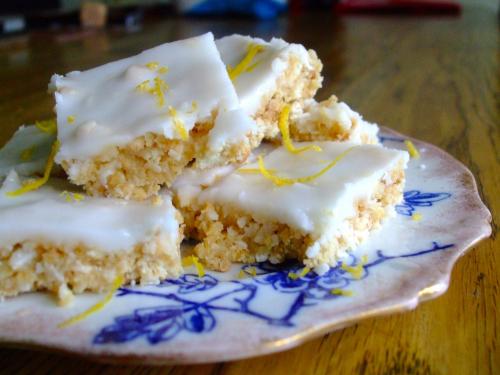 It's Bridgemas Eve. You've just been invited to yet another social gathering.
"Don't worry, it'll be really chilled," your host tells you. "Just come along – wear a Christmas jumper if you have one."
The invitation seems harmless enough. But isn't there always a sense of obligation that accompanies an invitation to any kind of Christmas 'do? Your friend might very well say "Just come along", but what they really mean is "bring some refreshments, too".
I imagine that the pressure to come up with something homemade applies more to your life at home than your life in Cambridge. And I know you're wondering why one might go to all the bother of making a sweet thing when you could just as easily pick up a packet of mini chocolate crispie buns from Sainsbury's (though if I were you, I'd buy the mini caramel squares). And I suppose the point today is that a homemade gift is a labour of love – it's a way to show your appreciation to a friend, by taking the time out of your busy schedule to make something just for them. It's not a last minute purchase shoved hastily in a shopping basket; it is something you have thought about, and prepared for.
Besides, alcohol is expensive. And it disappears quickly. No-one ever remembers you for the wine you brought, or for the special tequila you brought back from your gap yah in Mexico – unless it comes in a skull-shaped bottle, that is. Why not bring something for those who don't do alcohol at Christmas instead? Or rather, something for those more 'wholesome' gatherings – Bridgemas afternoon tea, a Christmas film night with friends, or, when you're back home, a visit to the grandparents.
Don't let the lack of kitchen equipment put you off baking, either. In my first year I used a saucepan as a mixing bowl and bashed up digestive biscuits with a knife handle. On reflection, I think it's probably safer to use a wooden spoon, but my point is that it's not necessary to have a full array of baking utensils to make something delicious. All you'll need for the Fifteens below, for example, is some kind of bowl, cling film and a fridge.
"A homemade gift is a labour of love – it's a way to show your appreciation to a friend, by taking the time out of your busy schedule to make something just for them"
The ingredients required, too, are minimal. There's something so comforting about returning to simple baking, where the basic ingredients of butter and sugar can take centre stage again (no chia seeds, cacao nibs or agave syrup here). This simplicity is mirrored in their rather rustic appearance – crumbly and rugged, like chunks of hewn sandstone. But that's part of their charm – they look unassuming. Just like you in your Christmas jumper. Cute, a little rough around the edges, perhaps (you've had several nights without much sleep), but a bundle of joy underneath.
The recipe for iced lemon squares comes from an old family recipe book where the recipes have names like 'Pineapple Surprise', 'Mrs George's Fruit Cake' and 'Creamy Chicken and Peach Bake' (better than it sounds, I promise). They're tried-and-tested recipes designed to be whipped up at the drop of the hat for church fêtes, impromptu family gatherings and school bake sales. These lemon squares contains rich tea biscuits, lemon, coconut, and – of course – sugar. They're sweet, zesty and a perfect foil to the dried fruit-laden, spice-heavy cakes and chocolate logs at this time of year.
The Fifteens, on a similar note, have the same 'base' of bashed up biscuits, brought together in a gloriously sticky mess by some form of sugary syrup – condensed milk, in this case. If you buy a tin of this you'll have half left over; I'd recommend drizzling it on porridge, making another batch of fifteens/lemon squares, or eating it straight from the tin. Just don't tell your dentist.
You can make both of these on Saturday morning and they'll be ready to go in the evening, although an overnight chill in the fridge wouldn't go amiss.
Fifteens
Ingredients
15-20 digestive biscuits
15 glacé cherries
15 marshmallows
Half a 375g tin condensed milk
Desiccated coconut (optional)
Method
1. Bash up the digestives until they form fine sand (you can do this by putting them in a plastic bag and hitting them with a spoon/hand/rolling pin, putting them in a food processor, or crumbling them with your fingers).
2. Wash the glacé cherries to get rid of the sticky syrup. Cut them in half and sprinkle onto the digestive sand.
3. Cut the marshmallows in half and add to the digestives/cherries.
4. Slowly pour in the condensed milk, mixing as you go. Add enough condensed milk until all of the mixture is coated and it begins to stick together. Mix well – you'll probably have to use your hands – until it forms a relatively solid lump in the bowl.
5. Lay out a piece of cling film on a work surface. If you like, scatter it with desiccated coconut (optional). Put the biscuit mixture onto the clingfilm and shape it into a long sausage, then roll it up tightly in clingfilm. It needs to be tight to make the mixture bind together.
6. Twist up the ends tightly, and place in the fridge for at least four hours, ideally longer. When ready to eat, unwrap and cut into slices. Best served with a cup of milky tea.
Iced lemon squares
Ingredients
170g rich tea biscuits (rougly 20 biscuits)
8 tbsp condensed milk
Zest of one lemon
110g dessicated coconut (just over 1 cup)
110g margarine/butter (1/2 cup)
225g icing sugar (just over 1 ½ cups)
Lemon juice
Method
1. Melt the margarine in a pan. Add the condensed milk to the pan and mix together.
2. Bash up the biscuits into fine crumbs and add these to the melted margarine. Stir in the coconut and lemon zest. Spread into a greased tin / plastic tupperware box, pressing down with your fingers. Chill in the fridge for 15 to 20 minutes.
3. Make the icing by mixing the lemon juice and icing sugar together. Spread on top of the biscuit base and leave to set.
4. Cut into squares and enjoy!