Cambridge is wonderful, except when it's not: a finalist's thoughts
As she embarks upon her final year, Mira Tiwari reflects upon her love-hate relationship with Cambridge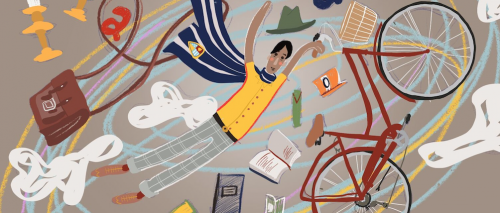 I'm at Mumbai airport, waiting for my 1:45am flight to Heathrow, and in the calmness I'm trying to distil the images of Cambridge that have been flitting through my head lately. Images of late nights and sleepy mornings, of rainy bicycle rides in the dark and of beautiful days by the river, of moments of homesickness and hours of talking into the night, of disheartening essays and bright summer garden parties.
This is my final year and my seventh attempt at getting the hang of it all. The truth is, I'm not sure if I've ever been able to have a straightforward opinion about Cambridge. While applying, Cambridge simultaneously enticed me and drove me away: I perused the website for hours, daydreaming about lectures, but also hating it for stringing me along from reading lists to results day and everything in between. Freshers' Week was a burst of energy and interesting people, dampened by teary phone calls because I had no idea what to do when my lectures clashed and how to get through the dozens of preliminary readings. Term after term I get pulled into the black hole that is iDiscover, exploring all the lecture topics, always more eager about the work than I inevitably will be by week eight.
I mope about my essays after the umpteenth sixty-page reading, but I will miss sitting in two-hour lectures and just discussing and discussing and discussing…because listening to people who care and think so much is the reason why I cycle in the rain to the faculty. For every hour I spend puzzling through theories, I spend another chatting to my DoS, whose office seems to always be worry-free.
Beyond the work, Cambridge is a bubble, and a relatively small bubble at that (although perhaps anything seems quaint next to Mumbai). Yet between the University and the city, at any given time you can find comedy, jazz, decolonise events, movie screenings in medieval colleges, talks by experts in art, linguistics, or engineering, museum nights, apple days, candle-lit choirs in sky-high chapels, and the delightfully named Festival of Ideas.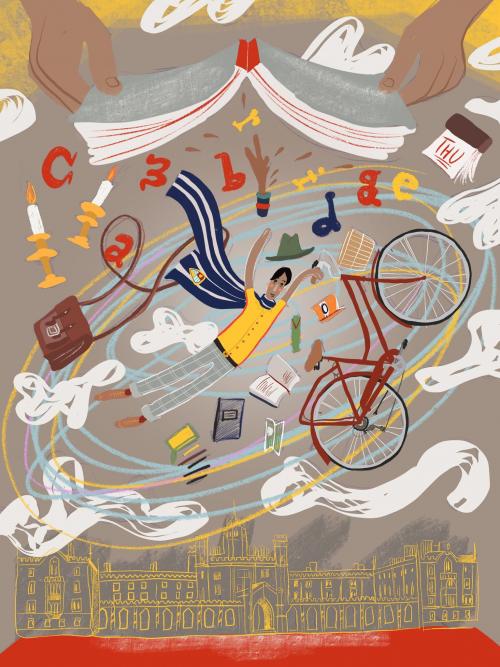 Part of me is itching to be out in the 'real world', to try something new and to not be judged week after week by the quality of my introductions and conclusions and signposting. To not have to pack up my life into the attic of another ancient building every two months, to have a room in which to dance and an oven in which to bake, to write without word limits and to have something called a weekend instead of the 8-week 7-day blur of everything that is a Cambridge term. Yet, while interning this summer I missed the JCR meetings, the loud hall dinners, and the supervisions that feel like coffee catch-ups with good friends. Cambridge keeps you on your toes, from the grandeur of formals to the bizarreness of bops, from the days when every minute is accounted for to the days when it's you, your books, and the silent UL for company. Cambridge isn't perfect, nor is it as diverse as it should be, and I return full of apprehension each time. But it always welcomes me back, and for six months a year it is home to some of my favourite people ever.
I miss my family's company, going for dessert at 10:30pm, and coriander that you can smell from a mile away. But I guarantee that you'll soon find me in Sainsbury's getting sappy over the 'seventh-last time I'll buy precisely this loaf of bread and this tub of hummus at 9pm ever'. I spend the holidays soaking up the Indian sun, dreading the months my skin will spend all wrapped up, but as I pulled out my scarves my mind wandered to October walks as the leaves turn colour and the ground is covered in a crisp blanket, and I pause on my way every single time to drink it all in and take the millionth photo, for fear that one day I'll forget.
On days when it's grey and cloudy, and everything from my coat to my shoes to my essay notes seems as grim as can be, I'll have a friend over with a mug of tea (our endless, endless supplies of tea) and we'll pull on our jumpers and all will be well in that little bubble within the bubble. And on days when the sun peeks its head out and shines bright, and the Cambridge student ants come scurrying out and the lawns are filled with picnickers and footballers, the streets filled with aimless wanderers, the benches home to people-watchers and ice-cream lickers, and the term seems to come to a collective smiling pause, I fall in head over heels in love with Cambridge all over again.
Facebook informed me today that I left for Cambridge on this day two years ago. I no longer care what Cambridge thinks of me the way I did on that day, and Cambridge has changed the way I think of myself, too – for the better. But I'm afraid I still don't really know what I think of Cambridge. Just as they say in the interviews: it's okay not to know, as long as you're ready to listen, think, and change your mind. I'm ready for that.   
Illustrated by Anna Palma Balint