The Buda-best of Food-apest
Violet columnist Vicky Morrison tells all about the best food on offer in the Hungarian capital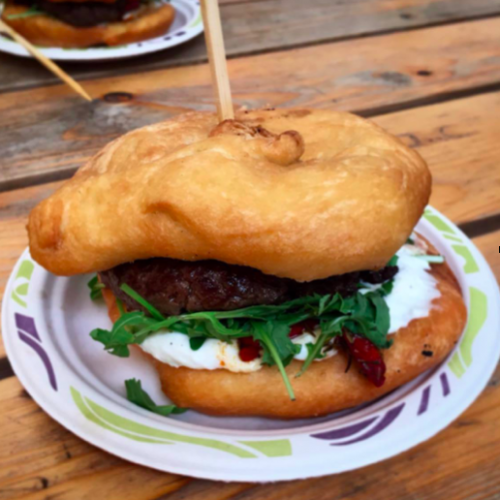 If the two horrendous puns above didn't put you off reading this article, then I thank you for your patience, as I explain exactly what to eat in the beautiful foodie haven of Budapest. Whilst there recently, I tried out a selection of places to eat, ranging from sit-down meals to street food markets, the best of which I've shared below. I hope what follows doesn't leave you feeling too Hung(a)ry…
Like most other bustling cities, the phenomenon of street food is quickly becoming the most stylish and diverse way of experiencing the culinary sphere of Hungary's capital. The best of the markets I found was called Karavan, located in the city's bustling Jewish quarter. The stalls offer a range of delicious international food, but you definitely have to try the delicious lángos burgers. Lángos is a deep fried flatbread, traditionally served with sour cream, mashed potato and other toppings. However, here it serves as a burger bun, served with a juicy burger, sheep's cheese, grilled peppers and rocket. I was quite surprised to find that the flatbread tasted somewhere between pitta bread and a doughnut. It has a lovely crispy and relatively non-greasy consistency and it paired beautifully with the stand-out sheep's cheese. Though not the healthiest option, it's well worth a try, especially if you're feeling a bit fragile after a night out. All that carby, sweet, cheesy goodness. 
"Food in the Hungarian capital is also top notch, great value, and well worth going back for"
Located just next door to Karavan market was the Bors Gastro Bar. This poky hole-in-the-wall takeaway restaurant is a favourite among locals and tourists alike, and almost always has a lengthy queue of people flooding out of its narrow little doorway. But for good reason; they serve a selection of unusual but delicious grilled baguettes (such as a surprisingly wonderful green Thai curry) and traditional Hungarian soups served in a takeaway coffee cup. The Hungarian soup that I tried was one of the highlights of my trips, so simple and soup-er good value…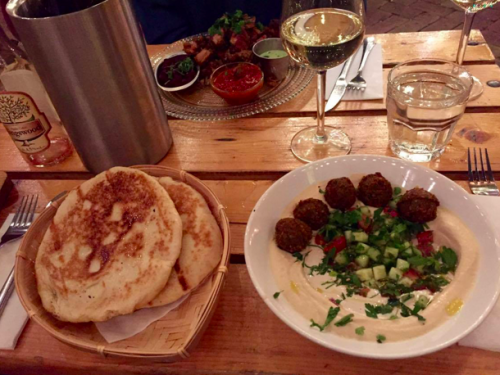 One of the many perks of visiting Budapest is the excellent value of sit-down dinners and the countless restaurants which won't break the tourist budget. An example of these is Mazel Tov, a stunning restaurant set in a courtyard and located just off Budapest's main party street serving Middle Eastern and Hungarian food. The hundreds of hanging fairy lights covering the ceilings and lush foliage draping the walls instantly creates a romantic and atmospheric backdrop for your meal. The food is also very tasty indeed, and includes generous sharing plates of freshly baked pitta, falafel, hummus and more. I must admit that I didn't realise the Lebane hummus with falafel plate was meant for sharing, but nonetheless enjoyed my bowl of creamy hummus and mountain of pitta immensely. They also have an extensive menu of traditional Hungarian dishes… special shout out to the grilled Shawarma chicken served on top of pitta and with beautiful dips and pomegranate seeds. A must try for sure! 
Gettó Gulyás is a traditional Hungarian restaurant located in the Jewish quarter, and serves up traditional hearty plates of the best local dishes. Admittedly, we initially intended to eat at the more well-known Blue Rose restaurant just down the road this night, but it was fully booked. The waiter kindly pointed us towards this place and we are very lucky he did. This restaurant is also another classy option in terms of décor, but the plates of food are all flavour and few frills. I went for a plate of traditional chicken paprikash alongside some very reasonably priced wine. The dish consists of a portion of chicken simmered in a thick creamy, paprika-infused gravy and served with nokedli, or egg noodles. The latter have a rather unusual scrambled-egg-like consistency, but are nonetheless very tasty. A very good place to go for a goulash, paprikash, or pre-lash meal. (Couldn't resist.)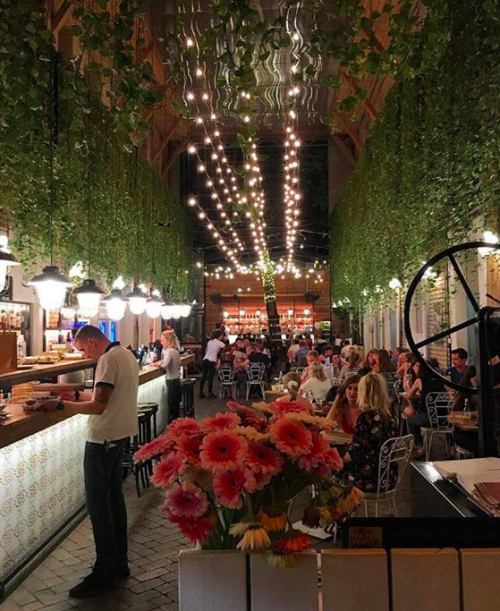 These are merely a few of the many eating options when traveling around Budapest, and needless to say the culinary scene has far more to offer than just these few key places. As well as being a fabulous city, I can confirm that the food in the Hungarian capital is also top notch, great value, and well worth going back for. 
Where can I get my hands on some Hungarian food in England, you ask? The reality is that the places to find Hungarian food in the UK are few and far between. In Camden Town you can find a little restaurant called Made in Hungaria, which serves fresh langos among other traditional dishes. There's a restaurant called Goulash in Aberdeen, and a few dotted here and there across England. Sadly, aside from its trendy capital's foodie hotspots, the Hungarian cuisine hasn't achieved a particularly fashionable status in the rest of the world, but that does not detract from the wholesome and comforting nature of their national dishes, which I strongly urge you to try.
New HTML Container
---
The V Card: The Final Column
There's a Hungarian & Romanian Food shop on East Street around the corner from the Grafton Centre. Cambridge is also home to its very own Hungarian Szeged Society, named after a city in the south of Hungary, which occasionally hosts talks and events based on several aspects of Hungarian culture.
You can find a relatively straight-forward recipe for a traditional goulash soup here, so if anyone's feeling like mixing up their menu tonight, then sok szerencsét kivánok and jó étvágyat!