Exclusive: Selwyn May Ball introduces trio of headliners
A triple threat of musical acts will headline 'Selwyn-on-sea', Violet can reveal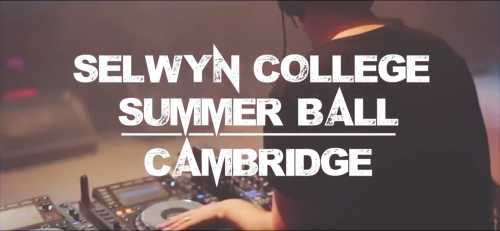 Karen Harding, along with DJs from the Ministry of Sound and rock band King No One, will comprise a triple threat of musical showstoppers at the Selwyn May Ball this Saturday, Violet can reveal.
"A triple threat of musical showstoppers"
Organisers have announced that house and R&B singer Karen Harding will be their headline solo act at the biennial event, which this year carries a seaside theme.
"We are sure that Karen's electrifying performance on our main stage will be one of the ball's highlights," the Selwyn May Ball Committee explained in a statement.
Harding, a contestant in both Eurovision and The X Factor, will supply dancefloor-fillers such as 'Say Something' and soul-infused deep-house tunes like 'Feel Good'.
The second headline show, a Ministry of Sound takeover by the club DJs Majestic, Dan Hills, Micky Slim and the 'Random Mandem' threesome, will feature all night in the dance tent from 10pm to 5am.
Meanwhile, Yorkshire group King No One will be playing on the Garden stage. Their Selwyn outing comes ahead of a busy summer for the indie crew, with upcoming performances scheduled at Y Not and the Reading and Leeds Festival.
A weighty list of supporting acts will be there too, from bluesy trio Outlya, who will come straight from Glastonbury, to Bristol psych-pop ensemble Cousin Kula. 
Elsewhere, Soham De will bring mellow acoustic melodies to the chapel. May Ball regulars The Fabulous Hurricanes will also be performing on the night, providing their unique multi-instrumentalist blend of blues and soul. ABBA Chique, the self-proclaimed 'HOTTEST tribute to ABBA', will also be making an appearance on the night, no doubt providing cheese and energy in equal measure.
The Selwyn committee added: "We've worked really hard to create a line-up that's packed with quality and variety, and we're extremely proud of the programme we've got planned. With a vast array of static entertainment also on offer, we can't wait to welcome our guests to a magical night at Selwyn-on-sea!"